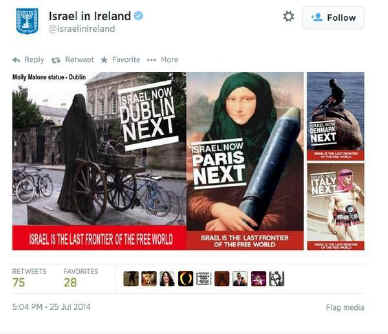 Last Friday, @IsraelinIreland, a Twitter account belonging to the Israeli government and apparently managed by its embassy in Ireland, posted a series of images (above). One showed a famous Dublin landmark – the statue of Molly Malone – clad in a burka, with a message saying "Israel now, Dublin next".
Moving on to other European capitals, the second picture showed the Mona Lisa, dressed in hijab and clutching a rocket: "Israel now, Paris next".
Michelangelo's statue of David appeared in an Arab keffiyeh with what seemed to be explosives hanging around his waist: "Israel now, Italy next".
A fourth picture, though not very distinct, showed the mermaid statue in Copenhagen harbour apparently dressed up as some sort of terrorist: "Israel now, Denmark next".
Accompanying the images was a slogan saying: "Israel is the last frontier of the free world".
My first reaction was astonishment. Israel has a formidable reputation for hasbara (PR or propaganda, depending on how you look at it) but this was incompetent. How could Israeli diplomats be so out of touch as to imagine that it would sway Irish opinion in Israel's favour? Did they really expect that people in Ireland, France, Italy and Denmark would nod and say: "Yes, we're grateful to Israel for killing all those Palestinians because they are doing it for us"?
Some Twitter users responded with derision; others pointed out that the embassy's post was racist and Islamophobic – as indeed it was. – and the post was deleted. Later, the Telegraph reported:
Israel's ambassador to Ireland, Boaz Modai, told the Telegraph that he could not comment because 'we are now in the middle of a war and I have other things to deal with' ...

Paul Hirschson, a spokesman for the Israeli Ministry of Foreign Affairs, told the Telegraph that ministry officials had in the past spoken with Mr Modai about the social media strategy pursued by the Irish embassy.

He added that the Foreign Ministry took a very laissez faire attitude towards the social media output of its ambassadorial staff. "Israel encourages its diplomats to have very personal Twitter accounts," he said.

"This particular item was not part of the official Ministry of Foreign Affairs campaign," he added. "I didn't personally like the approach."
That sounds rather complacent, considering that the embassy's post echoed a familiar meme from Europe's far right: fear-mongering about a Muslim takeover of the continent. For example, the "Stop Islamisation of Europe" movement, which originated in Denmark, calls for "a permanent stop to immigration from Muslim countries and a temporary stop from other countries" along with "repatriation of disaffected Muslim and other immigrants and all immigrant criminals". Meanwhile, Nick Griffin, the recently-resigned leader of the British National Party, claims that Britain and Ireland are being turned into "a Third World Islamic slum".
This is not the first time the Dublin embassy has got into bother over racism. On one occasion it caused offence by linking to a right-wing Israeli video which contained a stereotypical portrayal of an imaginary Irish journalist.
In 2012, a Christmas message posted by the embassy on Facebook suggested that "If Jesus and mother Mary were alive today, they would, as Jews without security, probably end up being lynched in Bethlehem by hostile Palestinians" (see below).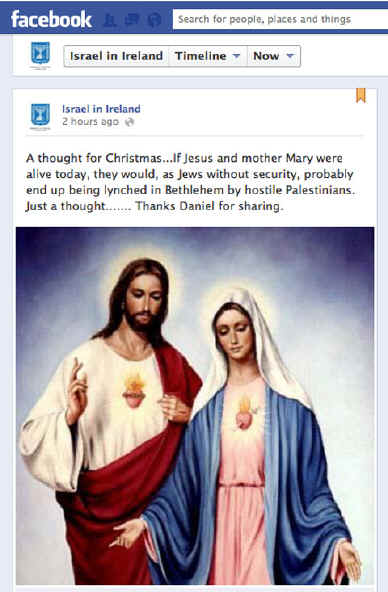 Whatever others may think of this, ambassador Modai's efforts seem to be appreciated in Israel. Last year, he and his wife were awarded a prize for their online hasbara activity by the Comper Center for the Study of Antisemitism and Racism at Haifa University. The citation accurately described their efforts as "extraordinary".
Before taking up his post in Dublin, Modai worked in Israel as head of the instruction branch at the foreign ministry – in charge of the training course for diplomats, among other things. In 2007 he was served with a restraining order after a woman who had worked in his office complained to police about receiving late-night hang-ups from an unidentified phone number over a period of several weeks. Ynet News reported:
"Police opened an investigation and discovered that the anonymous caller was Modai. According to one police source, he admitted to the calls, explaining that the woman had spread a rumour that he had been having an affair.

"This had cost him many sleepless nights, he said, and thus 'there was no reason for the complainant to sleep well'."
Modai was appointed ambassador to Dublin in 2010. A few months later the post of deputy ambassador became vacant and was duly filled by his wife, Nurit Tinari-Modai, described by the foreign ministry as an "excellent, professional diplomat".
According to the JC [formerly Jewish Chronicle], it was thought to be the first time an Israeli husband and wife had worked together as ambassador and deputy.
Lest anyone suggest that this smacked of nepotism, the JC
pointed out that it was both convenient and economical. Israel was short of trained diplomats at the time, and since Tinari-Modai was already in Dublin there would be no extra travel and housing costs – thus saving around £83,000 a year.
As a further bonus for Israel, Tinari-Modai was soon coming up with hasbara ideas of her own. She emailed colleagues at the foreign ministry, suggesting it should "humiliate and shame" [i.e. smear] Israeli activists who were sympathetic to the Palestinians. Her idea was to publish photographs that could "cause embarrassment for their friends in Israel and their family" and sow suspicion among non-Israeli activists that "they may actually be working on behalf of Mossad".
She also suggested in the email that pro-Palestine activists were not necessarily motivated by politics but had psychological problems or problems of sexual identity, or perhaps were hoping to get residence visas in Europe.
The email was duly leaked, and reported by Israel's Channel 10 News. The foreign ministry issued a statement saying that while it tries to combat "delegitimisation" of Israel internationally, it does not "engage in witch-hunts".
The Dublin embassy confirmed the authenticity of the email but claimed that it was "a private joke" and "not a serious discussion of policy at an official level".

Posted by Brian Whitaker
Monday, 28 July 2014
This work is licensed under a Creative Commons Attribution-NonCommercial 4.0 International Licence.