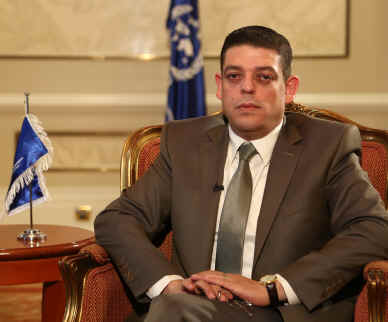 Loai Mohammed Deeb: ran a university from his home
The Scandinavian University, established in Norway in 2007 and closed three years later, boasted of having 175 professors and more than 300 lecturers, plus a wide range of courses stretching from engineering and economics to sharia and Islamic Studies. How many students it had remains a complete mystery.
Oddly, the headquarters of this university were a single-storey building in Stavanger (see photograph) which also served as the home of Loai Mohammed Deeb, a lawyer of Palestinian origin, and documents filed with the authorities showed that despite the claims of a large teaching staff it had no employees at all.
The Norwegian education ministry became concerned that potential students could be misled into thinking it was an accredited institution. In 2010, threatened with legal action if he continued using the name "university", Deeb announced that the building in Stavanger was only the administrative office and he would shortly be moving it to the Middle East.
---
The GNRD file
Read the full story here
---
Interviewed by Aftenposten newspaper, he said the 175 professors, etc, were "at our department in the Middle East" but there is no evidence that they ever existed. The archived remains of the university's website can be found here in Arabic (and here in English via Google Translate).
A busy man
Despite the collapse of his Scandinavian University venture, however, Deeb had plenty of other things to keep him busy. He was co-founder (along with the Syrian Haytham Manna) of the Scandinavian Institute for Human Rights which aimed to "disseminate the culture of human rights, especially in the Middle East". He was also president of the Global Network for Rights and Development (GNRD), and executive director of the International Coalition against War Criminals (ICAWC).
In 2012, during a UN discussion on granting consultative status to various NGOs, Israel's delegate noted that Deeb had been answering questions on behalf of all these organisations and wondered about the connection between them and "how one individual could manage all three groups".
Deeb has also spoken at the UN Human Rights Council on behalf of the Maarij Foundation for Peace and Development.
In 2009, Deeb joined a group of Norwegian lawyers attempting to bring war crimes charges against three Israeli politicians – Ehud Olmert, Tzipi Livni and Ehud Barak – together with seven Israeli military commanders.
Britons missing in Qatar
But it is Deeb's role in the Global Network for Rights and Development that is of most interest at the moment. Last weekend, two British men working for GNRD went missing in Qatar, and the assumption (still not confirmed) is that they were arrested by the authorities.
The men, Krishna Upadhyaya and Ghimire Gundev, are said to have gone to Qatar to investigate the conditions of Nepalese migrant workers there – an issue that has been causing international concern.
Upadhyaya, originally from Nepal, is described by the Guardian as "an experienced human rights researcher and worked for Anti-Slavery International for almost 12 years".
While it's possible the men were arrested because Qatar wanted to suppress their findings, it's also possible (and perhaps more likely) that they became unwittingly caught up in a squabble between Qatar and the United Arab Emirates in which their employer, GNRD, is suspected by the Qataris of playing a part.
Alastair Sloan points out in a blog post that the UAE and Qatar are currently engaged in "an unprecedented row over support for the Muslim Brotherhood, with UAE strongly opposed to them and Qatar strongly in favour". Sloan adds that there have been tit-for-tat arguments going on for months and that the UAE recently arrested two Qatari nationals on spying charges. The arrests of Upadhyaya and Gundev (if that is what happened) may have been intended as a reprisal for that.
Also linked to the Qatari-Emirati feud and the question of the Muslim Brotherhood, a UAE newspaper, The National, published a lengthy investigation last June into "individuals and organisations in London with connections to the Muslim Brotherhood" which it said were "behind a series of media attacks on the UAE" (see earlier blog post).
In a self-righteous editorial about this, The National said: "The UAE conducts its domestic and foreign policy openly, not in secret. The least we should expect is that our critics are similarly open about their motivations, sympathies and sources of funding."
Questions of funding
The Global Network for Rights and Development is a fairly obscure organisation and before the incident in Qatar its activities had been largely unnoticed by the media. Nevertheless, it has offices in Norway, Belgium, Switzerland, Spain, Sudan, Jordan and the UAE. It is well funded – to the tune of 3.5 million euros a year – and has an astonishing 1.14 million followers on Twitter. This is extraordinary considering that it has posted only 359 tweets, and a check via the Social Bakers website suggests almost all its apparent followers are fakes.
GNRD says most of its funding comes from donations, and its website includes the logos of five "sponsors" who presumably provide at least some of this money.
The first of these sponsors is an Emirates-based business called Deeb Consulting and the company's website says its sole proprietor is Loai Mohammed Deeb.
It is difficult to identify the four other sponsors since no details are given – only the logos. The logos say "Advance Security Technology", "Kaoud Law", "My Dream" (with the words transliterated into Russian beneath) and "Action Design". Attempts to trace these companies through a Google image search have so far drawn a blank.


GNRD appears to be active in and around various UN forums and is also registered with the European Parliament for lobbying purposes (fifteen of its staff have official accreditation). According to a recent statement on GNRD's website, it "has fought zealously, both in Brussels and at the United Nations, to improve workers' rights in Qatar, and eliminate forced labour through the sponsorship system".
Exploitation of migrant workers is a major problem in the Arab Gulf states, including the UAE, but GNRD's campaigning has focused particularly on Qatar. There is no word on its website, for example, about the mass expulsions of migrants from Saudi Arabia during the last year-and-a-half. In fact, a search of GNRD's website reveals nothing that is critical of Saudi Arabia, though one item reports that "Saudi Arabia is particularly keen on cooperating with the UAE to develop renewable energy and clean technology in the Gulf region."
Election monitoring
GNRD has also done election monitoring in Algeria, Jordan and Egypt.
In Algeria last April, President Abdelaziz Bouteflika was re-elected for a fourth five-year term with more than 80% of the votes, despite his serious ill-health. GNRD's report was broadly favourable, saying the election was "generally conducted in a free and fair manner", though it highlighted seven areas where "electoral procedure can be improved in future".
Its report of Jordan's parliamentary elections last year was considerably more critical. Among other things, it called for revision of the kingdom's electoral law since large numbers of voters "decided not to participate in the election as they felt that the present law would not leave them with a fair representation". It also recommended "a thorough investigation as regards the unexplained circulation of money inside in the polling rooms".
On the other hand, this year's presidential election in Egypt which legitimised General Sisi's seizure of power was greeted with much praise from GNRD and two other organisations (Maat for Peace Development and Human Rights, and the International Institute for Peace Justice and Human Rights) which had been monitoring the election jointly.
Their report said "the Egyptian people have experienced a unique process toward democratic transition, and despite the fact that minor errors and inaccuracies occurred, these do not shed a negative light on the overall results of the electoral process". It continued:
"The Joint Mission was honoured to be a part of the 2014 Egyptian Presidential Election and contribute to promoting its transparency, integrity, and success. The Joint Mission expresses its hope that these contributions will support Egypt's development and a smooth transition to democracy. We wish success to Egypt, being one of the most influential countries in the Middle East, and commend their achievements thus far towards a path to democracy."
GNRD and the Emirates
But the aspect of GNRD's work that raises most eyebrows is its relationship with the UAE.
GNRD produces an international league table of human rights which currently (and rather incredibly) ranks the UAE in 14th position worldwide – just one place behind the UK and far ahead of any other Arab country. Articles on GNRD's website also portray the UAE's human rights record in a highly positive light. One article comments favourably on the role of women in the UAE. Others talk about the UAE's "achievements in the field of promoting and protecting the family and its members", also praising the UAE for its environmental efforts, and for the way it cares for the disabled and protects the rights of children.
This glowing picture is not one that many others share. The US State Department, for instance, said of the UAE in its most recent annual report:
"The emirates are under patriarchal rule with political allegiance defined by loyalty to tribal leaders, leaders of the individual emirates, and leaders of the federation. There are limited democratically elected institutions, but no political parties ...

"The three most significant human rights problems [during 2013] were citizens' inability to change their government; limitations on citizens' civil liberties (including the freedoms of speech, press, assembly, association, and internet use); and arbitrary arrests, incommunicado detentions, and lengthy pretrial detentions."
Similarly, Human Rights Watch, in its latest World Report, said:
"The United Arab Emirates continues to crack down on freedom of expression and association. The authorities are arbitrarily detaining scores of individuals they suspect of links to domestic and international Islamist groups. A court convicted 69 dissidents in July after a manifestly unfair trial, in which evidence emerged of systematic torture at state security facilities.

"The UAE made no reforms to a system that facilitates the forced labour of migrant workers. Plans to ameliorate conditions for female domestic workers fall short of the standards outlined in the convention on domestic workers that the International Labour Organisation adopted in 2012."
Although GNRD maintains an office in the UAE, civil society organisations in general are not particularly welcomed by the authorities there. All associations and NGOs have to register with the Ministry of Social Affairs and, according to the US State Department, they have to follow the government's censorship guidelines and receive prior government approval before publishing any material.
GNRD, since it is based in Norway, may not be covered by these local rules but foreign-based organisations have also run into trouble in the UAE. In 2012, Emirati authorities abruptly closed the Dubai office of the National Democratic Institute (an American NGO) and two of its staff were briefly detained. On the same day, the polling organisation Gallup and the German Konrad Adenauer Foundation also closed their offices in Abu Dhabi – apparently at the government's behest.
All this raises a lot of questions about GNRD and its claim to be "neutral and impartial". It does not, of course, justify Qatar's detention of two GNRD employees (if that is indeed what happened) but it does complicate efforts to secure their release.

Posted by Brian Whitaker
Saturday, 6 September 2014
UPDATE, 7 September 2014: Qatar's foreign ministry has now confirmed that the two Britons have been arrested and "are under investigation for violating the law of the land," al-Jazeera reports.
This work is licensed under a Creative Commons Attribution-NonCommercial 4.0 International Licence.