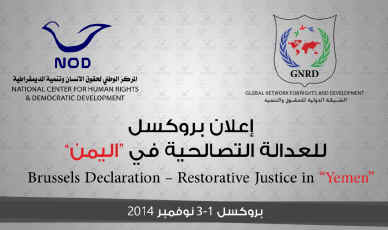 A controversial NGO headed by a man who once ran a fake university in Norway is playing a central role in efforts to solve Yemen's political crisis.
The Global Network for Rights and Development (GNRD), together with Yemen's National Center for Human Rights and Democratic Development (NCHRDD), has organised a "restorative justice" conference in Brussels which apparently will be attended by prominent Yemeni figures. A press release issued by GNRD says:
"The Conference will take place over three days from Saturday 1st to Monday 3rd of November and will bring together the most influential policy makers from all political positions and seek to negotiate a road map for peace and reconciliation that was prepared by GNRD and NCHRDD. The conference will aim to promote constructive dialogue to put an end to political gridlock and work for greater security, stability, and development for the future Yemen. 

"Participants will include top Yemeni government officials and heads of political parties, such as Dr  Ahmed Bin-Daghir, Deputy Prime Minister; Mr. Sultan Albarkani, Abdullah Al-Akwa, the Minister of Energy: Head of the General People's Congress party at the Yemeni Parliament. Leaders from the Islah (Islamic) Party, Ansar Allah, Al-Rashad party, Al-Haq party, Al-Nasri party, Yemeni Southern Movement, Social Arab Baath Party and the Yemeni Social Party will also be in attendance. The conference will bring together Yemeni civil society representatives, think tanks, conflict resolution and human rights experts."
In comments reported by Yemen's official news agency, Saba, GNRD's president, Loai Deeb, described the conference as "a real opportunity to achieve an all-inclusive national reconciliation". According to Saba, the French ambassador in Yemen has also declared his support for it.
GNRD is an obscure but well-funded organisation (to the tune of 3.5 million euros a year) and has offices in Norway, Belgium, Switzerland, Spain, Sudan, Jordan and the UAE. It appears to be active in and around various UN forums and is also registered with the European Parliament for lobbying purposes (fifteen of its staff have official accreditation).
---
The GNRD file 
Read the full story here
---
GNRD says most of its funding comes from donations, and its website includes the logos of five "sponsors" who presumably provide at least some of this money.
The first of these sponsors is an Emirates-based business called Deeb Consulting and the company's website says its sole proprietor is GNRD's president, Loai Deeb. Attempts to identify the four other sponsors from their logos have so far drawn a blank.
GNRD is fortunate to have an office in the UAE, since civil society organisations are not particularly welcomed by the authorities there. All associations and NGOs in the UAE have to register with the Ministry of Social Affairs and, according to the US State Department, they have to follow the government's censorship guidelines and receive prior government approval before publishing any material.
In 2012, Emirati authorities abruptly closed the Dubai office of the National Democratic Institute (an American NGO) and two of its staff were briefly detained. On the same day, the polling organisation Gallup and the German Konrad Adenauer Foundation also closed their offices in Abu Dhabi – apparently at the government's behest. 
GNRD produces an international league table of human rights which currently (and rather incredibly) ranks the UAE in 14th position worldwide – one place ahead of the UK and far ahead of any other Arab country. Articles on GNRD's website also portray the UAE's human rights record in a highly positive light. One article comments favourably on the role of women in the UAE. Others talk about the UAE's "achievements in the field of promoting and protecting the family and its members", also praising the UAE for itsenvironmental efforts, and for the way it cares for the disabled and protects the rights of children.
Others, including the US State Department and Human Rights Watch, are far more critical of the UAE's record.
Earlier this year, working jointly with two other organisations, GNRD monitored the presidential election in Egypt which legitimised the seizure of power by General Sisi (who happens to be backed by the UAE) – and its report on the election was surprisingly enthusiastic:
"The Egyptian people have experienced a unique process toward democratic transition, and despite the fact that minor errors and inaccuracies occurred, these do not shed a negative light on the overall results of the electoral process ...

"The Joint Mission was honoured to be a part of the 2014 Egyptian Presidential Election and contribute to promoting its transparency, integrity, and success. The Joint Mission expresses its hope that these contributions will support Egypt's development and a smooth transition to democracy. We wish success to Egypt, being one of the most influential countries in the Middle East, and commend their achievements thus far towards a path to democracy."
GNRD attracted media attention early last September when it sent a researcher and photographer to Qatar to investigate the treatment of Nepalese migrant workers there. The pair were arrested as they were about to return home but were eventually released without charges. It is thought the Qatari authorities – who were in the midst of a political spat with the UAE – may have been suspicious of GNRD's Emirati connections. Publication of the report on Nepalese workers is still awaited.
At the time, it was noted that GNRD's Twitter account had 1.14 million followers – an unbelievable number considering it had posted only 359 tweets. Following public speculation about this it has since shed around 130,000 followers.
In 2007, before becoming president of GNRD, Loai Deeb established "The Scandinavian University" in Norway. It boasted of having 175 professors and more than 300 lecturers, plus a wide range of courses stretching from engineering and economics to sharia and Islamic Studies, but there is no evidence that anyone ever studied there.
The university's headquarters were a single-storey building in Stavanger (see photograph) which also served as Deeb's home, and documents filed with the Norwegian authorities showed that despite the claims of a large teaching staff it had no employees at all.
The Norwegian education ministry became concerned that potential students could be misled into thinking "The Scandinavian University" was an accredited institution and, under the threat of legal action, Deeb closed it down.
It remains to be seen if Deeb will have any more success in his effort to sort out Yemen.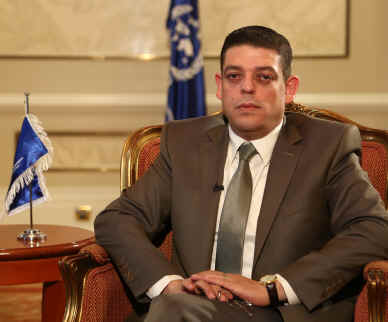 Loai Deeb, president of GNRD
   
 
Posted by Brian Whitaker
Thursday, 30 October 2014