Earlier this week the Sisi regime announced that it had approved five international NGOs to monitor Egypt's parliamentary elections in March.
It has now emerged that this is not strictly true, because two of the five NGOs are appear to be the same organisation operating under different names.
In a blog post yesterday, I looked at one of the five approved organisations, the Global Network for Rights and Development (GNRD), which has a controversial history and is run by Loai Deeb, the former head of a fake university in Norway.
---
The GNRD file
Read the full story here
---
Another of the five regime-approved NGOs is the International Institute for Peace Justice and Human Rights (IIPJHR), based in Geneva.
It has been reported that GNRD and IIPJHR will be working together, along with Maat for Peace Development and Human Rights (an Egyptian NGO which appears to support the Sisi regime), to monitor the forthcoming elections. They previously worked together as a "joint mission" to monitor last year's presidential election in Egypt – and produced an enthusiastic report about it.
GNRD and IIPJHR both applied to monitor the parliamentary elections (during a very short window period for applications) and both were lucky enough to be successful. But are they really separate organisations? There are good reasons for believing they are not.
A look at press releases on IIPJHR's website shows that virtually all its activities are carried out in conjunction with GNRD.
IIPJHR's office address in Geneva is 1 Rue Richard Wagner, which – by a remarkable coincidence – is also the address of GNRD's Geneva office.
Even more remarkably, if you click on the "Who we are" section of IIPJHR's website, a page comes up which doesn't mention IIPJHR at all but begins: "The Global Network for Rights and Development (GNRD) is an International NGO established in June 2008 with the aim to enhance and support both human rights and development by adopting new strategies and policies for real change ..."
The same text can also be found in the "Who we are" section of GNRD's website.
---

Previous blog posts about GNRD

Fake university chief to monitor Egypt's elections
28 January 2015

Fake university man aims to sort out Yemen
30 October 2014

An odd organisation
6 September 2014

Britons missing in Qatar: the Emirati connection
4 September 2014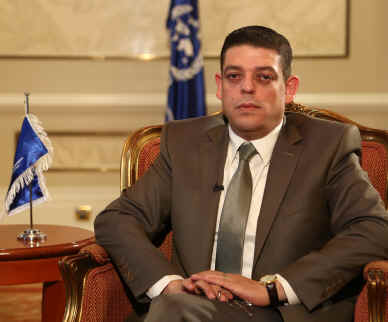 GNRD chief Loai Deeb is the former head of a fake university in Norway.
Posted by Brian Whitaker
Thursday, 29 January 2015
This work is licensed under a Creative Commons Attribution-NonCommercial 4.0 International Licence.