In a blog post earlier this month I wrote critically about the Global Network for Rights and Development (GNRD) and raised some questions about a conference on human rights and counterterrorism that it was organising in Geneva.
Some of those who attended the Geneva conference seem to have been under the impression that GNRD is a normal sort of human rights NGO, and at first glance it does look like one. It is registered in Norway and is very active in Brussels, where it is recognised for lobbying purposes at the European parliament.
GNRD is also well funded – to the tune of 3.5 million euros a year – though the sources of this income are unclear. GNRD says its "main sponsor" is the Deeb Foundation (which presumably has some connection with GNRD's president, Loai Deeb).
---
The GNRD file
Read the full story here
---
Between 2007 and 2010, Deeb was head of the so-called Scandinavian University, a fake educational institution (see photograph). The "university" boasted of having 175 professors and more than 300 lecturers but turned out to have no staff at all and was eventually closed under the threat of legal action by the Norwegian authorities.
Apart from the odd background of its president, GNRD has some rather strange ideas about human rights. For instance, it has a particularly favourable view of human rights in the UAE – in contrast to Human Rights Watch and the US State Department, both of which have been very critical of the UAE's performance.
GNRD produces an international league table of human rights and the most recent one (rather incredibly) ranked the UAE in 14th position worldwide – just one place behind the UK and far ahead of any other Arab country. Following criticism in social media, that league table has now been deleted, though another one is promised in 67 days.
Articles on GNRD's website portray the UAE's human rights record in a highly positive light. One article comments favourably on the role of women in the UAE. Others talk about the UAE's "achievements in the field of promoting and protecting the family and its members", also praising the UAE for its environmental efforts, and for the way it cares for the disabled and protects the rights of children.
More recently, GNRD has been developing a relationship with the Sisi regime in Egypt (see blog posts here and here).
GNRD has also become associated with some rather juvenile antics involving social media. When I first wrote about it last September, the organisation had an incredible 1.14 million Twitter followers – all achieved, apparently, on the back of a mere 359 tweets. Analysis at the time via the Social Bakers website suggested most of these followers were fakes. The number of its Twitter followers has since dropped below the million mark to 995,201. Its Facebook page, meanwhile, has 1,284,104 "likes".
Following its conference on human rights and counterterrorism in Geneva last week, GNRD posted videos of the main speeches on YouTube. Since then, the speech by Khaled al-Shaar, a Bahraini MP, has had 142 views while only 31 people have viewed the speech by Anatoly Kulikov, a Russian army general.
These speakers were dramatically outshone, however, by GNRD's president, Loai Deeb, whose speech has supposedly been viewed 257,511 times on YouTube in the space of just four days. His speech has also been "liked" 47,531 times on Facebook. On Twitter, the link to his speech has been retweeted 5,753 times and favourited 3,701 times: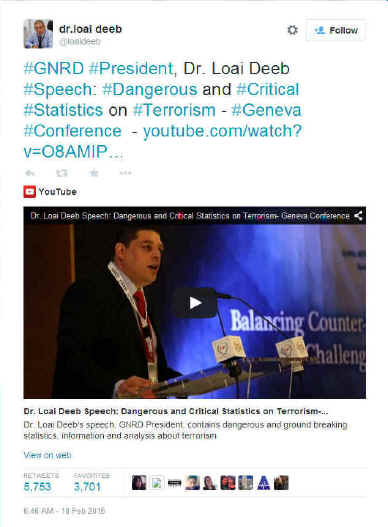 A look at the Twitter accounts that have endorsed Deeb's speech suggests they are no more genuine than his "Scandinavian University". Most of them have few followers and no noticeable interest in human rights or counterterrorism. In general, they look to have been set up mainly for marketing purposes.
My most recent article about GNRD was posted on 9 February and shortly after that some odd things started happening.
On 11 February I discovered that someone had set up a fake Facebook account using my name and photograph. I found out about it when friends on my genuine Facebook page received invitations to befriend me again – on the fake page. The fake page could easily have been mistaken for the real thing, though it had adapted my CV to include some inflated claims – for example that I studied at Cambridge University (which I didn't).
I reported the fake page to Facebook, who promptly deleted it. But shortly after that my own Facebook account was suspended because someone had complained to Facebook that I was using a false name. I provided Facebook with a scan of my passport and the account was restored a few hours later.
Around the same time, I received a message from Twitter that someone had tried (unsuccessfully) to get into my account and reset the password.
I have never had problems of this kind with Twitter or Facebook before, which led me to wonder if they were triggered by something I had written. There was no particular reason, other than their timing, to suggest they might be connected with my article about GNRD, though in the light of subsequent events I am beginning to wonder.
On 16 February, a new Twitter account called Media & Intelligence (@Media_intel) announced that it would "expose all journalists working with intelligence agencies around the world" – and it turns out that I was one of those it was planning to "expose" ...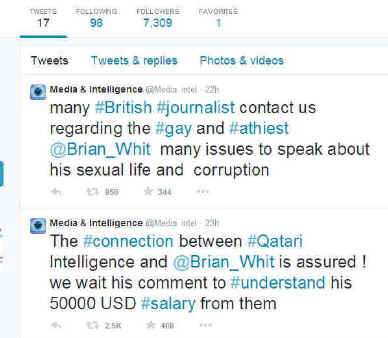 The second of these, about my non-existent Qatari salary, seems to be very popular on Twitter. It has so far been retweeted 2,495 times and favourited 408 times.
Another one (below) has been retweeted 3,639 times and favourited 876 times: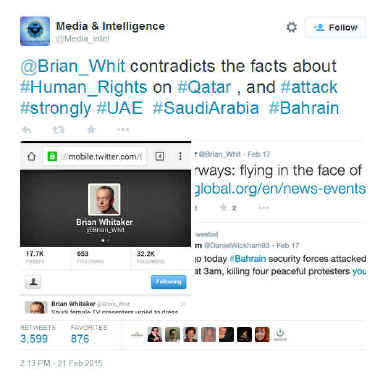 Another tweet, posted today, has had less retweeting (at least, so far):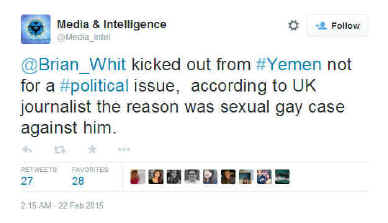 For the record, I have never been kicked out of Yemen or engaged in any sexual activity during visits there, but the interesting thing about all this is the organised nature of the retweeting.
And if you look at where the retweets are coming from, you will see that they are almost all coming from the same suspect Twitter accounts that were retweeting Loai Deeb's speech a few days earlier.
Posted by Brian Whitaker
Sunday, 22 February 2015
This work is licensed under a Creative Commons Attribution-NonCommercial 4.0 International Licence.