My continuing investigation into the UAE-linked Global Network for Rights and Development (GNRD) has prompted a renewed smear campaign directed against me by the organisation's supporters.
At first sight, GNRD appears to be a normal human rights and development organisation. It has consultative status at the United Nations. It is recognised by the EU and registered for lobbying purposes at the European Parliament in Brussels. It also has a cooperation agreement with the African Union and has acted as an official observer for elections in several Arab and African countries.
In other respects, though, it is far from normal. Its founder and president, Loai Deeb, previously ran a fake university from his home in Norway. It closed down under threats of legal action by the Norwegian authorities.
---
The GNRD file
Read the full story here
---
Another senior GNRD figure, Anne-Marie Lizin, who is known as the organisation's "High Commissioner for Europe", has been convicted of electoral malpractice in Belgium – for which she has been given a one-year suspended prison sentence and a five-year ban on holding public office.
Regardless of that, Lizin was part of an official GNRD observer team during Egypt's presidential election last year. A subsequent report hailed Egypt's "achievements thus far towards a path to democracy".
Unlike most human rights organisations (and the US State Department), GNRD also adopts an unusually favourable view of human rights in the United Arab Emirates where Loai Deeb has (or at least had) a consultancy business.
My previous blog posts about GNRD (which I have now collected together in a single file) drew a vicious response from supporters of GNRD and the UAE. Besides multiple attempts to hack my Twitter and Facebook accounts, hundreds of fake Twitter accounts were used to circulate smears about me. The same fake accounts had previously been used to advertise a speech by GNRD president Loai Deeb.
One allegation was that I am paid $50,000 a year by Qatar, and another that I had been expelled from Yemen for a sexual offence. Both are completely untrue.
Following my latest revelation about GNRD's developing links with the Church of Scientology, the smears have started again and become even nastier. This time there's a YouTube video which once again is being publicised via fake accounts on Twitter. It has so far been re-tweeted 5,400 times. At least some of the accounts involved in this had previously tweeted about Deeb's speech. Here is one example from an account called @mmconod. On February 18 it posted this: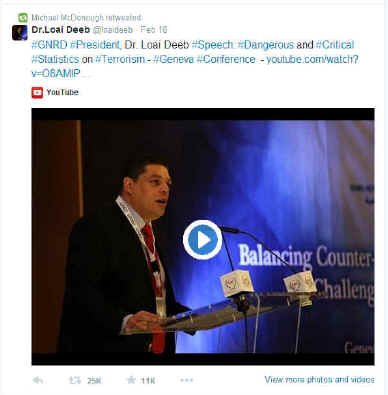 ... and yesterday it posted this: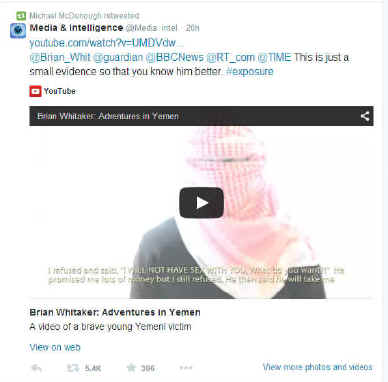 Deeb's speech, incidentally, has been retweeted 25,000 times and the YouTube video of it has purportedly been viewed an unbelievable 1,185,810 times.
The video about me is titled "Brian Whitaker: Adventures in Yemen". It shows a disguised figure in an Arab headscarf and contains text in English. The text is very unpleasant but I have decided to quote it in full, to show readers just how far GNRD's supporters are prepared to stoop:
"A person came to my town in Yemen, and he goes by the name 'Brian Whitaker'. He says he is a famous journalist in the United Kingdom. But he soon revealed himself as a sexually deviant (homosexual). I want to send a message out to everyone: be very careful of this person.

"He came to Yemen and helped with the overthrow of the government in Yemen. He used to travel to Hadda (high class street) to find people to have sexual intercourse. It was first time I meet up with him, said we want to go out and have a good time. We went to dinner and stayed up all night.

"We sat down together and took drugs (Qat). He wanted to speak with me (sexually). I said, 'What do you want?' He replied, 'I want you to have sex with me.'

"I refused and said, 'I WILL NOT HAVE SEX WITH YOU, What do you want?' He promised me lots of money but I still refused. He then said he will take me to Qatar. You will get a good job, salary and live a good life. He convinced me to have sex with him. He wanted to have sexual intercourse daily.

"He told me to introduce him to my friends in order for him to use them (for sexual intercourse) too. I want everyone to send Brian Whitaker a message and to be careful of people like Brian Whitaker who are a threat to the Arab world."
Needless to say, the video is a complete work of fiction, and I did not visit Yemen at all during or around the time of "the overthrow of the government".
Posted by Brian Whitaker
Friday, 13 March 2015
This work is licensed under a Creative Commons Attribution-NonCommercial 4.0 International Licence.