While developing a relationship with the Church of Scientology in London, the controversial Global Network for Rights and Development (GNRD) has also been active up in the Arctic Circle. It has signed an internship agreement with the world's northernmost university, in Tromsø, Norway.
An announcement on GNRD's website says the agreement was signed by Christine Smith-Simonsen, director of the university's Centre for Peace Studies (CPS), and Ahmad Salem, GNRD's chief public relations manager. It continues:
"This agreement was entered into for the purpose of strengthening the relationship between CPS and GNRD and to provide high calibre CPS graduates with the possibility of getting interesting and relevant work experience in specific human rights and development departments through an internship with GNRD.

"After the signing of this carefully drafted agreement, the GNRD representatives were kindly shown around the faculty and had the opportunity to speak with a current CPS student, who expressed his interest in the internship programme."
In other words, the university's Centre for Peace Studies (which was established with funding from the Norwegian parliament) will be providing GNRD with free labour. There is also talk of joint research projects:
"CPS and GNRD both expressed their enthusiasm and interest in collaborating together and their desire to work on research projects together in the future. The signing of this agreement represents the basis of an important partnership between CPS and GNRD."
GNRD is based in Norway where its founder/president, Loai Deeb, previously ran a fake university from his home in Stavanger (see photograph). The Scandinavian University (as it was known) boasted of having 175 professors and more than 300 lecturers, plus a wide range of courses stretching from engineering and economics to sharia and Islamic Studies. However, documents filed with the Norwegian authorities showed that despite the claims of a large teaching staff it had no employees at all.
The Norwegian education ministry became concerned that potential students could be misled into thinking it was an accredited institution, and in 2010 Deeb's university closed after being threatened with legal action.

---
The GNRD file
Read the full story here
---
Another senior GNRD figure, Belgian politician Anne-Marie Lizin, has been convicted of electoral malpractice and given a suspended prison sentence along with a five-year ban on holding public office.
GNRD also has links to the United Arab Emirates and adopts an unusually favourable view of human rights practices there.
A very peculiar feature of GNRD is the character of its online supporters, at least some of whom appear to be ardent supporters of the UAE and virulent opponents of Qatar. They have used hundreds of fake Twitter accounts to promote GNRD and also to launch a smear campaign against me after I began investigating GNRD and writing blog posts about it.
Fakery continues
In some cases, efforts have been made to make these fake Twitter accounts look like genuine accounts. One of them, for example, appears to be connected with a project at Columbia University's School of Journalism. But it isn't. The school's real account is here.
The fake account has posted a series of retweets from Loai Deeb's Twitter account, including this one yesterday: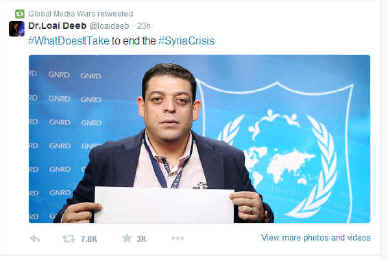 On March 12 the same fake account also retweeted a video from the smear campaign against me: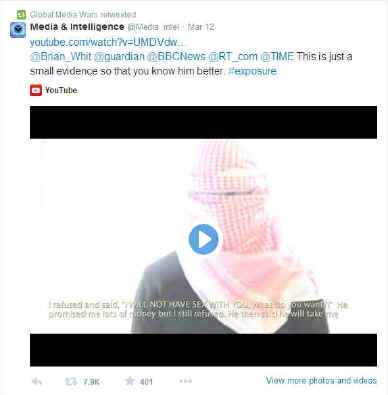 I described the video in a previous blog post.
Apart from general harasssment, such as trying to hack my online accounts and creating a fake Facebook profile using my name, the campaign has mostly focused on making fictitious sexual allegations and falsely claiming that I am paid by the government of Qatar.
An item posted in several places on Facebook yesterday (and since deleted by Facebook's moderators) made the bizarre claim that I had been paid by Qatar for a blog post in 2011 headed "Royal charity fights homosexuality in Qatar". This was cited as evidence of my "support" for Qatar when in fact it criticised Sheikha Moza bint Nasser, the emir's wife.
Part of my blog post said:
"I began to have doubts about Sheikha Moza's enlightenment a few years ago, when she hosted a conference in Qatar which brought together some of the world's most reactionary religious elements – Mormons and Catholics as well as Muslims – to 'defend the family'. The family is in peril, she warned in her opening speech, because of attempts to 'redefine the concept of family in a manner contrary to religious precepts'.

"Now, another of the Sheikha's more dubious charitable enterprises has come to light. It's al-Aween, which she established as Qatar's first centre to combat 'deviation from acceptable social behaviour' and 'provide specialised treatment for all kinds of behavioural deviation that require thorough intervention and treatment by specialists'.

"Alongside violence, bullying and drug abuse, al-Aween also applies its specialised 'intervention and treatment' to 'internet addiction' and homosexuality."
The blog post went on to talk about al-Aween's strange ideas for dealing with homosexuality and other supposed "problems" in Qatar such as men with long hair and girls who wear trousers.
What I can't understand is how anyone might imagine the Qatari government would want me to write that, let alone pay me for doing so.
Posted by Brian Whitaker
Wednesday, 18 March 2015
This work is licensed under a Creative Commons Attribution-NonCommercial 4.0 International Licence.