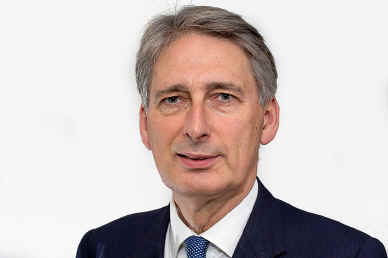 Have British-made weapons been used by Saudi Arabia in air strikes that caused mass civilian casualties in Yemen this week? The question was raised yesterday in the Daily Telegraph, a popular newspaper among Britain's military top brass.
While the Telegraph merely reported calls for an investigation and didn't attempt to answer the question, considering the scale of British arms sales to the kingdom over the year, the answer is very likely to be yes.
On Monday more than two dozen people died in a strike on a refugee camp in northern Yemen. On Tuesday, about 40 are thought to have died when a factory in Hodeida was hit, and according to Unicef more than 60 children have been killed in the fighting so far. All this suggests, at the very least, a somewhat lackadaisical attitude towards minimising civilian casualties.
Despite many questions raised about the wisdom of the Saudi-led air campaign, the British government was quick to declare its support. Last week foreign secretary Philip Hammond said Britain would back it "in every practical way short of engaging in combat". though he did not rule out becoming more deeply involved. Speaking in Washington, he said:
"As you know we have a long-standing relationship with the Saudi armed forces, particularly the Royal Saudi Air Force.

"Saudis are, as I understand it, flying British-built aircraft in the campaign over Yemen and we have a significant infrastructure supporting the Saudi air force generally and if we are requested to provide them with enhanced support – spare parts, maintenance, technical advice, resupply – we will seek to do so."
Unfortunately, with the British parliament dissolved and the country in the throes of an election campaign focused mainly on domestic issues, this is unlikely to generate much public debate at the moment. Even so, there is a growing case for a radical review of Britain's arms sales to the Middle East.
One new element in this is the announcement last weekend that the Arab League plans to set up a joint military force – a sort of Arab version of Nato. In effect, it would be an expanded version of the Gulf states' Peninsula Shield force, presumably using troops from poorer and more populous Arab countries as cannon fodder.
Needless to say, since the Arab League has a long history of failing to get its act together, there is a good deal of scepticism (here and here, for example) about whether the plan will come to fruition, and the Washington Post suggests that if it does happen it is "as likely to compound as resolve the region's wars".
But even if the joint Arab force doesn't become formally established, we are still likely to see Arab countries collaborating militarily more often in the future – for the simple reason that the US and other western countries are becoming more reluctant to get involved directly.
Britain's arms sales are, at least in theory, subject to the EU Code of Conduct on Arms Exports which forbids "the export of equipment which might be used for internal repression or international aggression, or contribute to regional instability". In the light of a growing aspirations towards collective military action by Arab states, this raises questions about Britain's compliance. The ill-conceived intervention in Yemen, for example, is obviously more likely, in the words of the EU code, to "contribute to regional instability" than to lessen it.
But there is also a more fundamental problem. Are these Arab moves towards military collaboration really about national defence and regional security, or are they about protecting anachronistic regimes from those who seek to overthrow them?
A look at the most likely participants suggests the latter.
The only time the GCC's Peninsula Shield has been deployed during the last 10 years was in Bahrain in 2011, to bolster the monarchy in the face of street protests. The GCC of course denied that it was engaging in internal repression, arguing that their presence was merely to secure "military infrastructure from any foreign interference", but that was really splitting hairs. The purpose was to free up Bahrain's own forces in order to facilitate the repression.
With Saudi Arabia obviously bidding to take the lead Arab military initiatives, it's difficult to believe that the planned joint force would never be used to protect unpopular rulers from the wrath of their people.

Posted by Brian Whitaker
Thursday, 2 April 2015
This work is licensed under a Creative Commons Attribution-NonCommercial 4.0 International Licence.