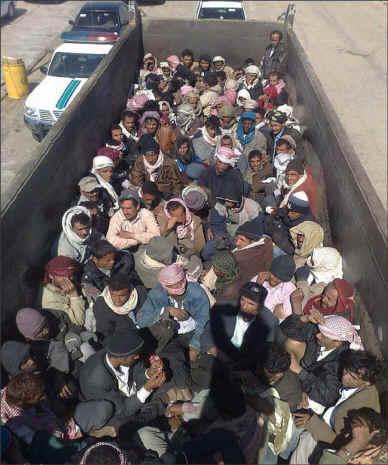 Photograph published by the Yemen Times, said to show Yemenis rounded up for deportation from Saudi Arabia in 2013.
In 2013 millions of foreigners living or working in Saudi Arabia were ordered to regularise their legal status or leave the country. Since then, hundreds of thousands have been rounded up and deported. Mass expulsions are still taking place and during the last few months have been averaging around 2,000 a day, according to the Saudi authorities.
Since the deportees are almost all migrants from some of the world's poorer countries – especially Yemen and Ethiopia – the story has attracted little attention from western media, though I followed it during 2013 and 2014 in a series of blog posts (compiled here into a single file).
Today a report by Human Rights Watch, based on interviews with dozens of workers deported to Yemen and Somalia, documents numerous abuses during the Saudi expulsion campaign. The migrants, it says, "described beatings and detention in poor conditions before they were deported. Many arrived back in their countries destitute, unable to buy food or pay for transportation to their home areas, in some cases because Saudi officials arbitrarily confiscated their personal property."
These accounts contrast sharply with the assurances from Saudi officials as the wave of deportations began. A police spokesman in Jeddah, for instance, told Arab News that the city's detention centre had been newly refurbished, with "unlimited capacity" for detainees of both sexes. "Medical, civil defence, first aid, utilities and humanitarian services are available around the clock," he said. In Mecca, police claimed to have a swift and efficient process that "takes about 48 hours depending on the consulates and flight availability".
However, the system was clearly not designed to cope with the huge numbers of people detained. Thousands of Ethiopians were transported to makeshift holding facilities, including a large wedding hall and the campus of Princess Nora Bint Abdul Rahman University, a large women's university in northern Riyadh, HRW says:
"One man told Human Rights Watch that he visited the wedding hall holding facility ... and saw thousands of foreign workers detained there, men in one area, and women and children in another, both inside and outside the building.

"He said that other Ethiopians in the neighbourhood were trying to help the detainees by bringing food and that many at the wedding hall had been left without shelter during a heavy rainfall in Riyadh. One Ethiopian in Riyadh said he escaped from the wedding hall after officials held him in an area outside the building for 10 days. He said the authorities failed to supply the detainees with sufficient food, forcing them to buy food from Saudi guards."
One Somali said he had been held in five different detention facilities for a total of 57 days before his deportation:
"In the first detention centre in Riyadh, there was so little food, we fought over it so the strongest ate the most. Guards told us to face the wall and then beat our backs with a metal rod ... Then we were transferred to a jail called Shimeisi in Riyadh, there were two toilets for 1,200 people, including dozens of children."
Another Somali described the conditions he experienced at a deportation centre in Jeddah:
"There was no air conditioning, it was very hot. There were five toilets for all of us [just under 790 people]. We slept on the floor. You were lucky if you have a cardboard box to sleep on. There was hardly any space to sleep. We had three meals a day, but it was insufficient [one piece of bread and soup for breakfast, half a plate of rice for lunch, and bread and soup for dinner]. If you had money on you, you could ask the police through the window to help you to buy food. But most people didn't have money on them as they were picked up in the street. I had $25 but used up $18 in the first seven days."
None of the migrants interviewed by HRW had been given an opportunity to legally challenge their deportations, the report says. This conflicts with article 14.6 of the Arab Charter on Human Rights which says "Anyone who is deprived of his liberty by arrest or detention shall be entitled to petition a competent court."
Although Saudi Arabia has given refuge to dictators such as Idi Amin of Uganda and ex-president Ben Ali of Tunisia, the kingdom has no established asylum system whereby migrants could apply to prevent their forced return to places where their lives or freedom would be threatened.
"Saudi Arabia should immediately halt mass expulsions, ensuring that removals are based on an individual assessment of the circumstances of the person being removed, including any international protection needs," the report says.
HRW also calls on the Saudi government to sign and ratify the 1951 Refugee Convention, enact refugee law consistent with international standards, and establish fair asylum procedures for foreign nationals who may be at risk of persecution in their home countries.
"In the meantime, it should allow the United Nations High Commissioner for Refugees (UNHCR) to exercise its mandate to determine the refugee status of asylum seekers and facilitate durable solutions for those recognised as refugees, including, where appropriate, integration in Saudi Arabia."
Underlying the deportations, of course, is the kingdom's iniquitous employment system which can result in migrant workers becoming "illegal" through no fault of their own, as well as exposing them to exploitation and abuse by employers.
In this connection, HRW makes several specific recommendations:
Reform or abolish the kafala sponsorship system so that temporary employment-based visas do not tie workers to a specific employer.

Ensure that all workers can change employers without losing legal status and without having to obtain their first employer's permission.

Abolish the "exit visa" and immediately eliminate the requirement for migrant workers to secure the consent of their sponsors in order to obtain "exit visas" to leave Saudi Arabia.

Take concrete steps towards eliminating visa corruption, including by prosecuting those who engage in visa corruption.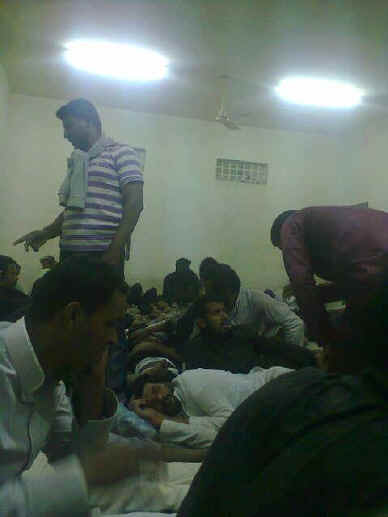 Above: Yemenis in Saudi jail awaiting deportation. Below: A lavatory in the deportation jail. From a series of photos posted on Facebook by Ameera Ahmed who said were taken by a Yemeni relative awaiting deportation.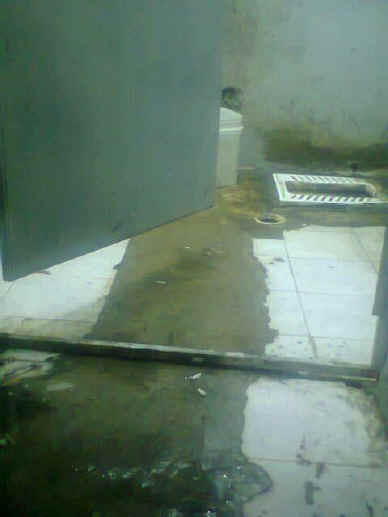 Posted by Brian Whitaker
Sunday, 10 May 2015
This work is licensed under a Creative Commons Attribution-NonCommercial 4.0 International Licence.