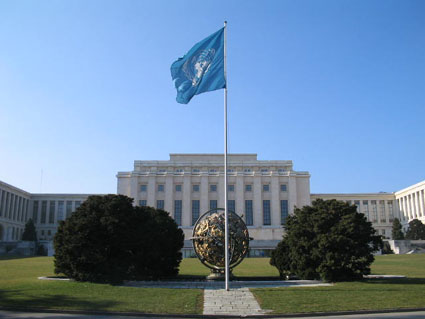 The UN's Geneva headquarters. GNRD will be holding two meetings there next week
The Global Network for Rights and Development – the organisation at the centre of a $13 million money-laundering investigation by Norwegian police – will be making use of its newly-acquired UN "consultative status" to host two meetings at the Palais des Nations in Geneva next week.
On Monday afternoon it will be holding a meeting on UN premises about women's rights. On Thursday it will be holding a lunchtime meeting entitles "Counter-terrorism and human rights".
Both meetings are being held in connection with the 29th session of the UN Human Rights Council. Having consultative status allows GNRD to organise "parallel events" on issues related to the council's work. It also allows GNRD to ...
Attend and observe all proceedings of the Council with the
exception of the Council deliberations under the Complaints
Procedure

Submit written statements to the Human Rights Council

Make oral interventions to the Human Rights Council

Participate in debates, interactive dialogues, panel discussions
and informal meetings
GNRD was granted consultative status in February this year, in controversial circumstances and after several years of trying. Sudan urged its acceptance, highlighting "the excellent work of the organisation" according to a report of the discussion (page 21). The US sought to delay a vote on the grounds that GNRD "was promulgating false information on its website" but the vote went ahead with Azerbaijan, Burundi, China, Cuba, Guinea, India, Iran, Mauritania, Nicaragua, Pakistan, Russia, South Africa, Sudan, Uruguay, Venezuela supporting GNRD's acceptance and only the US and Israel opposing it. Although this happened before the money-laundering allegations became public (and it would be wrong to presume that GNRD is guilty on that score), well-documented information about other aspects of GNRD and its founder-president Loai Deeb suggests the UN ought to reconsider its consultative status.

Posted by Brian Whitaker
Friday, 19 June 2015
This work is licensed under a Creative Commons Attribution-NonCommercial 4.0 International Licence.