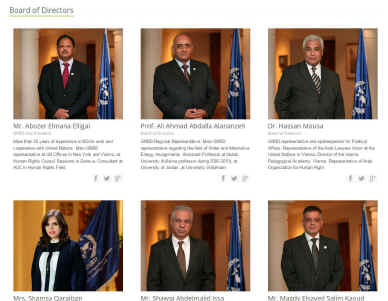 Amid growing media interest in the mysterious affairs of GNRD (the Global Network for Rights and Development), various items have begun disappearing from its website.
Norwegian media have been investigating GNRD following a police raid on its headquarters in Stavanger and the arrest of its founder-president, Loai Deeb. Deeb and GNRD are suspected of money laundering and police say the money involved – some $13 million which came mainly via the United Arab Emirates – is the proceeds of crime.
Although the Norwegian police have given no further details, there have been repeated claims that Mohammed Dahlan, the corrupt former chief of Palestinian preventive security in Gaza, was funding at least some of GNRD's "human rights" activities. Both GNRD and Dahlan have connections with the Emirates. (Full background to the story is here.)
Two items of interest to media investigators have been deleted from GNRD's website during the last few days:
One is the "Our Team" page which contained biographical notes about the organisation's board members and other key figures, along with their photographs.

The other is a collection of logos indicating GNRD's "collaborators and sponsors" which appeared at the bottom of the website's home page.
A news item which reported the signing of an agreement between GNRD and the Centre for Peace Studies at Tromsø university has also disappeared, though it is not known when this was deleted.
The information is not lost, however. Snapshots of the pages taken before the deletions were made can still be found in the Wayback Machine's archive. The "Our Team" page can be seen here, the previous version of the home page is here, and the Tromsø university item is here.
The Tromsø item may have been deleted because of complaints from the university. The Peace Studies centre in Tromsø blog post last week. They included businesses owned by Loai Deeb, two hotel companies and a travel agent (presumably used by GNRD) plus several NGOs in Latin America which GNRD staff have reported meeting on their travels. 
GNRD's website still has a page headed "Our Collaborators" which refers to its consultative status at the United Nations, its recognition by the European Parliament and its "memorandum of understanding" with the African Union. The page also displays logos for ALMUN (the Arab League Model United Nations) and GNRD's own youth section.
Last month GNRD issued a press release to celebrate Information Society Day. It said: "The dream and the goal of universal human rights can only be achieved by ensuring equality of connectivity and access to information and news. This is attainable through the exercise of cultural and political will in a manner that strengthens our common values."
  
   
Posted by Brian Whitaker
Sunday, 21 June 2015