GNRD supporters demonstrating outside UN headquarters in Geneva on Monday
Considering that the Global Network for Rights and Development (GNRD) claims to be a human rights NGO, it has some very strange supporters.
The latest move in the campaign to defend GNRD against its critics is a fake page on Facebook called "Brian Whitaker Gay Community". It's decorated with a Photoshopped picture of me in Arab dress in front of a Qatari flag, plus various pictures of naked men, including these: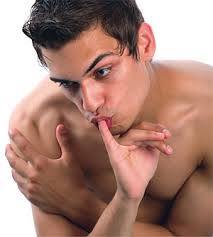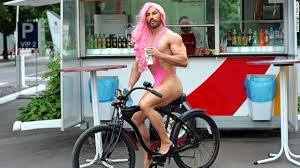 In a previous smear campaign on GNRD's behalf, in February and March this year, a made-up story was circulated on the internet claiming that I had sexual "adventures" in Yemen during the uprising against President Saleh. (As my passport shows, I wasn't even there at the time.)
This sort of campaigning may go down well in the United Arab Emirates – the country where most of GNRD's funds are said to come from – but is unlikely to find favour in Norway, where GNRD is based and where it is currently being investigated for suspected money laundering.
It's time for GNRD to make clear where it stands. Does it support homophobic campaigning or not?
Although GNRD says it opposes racial discrimination and "devotes its great efforts to protect and promote women's rights around the globe", it appears to have been totally silent on issues surrounding sexual orientation and gender identity.
A search for "LGBT" among the 2,500 pages on its website draws a complete blank. A search for "gay" finds three mentions. Two of these are people who have "Gay" as their surname. The other mention is a reference to "discrimination against lesbian, gay, bisexual, transgender and intersex persons" in a 2013 speech by Navi Pillai, the UN human rights chief, which GNRD posted on its website.
On Monday, GNRD supporters held a demonstration in front of the UN's Geneva headquarters, protesting against police raids at its Norwegian office and at the home of its founder-president, Loai Deeb. A tweet posted by GNRD described the raids as a "first step from democracy to totalitarianism" in Norway: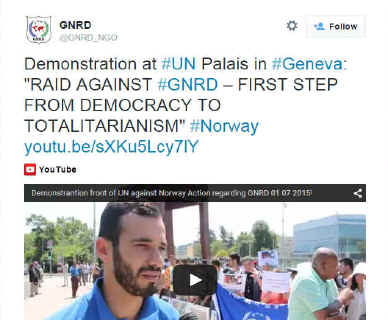 A GNRD video of the demonstration (at 4min 12 sec) shows one protester hesitantly reading out a prepared statement about me. Here is my transcript of the statement:
"First of all I would like to address the social worker (?!) Brian Whitaker who constantly posted in al-bab website aggressive articles against GNRD and its staff. It is really look like he has a order from someone and probably a big power against GNRD to publish in response to any GNRD activity an aggressive post. 

"If you read all these posts you understand there is no logic between them. They even contradict each other. It is coming increasingly clear that the Brian Whitaker is paid from a hired hand for some power and I hope the Guardian, a respected newspaper which from time to time publish his articles on different topics, will check the information I have just shared. 

"Maybe other publications of Brian are also made to order and paid for by powers and prefer to use them as a front rather than come out openly themselves."
     
Posted by Brian Whitaker
Firday,3 July 2015