Legal moves in money-laundering case
GNRD seeks access to documents
GNRD, the Emirati-funded human rights organisation suspected of money-laundering, and Loai Deeb, its founder/president, went to court in Norway yesterday seeking information about the evidence against them.
They requested access to documents held by Økokrim, Norway's economic crimes unit, which raided GNRD's Stavanger headquarters along with Deeb's home on 27 May in what was said to be a $13 million money-laundering investigation.
A report in Stavanger Aftenblad says yesterday's court hearing took place mostly behind closed doors. The judge accepted Økokrim's argument that an open hearing could harm the police investigation which was said to be still in its early stages and involving several countries. There was also a possibility that spectators at the hearing could later become witnesses in the case.
Aftenbladet says there were 11 members of the public in court before it went into closed session – mostly senior figures from GNRD.
Mystery lawyers from London
There were also two people who later identified themselves as lawyers from London. When asked about their involvement in the case, one of them told Aftenbladet they had come at their own expense: "We have always wanted to come to Norway. It is a beautiful country and the streets are so clean. It's not like in London." However, the paper adds that according to Deeb's lawyer, Kjell Brygfjeld, GNRD has previously worked with the two London lawyers.
Aftenbladet quotes Brygfjeld as complaining that Deeb is "being kept in the dark with regard to the factual basis for why he has been charged in this case".
Deeb and Brygfjeld have known each other for some years. In 2009 they were both involved in legal moves to prosecute several Israeli politicians and military figures for war crimes. Last year, Brygfjeld was one of three Norwegian lawyers sent by GNRD on an unsuccessful fact-finding mission to the Kurdish region of Syria.
"No connection" with Dahlan
Brygfjeld also told Aftenbladet that contrary to previous reports Deeb has "no connection" with Mohammed Dahlan, the former head of Palestinian "preventive security" in Gaza who now lives in the UAE. Brygfjeld said Deeb's relations with Dahlan are "not amicable" but he has "good contact" with the Palestinian president, Mahmoud Abbas.
Aftenbladet adds that outside the courtroom its reporter, Toralf Sandø, was approached by Deeb who told him much of what the paper had published about the GNRD affair was wrong – though he declined to elaborate. Deeb has given no media interviews since news emerged of the police raids.
Deeb and GNRD deny money-laundering and blame the government of Qatar for the allegations against them.
Deeb, who claims that Norwegian investigators have violated his human rights, has recently posted a series of statements on Twitter in Arabic, French and English. One says:
"Enjoying fair justice is one of the strongest keys for a good government. Unfair justice is the first step towards the collapse of any government."
Another says:
"When they violate your rights think plan and know how to respond because anger make you lose control."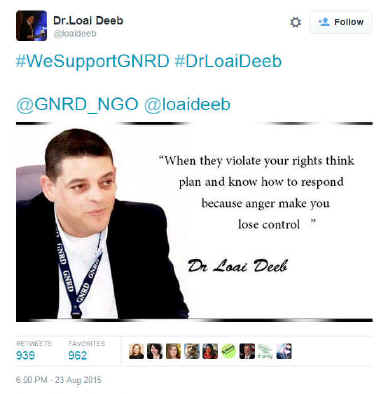 This work is licensed under a Creative Commons Attribution-NonCommercial 4.0 International Licence.