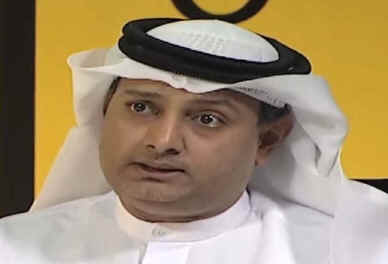 Salem Humaid, founder of al-Mezmaah Studies and Research Center in Dubai which donated money to GNRD
The Global Network for Rights and Development (GNRD) is a strange human rights organisation based in Norway and founded by a man who once ran a fake university. I have been investigating its activities and blogging about them for almost a year, so readers unfamiliar with the story may wish to start here.
GNRD has connections with the United Arab Emirates and has long been suspected of being an Emirati front organisation.
Last May, Norwegian police raided GNRD's offices and the home of its founder, Loai Deeb, as part of a $13 million money-laundering investigation. Most of that money is alleged to have arrived in Norway last year, via the UAE.
GNRD, which denies any wrongdoing, has never disclosed its sources of funding but now, thanks to a document which has come into my possession, one of its Emirati funders can be positively identified.
The document shows a bank transfer, in August 2013, of 100,000 euros to GNRD from al-Mezmaah Studies and Research Center in Dubai. It is understood that this was not the only payment from al-Mezmaah to GNRD and that al-Mezmaah is GNRD's main point of contact in the UAE.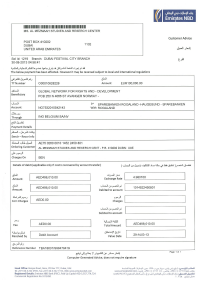 Al-Mezmaah describes itself as "an independent centre established by Dr Salem Humaid with the aim of concentrating on the regional affairs of the United Arab Emirates and also its repercussion at the Arab and international level and all that which exalt the name of the United Arab Emirates".
The website goes on to explain the choice of "mezmaah" for its name:
"It means the basket made from the woven palm leaves, and molded in the form of spiral in order to be in the form of a basket which is used by the sea and land people working in different fields and the fishermen used it to carry precious shells and pearls which they hunted from the sea after a severe effort at a time when the pearl trade was the economic nerve of many UAE cities.

"Al Mezmaah is the Emirate symbol of a basket with which we carry what is beneficial to us from information, news, studies and opinions that are being chosen carefully for you ..."
Al-Mezmaah engages in a wide range of activities but has been especially active campaigning against the Muslim Brotherhood and Iran, as can be seen from the articles on its website.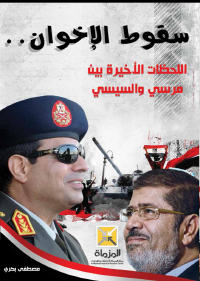 In 2013 al-Mezmaah published a book about Egypt entitled Suqut al-Ikhwan ("The Fall of the Brotherhood") and last year announced the launch of a free monthly magazine "to raise awareness of the dangers of political Islam". It said the magazine, Sada al-Watan ("Echo of the Nation") would be included as a free supplement with two Emirati newspapers and also "distributed in public places".
Involvement with Mohammed Dahlan
Al-Mezmaah also has connections with Mohammed Dahlan, the former head of Palestinian "preventive security" in Gaza. Dahlan now lives in the UAE where he is reported to be working as a security adviser for Mohammed bin Zayed, the crown prince of Abu Dhabi.
An article by al-Mezmaah in 2013 praised Dahlan for his views on the Muslim Brotherhood:
"Perhaps the lesson or strong blow leveled by Palestine leader Muhammed Dahlan ... against the group recently is a best evidence that uncovered nakedness of this group and its allies and plotters against the Arab people.

"Dahlan is not an ordinary man but is a professional security official and he knows more about the secrets of the international organization of Muslim Brotherhood and its offshoot in Gaza the Hamas and he possesses many documents that make this group naked before the Arab People.

"He asserted that [the] Brotherhood maintains firm security contacts with Israel that surpassed during the days of regime of former president of Egypt, and the ceasefire agreement in Gaza under the patronage of Brotherhood, is tantamount to a bare and deceit agreement and it portrayed the activities of Palestine Resistance as hostile activities and the US Ambassador in Egypt Anne W Patterson is the General Advisor of Brotherhood Group."
In April last year a Qatari website, Alamat Online, accused Dahlan of planning a media campaign to sabotage relations between Qatar and Saudi Arabia. It claimed the Saudis had intercepted communications between the crown prince's office and Dahlan, revealing a plan to commission inflammatory articles from al-Mezmaah for publication on various Arabic websites and in Egyptian newspapers. An English version of the story can be found on theMiddle East Monitor website.
Dahlan has also been alleged to be involved in funding GNRD. In February this year, GNRD held a hugely expensive conference on counter-terrorism in Geneva and according to a French-language publication, Afrique Asie, it was financed mainly by a group of businessmen who included Mohammed Dahlan.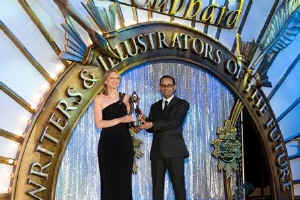 Salem Humaid at a Scientology awards ceremony
 in Hollywood
 
Humaid's Scientology connection
Salem Humaid, the founder of al-Mezmaah, has held various government posts in Dubai – most notably with the Dubai Culture and Arts Authority. He has also written occasionally for the Emirati newspaper, The National. One of his articles for The National attacked Human Rights Watch, suggesting it was "little more than a mouthpiece for the Muslim Brotherhood's international organisation".
Aside from his campaigning against the Brotherhood, Humaid holds a very unusual distinction. In 2010, he became the first Arab ever to be named "Culture Person of the Year" by the Church of Scientology. The title was bestowed on him at the Scientologists' "Writers of the Future" awards ceremony in Hollywood. A report of this event also said Humaid had been chosen to "supervise the Arabisation" of books by Scientology's founder, L Ron Hubbard.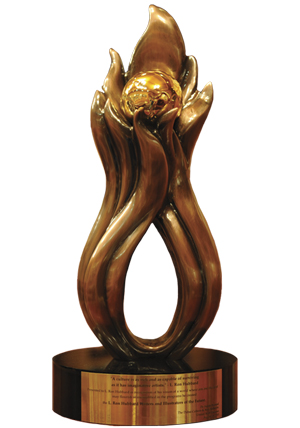 Trophy presented by Dubai's Culture and Arts Authority to the Scientologists
According to a Scientology website, the Dubai Culture and Arts Authority has also presented an award to the Scientologists "in recognition of Mr Hubbard's vision of a world where arts and the artist may flourish".
This connection may help to explain GNRD's bizarre involvement with Scientologists. Earlier this year, GRND staff attended "human rights training workshops" in London under the auspices of Youth for Human Rights, a Scientology front organisation. GNRD staff also attended a Scientology-run event to mark International Women's Day. The activities were reported on GNRD's website but without mentioning the word "Scientology".