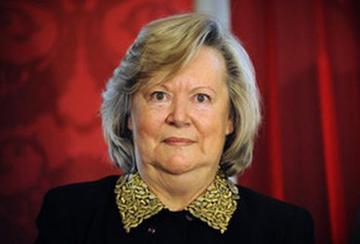 Anne-Marie Lizin: EU resolution was "neither constructive nor fair"
Rights activist defends Azerbaijan
GNRD 'high commissioner' accuses European Parliamen

A senior figure in the Global Network for Rights and Development (GNRD) has come to the defence of Azerbaijan following criticisms of its human rights record by the European Parliament.
Azerbaijan, a former Soviet republic, is a member of the Council of Europe and receives aid under the European Neighbourhood Policy. As a member of the European Broadcasting Union it hosted the Eurovision Song Contest in 2012.
Azerbaijan is also notorious for human rights abuses and a couple of weeks ago the European Parliament passed a resolution detailing some of its more recent violations.
"The overall human rights situation in Azerbaijan has deteriorated continuously over the last few years," the resolution said, "with growing intimidation and repression and intensification of the practice of criminal prosecution of NGO leaders, human rights defenders, journalists and other civil society representatives."
This resolution has since prompted objections from Anne-Marie Lizin, the discredited Belgian politician who serves as "High Commissioner" of GNRD, a quasi-NGO funded almost entirely via the United Arab Emirates and which is currently being investigated by Norwegian authorities on suspicion of money-laundering.
According to media reports from Azerbaijan, Ms Lizin – who has a conviction for electoral malpractice in Belgium – sent a protest letter to Martin Schulz, chair of the European Parliament complaining that the resolution was "neither constructive, nor fair" and calling for closer ties between the EU and Azerbaijan.
A similar thing happened last year when an earlier European Parliament resolution on the persecution of human rights defenders in Azerbaijan was followed by an article on GNRD's website praising Azerbaijan as "a unique country" which has "introduced many positive initiatives for women's rights and gender equality in the span of only a few years". It added:
"The remarkable efforts of Azerbaijan, the only Muslim country in the Eastern neighbourhood, should be recognised and encouraged by the EU."
These claims were the result of a "fact-finding mission" to Azerbaijan by Ms Lizin, accompanied by Patricia Lalonde (who, like Lizin, is a member of GNRD's women's committee) and Reine Marcelis, described as a "Belgian expert". It is unclear who paid for their trip, though their detailed report was published by La Ligue du Droit International des Femmes, a French organisation founded by the late feminist/existentialist Simone de Beauvoir.
Last year, despite her conviction for electoral malpractice, Lizin played a senior role in a GNRD observer mission for the presidential election in Egypt which legitimised General Sisi's seizure of power. The mission produced an enthusiastic report and GNRD has since been appointed by the Egyptian government to take part in monitoring the forthcoming parliamentary elections.
During a more recent visit to Cairo, Lizin was introduced to the Egyptian dictator and seems to have been so thrilled by the handshake that she posted a photo of it on her website: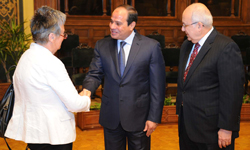 This work is licensed under a Creative Commons Attribution-NonCommercial 4.0 International Licence.