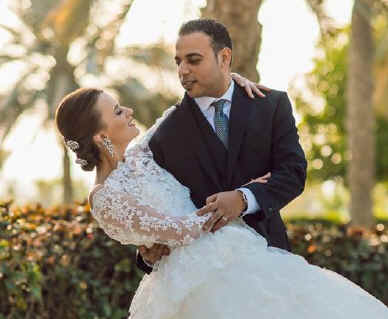 Husband-and-wife GNRD executives, Jehad Jaghoub and Evgenia Kondrakhina
Norwegian police carried out further raids yesterday in connection with their investigation into suspected money laundering by the Global Network for Rights and Development (GNRD).
The first raids, last May, which had been triggered by large transfers of money from the United Arab Emirates, targeted GNRD's headquarters in Stavanger and the home of its founder/president, Loai Deeb, who previously ran a fake university. Documents and computer equipment were seized.
In yesterday's raids, police returned to GNRD's headquarters and also visited the home of two of its senior employees – Chief Operations Officer Jehad Jaghoub and his wife, Evgenia Kondrakhina, who is GNRD's Chief Executive Manager. There was no suggestion that they are suspected of illegal activity.
A spokesman for Økokrim, Norway's economic crimes unit, told the Norwegian broadcaster NRK that police were looking for further information – "not from the accused, but from a third party, a witness."
Jaghoub is a Palestinian from Nablus and he studied at Al-Quds Open University in Ramallah, according to his Facebook profile. His LinkedIn profile says he has a master's degree in information technology. Kondrakhina had several jobs in Russia before joining GNRD in 2011, initially as a regional manager.
Last week Innsamlingskontrollen, the Norwegian organisation that monitors charitable fundraising placed GNRD on its Watch List – in effect, warning the public not to donate money to it. Innsamlingskontrollen said GNRD had "completely failed to respond to repeated requests" for key information about its finances and organisation.
GNRD denies money-laundering and claims to be the victim of a conspiracy orchestrated by the government of Qatar. It has also accused the Norwegian authorities of abusing its human rights, describing the police raids as a "first step from democracy to totalitarianism" in Norway.
In a comment posted on Facebook yesterday, Loai Deeb wrote: "Their secret investigation that no one understands against a human rights organisation, in addition to the continuous violation of the law, proves well that the matter is purely a political issue."
GNRD supporters have also been attacking Norway at the UN Human Rights Council, which is currently in session in Geneva. One speaker claimed that Norway is in breach of the International Covenant on Civil and Political Rights (ICCPR), regarding the return of seized documents:
"It is a matter of public record that GNRD has filed a lawsuit against the prosecutor concerned for seizing working documents, including GNRD research on the state of international human rights, and demanded return of those valuable documents.

"However, what is less known is that the court, in blatant disregard of ICCPR provisions, not only failed to order the restoration to GNRD of all its seized documents, but it also succumbed to the prosecutor's flimsy argument for holding the hearing behind closed doors. Nor did the court take any steps to protect GNRD against exposure of its organizational documents or to admonish sections of the press who inexplicably obtained access to those documents and went on an irresponsible spree of publishing unfounded reports based on leaks of materials in police custody.

"The leaks are compelling evidence of an unhealthy alliance between the police, the concerned prosecutor and certain sections of the media.

"This experience of GNRD underscores the fear that a number of countries appearing under the guise of democracy are leaning dangerously toward authoritarism, violating all international laws and human rights treaties, and infringing the values of justice and fair play."
Another speaker, calling for a Norwegian parliamentary investigation, said:
"The recent case of GNRD is a serious example of where an NGO could not find a specific national mechanism to vent its frustration over violations of the law and bring the Norwegian authorities to account. GNRD experienced many violations such as closed courts, secret evidence, semi-state media smear campaign, visa restrictions on employees and procedural violations."
An earlier session of the Human Rights Council, in June, was also used for campaigning on GNRD's behalf.
GNRD was granted "consultative status" at the UN last February, in a move backed by Azerbaijan, Burundi, China, Cuba, Guinea, India, Iran, Mauritania, Nicaragua, Pakistan, Russia, South Africa, Sudan, Uruguay and Venezuela.


Posted by Brian Whitaker
Wednesday, 7 October 2015
This work is licensed under a Creative Commons Attribution-NonCommercial 4.0 International Licence.