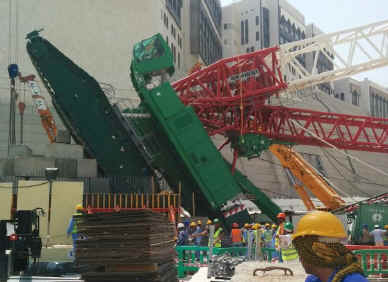 Five "top engineering and technical officials" are expected to go on trial in Saudi Arabia in connection with the world's worst crane accident last September, according to local media. More than 100 people died and several hundred were injured when a crawler crane toppled backwards during a storm and crashed on to the Grand Mosque in Mecca.
The five, who have not been named, are said to include government officials as well as employees of the Binladin construction company which operated the crane. They are blamed for the accident in a report produced by the Saudi Bureau of Investigations and Public Prosecution (BIP) but the BIP has yet to decide what charges to bring against them.
Although some Saudis were quick to attribute the crane disaster to an act of God, investigations revealed a clear case of negligence. In September, a report by its Swiss-based manufacturer, Liebherr, said the crane, which stood just over 200 metres tall had been left – contrary to operating instructions – with its boom and jib in the fully raised position overnight to face a sand and thunderstorm with heavy rain and winds of between 50 and 65 mph. The winds caused the crane to tilt over.
The crane involved, known as LR11350, was fitted with tank-like tracks enabling it to move around the construction site. Cranes of this type are vulnerable to flipping backwards if not used properly.
Citing the manufacturer's report, Heavy Lift News said:
"The crane had only been used sporadically prior to the incident and was left out of service with boom and jib both fully elevated when all of the crane's instructions clearly state that when such conditions are expected the jib and ideally the boom should be lowered."
The Saudi authorities, who traditionally have a rather lackadaisical attitude towards safety issues, have taken an unusually firm line in dealing with the crane disaster – possibly because the king is the official guardian of the Grand Mosque.
In November they issued new – and seemingly much stricter – rules for the use of cranes in the kingdom. They have also banned all board members of the Binladin Group, along with some senior executives and others connected with the Grand Mosque expansion project from leaving the country until legal procedures have been completed.


Posted by Brian Whitaker
Wednesday, 16 December 2015
This work is licensed under a Creative Commons Attribution-NonCommercial 4.0 International Licence.