Since the beginning of this month, Muslim activists have succeeded in getting Facebook to close down at least nine Arab atheist or secularist groups with a combined membership of more than 128,000.
[See update for further developments]
The cyber-jihadists have attacked these groups by bombarding Facebook with vexatious complaints about them and sometimes deliberately posting offensive material on the groups' pages in order to report it to Facebook.
Attacks of this kind been going on for some time but administrators of Arab atheist Facebook groups say they have greatly increased during the last couple of weeks.
The groups that Facebook has closed down so far this month are:
1. Arab Atheist Network (Shabaka al-Mulhidin al-Arab): 23,500 members

2. Arab Atheist Forum and Network (Shabaka wa Muntada al-Mulhidin al-Arab): 9,200 members

3. Radical Atheists without Borders (Mulhidun Radikaliyun bi-la Hudud): 23,500 members

4. Arab Atheist Syndicate (Niqaba al-Mulhidin al-Arab): 11,000 members

5: Arab Atheist Syndicate – backup (Niqaba al-Mulhidin al-Arab al-Ihtiyati): 5,000 members

6. Humanitarian Non-Religious (Al-Insaniyya al-Ladiniyya): 32,000 members

7. Human Atheists (Insaniyun Mulhidun): 11,000 members

8. Arab Atheist Forum and Network (Shabaka wa Muntada al-Mulhidin al- Arab): 6,400 members. URL not available

9. Mind and Discussion (Al-Aql wal-Hiwar): 6,500 members. URL not available
Two others which are said to have been closed are a group for Arab atheists in Canada and a dating group for atheists.
A further seven Facebook groups with a combined membership of 176,000 are known to be currently targeted:
1. Humanitarian Dialogue Forum (Muntada al-Hiwar al-Insani): 31,166 members

2. Humanitarian Non-Religious (Al-Insaniya al-Ladiniya): 45,603 members

3. Non-Religious in the Middle East (Al-Ladiniyun fi al-Sharq Awsatiyun): 11,901 members

4. Philosophy and Logic (Al-Falsafa wal-Mantiq): 27,692 members

5. Atheist Till End of Religion (Al-Mulhidun Hatta Zawal al-Din): 5,196 members

6. Radical Atheists without Borders (Mulhidun Radikaliyun bila Hudud): 7,081 members

7. Atheist Research (Bahth Mulhidin wa Khadabawaran): 47,379 members
(Note: a check on these this morning suggests the third group in the list has now also been shut down.)
Usama al-Binni of the Arab Atheist Network explained some of the techniques used in the attacks.
"We know for sure that they have had people planted within our groups," he said. "They post something that looks innocuous – something like pictures of destruction in Syria. They would post maybe 30 pictures, and the pictures that you would see on the outside would be just regular pictures of destruction. But then if you scroll through the pictures when you get to picture 23 or 24 you would start seeing porn."
The infiltrators would then report the porn to Facebook. They would often report it immediately – before the group administrators had a chance to spot it and delete it.
Aside from these infiltrators, others working outside the groups take part in orchestrated reporting campaigns, accusing them of hate speech and other breaches of Facebook's community rules.
Binni, a Jordanian-born physicist and translator, says these accusations are ridiculous. "What we are doing is criticising religion in a way that is no different than any other intellectual, sober, criticism. We actually have rules that are far more stringent than Facebook's as far as personal attacks, cursing and stuff of that sort, are concerned, and so it seems like the whole thing is happening in a ridiculous way."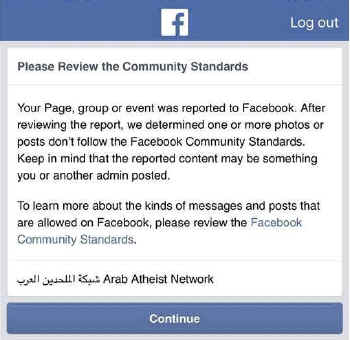 Some of the atheist groups have tried to protect themselves by creating backup groups that they can switch to if the main group is closed down, but that is now becoming less effective. Binni continued:
"For our group, we have a reserve [backup] that has been dormant for several months and they have targeted that as well, so we had to change it from 'closed' to 'secret' – which basically killed the group. There is basically no activity there."
Elsewhere on Facebook the cyber-jihadists have been celebrating their recent successes. "They are calling it 'The February Victory', or something like that," Binni said.
There are at least five Arabic-language groups on Facebook involved in coordinating attacks. One of them, a closed group which makes no secret of its purpose, calls itself "Team for closing pages that offend Islam".
Encouraged by their "February Victory" against atheist and secularist groups, some of the cyber-jihadists appear to be broadening their targets.
"There are also some [individual] pages that have been targeted as well, and now they are trying to get our personal accounts," Binni said. "We have been getting death threats and all sorts of weird characters that appear to be hackers or wannabe hackers that keep cursing and saying things privately but so far they haven't been able to do anything to us or to our accounts."
Over the last few days, administrators from the affected atheist/secularist groups have been working together to document the attacks and coordinate their next steps.
"We're not going to let them enforce their censorship over us on Facebook, "Binni said. "This is going too far. If this is not terrorism I don't know what is. For years we've been doing this defensively, but now it's a survival issue."
An online petition has been organised calling on Facebook to reverse its practice of shutting down Arab atheist and secularist groups.
The cyber-jihadists clearly believe that by carrying out these attacks – and, in effect, suppressing critical discussion of religion – they are furthering the cause of Islam. One problem in trying to disabuse them of that is that their activities closely mirror the policies of most Arab governments. Numerous Arab countries have laws against "defaming" religion and in Saudi Arabia "promoting" atheism is classified as terrorism. In five Arab countries – Qatar, Saudi Arabia, Sudan, the United Arab Emirates and Yemen – apostates (Muslims who renounce Islam) can potentially by executed.
Read more about atheism and freedom of belief
in the Middle East:

This work is licensed under a Creative Commons Attribution-NonCommercial 4.0 International Licence.