One of the world's strangest human rights organisations, the Emirati-funded Global Network for Rights and Development (GNRD), was declared bankrupt by a court in Norway yesterday.
The case was brought by an employee, Thomas Bechmann, who claimed he was owed NOK 250,000 ($30,120) in unpaid wages since January. "We were told all the time that the money came next week, then next week, then next week," the Norwegian news agency NTB quoted him as saying. Bechmann had been working at GNRD's Stavanger headquarters as a film producer and project manager since October 2014.
GNRD was once well-funded. In 2014 it had 67 staff and a declared annual budget of €4.2 million. Founded in 2008, it expanded rapidly from its Norwegian base, establishing branches in Belgium, Switzerland, Spain, Sudan, Jordan and the UAE.
It has consultative status at the United Nations and is recognised by the EU and registered for lobbying purposes at the European Parliament in Brussels. It also has a cooperation agreement with the African Union and has acted as an official observer for elections in several Arab and African countries.
Despite this international recognition, GNRD always had questionable credentials. Palestinian-born Loai Deeb, its founder/president, had previously run a fake university from his home in Stavanger.
The "Scandinavian University", as Deeb called it, boasted of having 175 professors and more than 300 lecturers, plus a wide range of courses stretching from engineering and economics to sharia and Islamic Studies. How many students it had is a complete mystery and documents filed with the authorities showed that despite the claims of a large teaching staff it had no employees at all. Deeb's "university" eventually closed after being threatened with legal action by the Norwegian education ministry.
At GNRD, Deeb insisted on being referred to as "Doctor Deeb" – claiming to have a PhD in international law. Norwegian media have been unable to establish where he got this degree and Deeb himself has given no clear explanation.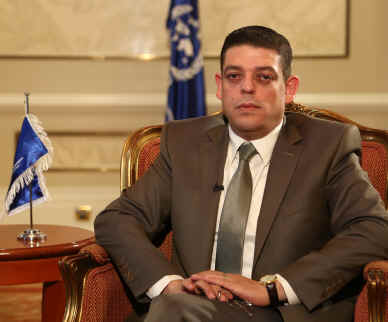 GNRD founder/president Loai Deeb
Deeb and GNRD also resorted to subterfuge on social media by apparently purchasing vast numbers of supporters and followers. Deeb currently has an unbelievable 1.46 million followers on Twitter and GNRD has almost 900,000. Deeb's Facebook page has 1.2 million "likes" and GNRD's has 1.1 million. In addition, before money became scarce, they were paying to have their posts on Twitter retweeted thousands of times by fake accounts.
The bubble burst suddenly in May last year when Økokrim (Norway's economic crime police) raided Deeb's home and the offices of GNRD. They were accused of money-laundering and benefiting from the proceeds of crime – to the tune of $13 million, according to Norwegian media reports. The case has yet to be heard in court. In April Økokrim confirmed that its investigation is continuing but declined to comment further.
Deeb and GNRD deny wrongdoing and claim the case was instigated by the government of Qatar. The Norwegians say it began when large transfers of money from the UAE triggered an alert in the banking system.
Last October, Innsamlingskontrollen, the Norwegian body that monitors charitable fundraising warned against donating money to GNRD. It placed GNRD on a Watch List, saying it had "completely failed to respond to repeated requests" for key information about its finances and organisation.
First suspicions
I first became suspicious of GNRD in September 2014 because – unlike most human rights organisations – it had an unusually favourable view of human rights in the UAE. This led to a lengthy investigation of its activities which I documented in a series of blog posts (see compilation here).
In February last year, GNRD held a lavish two-day conference at one of Switzerland's top hotels. Some 200 delegates flew in from 67 countries to hear Deeb announce a ludicrously unworkable plan for an "international convention" against terrorism. At least one of those taking part, a British MEP, was provided with a business class ticket to attend. A video of Deeb's speech to the conference has purportedly been viewed 1,186,613 times.
My criticism of the Geneva conference seems to have struck a particularly raw nerve and, in a statement on its website, GNRD announced that it was "in the process of opening a legal case" against me. I never heard anything from lawyers but a campaign of online harassment began.
Someone created a fake Facebook profile using my name and photograph with a misleading CV. My own Facebook account was briefly suspended after someone complained that I was using a false name, and someone tried to hack into my Twitter account.
A Twitter account called @Media_intel also began making false claims about me. One of its tweets said I was being paid $50,000 a year by Qatar; another said I had been expelled from Yemen for a sexual offence. These claims were then retweeted thousands of times by fake Twitter accounts – the same fake accounts that Deeb and GNRD were using to promote their activities.
Running out of money
The first signs that GNRD was running short of funds came at the start of this year. The number of activities reported on its website shrank dramatically. Its posts on Twitter also dropped to a fraction of what they had been a year earlier, often appearing without the large numbers of paid-for retweets.
In Jordan, a young woman who in December had been offered an internship at GNRD's Amman office found the office closed when she tried to take up the post in January.
In April, the accreditation of GNRD's two remaining lobbyists at the European Parliament in Brussels lapsed. At its peak, the organisation had 15 people registered there for lobbying purposes. Meanwhile, officials of the EU's Transparency Register are looking into GNRD's use of the European Parliament logo on its website and its claim that the parliament is one of GNRD's "collaborators". The rules say that registered organisations must "not claim any formal relationship with the European Union or any of its institutions ... or use the logos of EU institutions without express authorisation."
GNRD's last major project was observing the Egyptian parliamentary elections which ended in December. It had been chosen to lead an international observer mission after issuing a favourable report on the earlier presidential election which legitimised Sisi's seizure of power. Although GNRD completed its observation of the parliamentary elections, a long-promised final report on Egypt's "epoch-making democratic process" has still not appeared.


Posted by Brian Whitaker
Tuesday, 5 July 2016
This work is licensed under a Creative Commons Attribution-NonCommercial 4.0 International Licence.