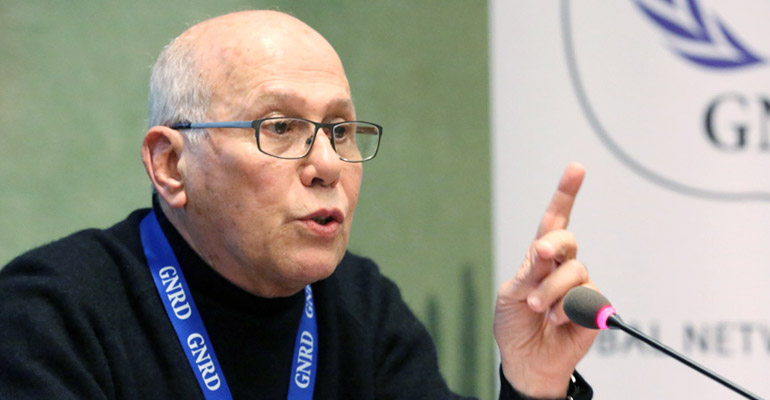 An article has appeared on three French-language websites defending GNRD, the strange (and now bankrupt) human rights organisation that Norwegian authorities have accused of money-laundering.
The article portrays GNRD as a brave non-western alternative to groups like Human Rights Watch and Amnesty International which has fallen victim to political machinations involving Qatar in particular. Not surprisingly, its author – René Naba, a French journalist of Lebanese origin – has connections with GNRD and two related organisations.
Naba, who was one of the speakers at a GNRD-organised conference on counter-terrorism last year, is a consultant for the International Institute for Peace Justice and Human Rights (IIPJHR) which was a partner with GNRD in many of its activities. He also belongs to a "consultative panel" for the Scandinavian Institute for Human Rights (SIHR), an organisation which was jointly established by GNRD's Palestinian-born founder-president, Loai Deeb, and Haytham Manna, a Syrian exile. Manna has also been a frequent participant in GNRD activities.
SIHR (an unfortunate acronym which means "witchcraft" in Arabic) and IIPJHR are both based in Geneva at 1 Rue Richard Wagner which was also the address of GNRD's Swiss branch before its bankruptcy.
Naba's article defending GNRD can be found on his own website, En Point de Mire, plus Libnanews where Naba is described as a "partner" and Madaniya, where Naba is the site's "director". A note on Madaniya's website says it receives "corporate support" from SIHR.
The money-laundering case, which has not yet come to court, arose from police raids on Deeb's home and GNRD's headquarters in Norway last May. The investigation is understood to have begun when large transfers of money from the UAE triggered an alert in the banking system but Deeb and GNRD, who deny the charges, say the case was instigated by the Qatari government.
In his article, Naba alleges various procedural irregularities relating to the police raids and says the documents seized included "a centerpiece of inestimable value" – a 1,000-page "encyclopedia" of terrorism which GNRD had been planning to publish, giving a country-by-country view of the "connections and funding of global jihadism".
Suppressing GNRD's encyclopedia was "undoubtedly the real reason for this muscular search", Naba says, adding:
"The chapters concerning Norway, Israel, Qatar and the United States are missing. And this might explain it. The same process had been used by the United States to intercept the report of the UN inspectors on chemical weapons, on their return from Baghdad to New York, during the media offensive leading up to the US invasion of Iraq in 2003."
Such conspiracy theories are based, of course, on an assumption that the Norwegian authorities had no genuine reason to investigate GNRD's finances. On that point, GNRD has made little effort to demonstrate that its funding came from legitimate sources beyond saying that it relied on business donors (one of whom was Deeb himself).
In the article Naba describes Deeb as a "fearless tycoon [brasseur d'affaires], consultant for oil firms and founder of a formidably dynamic NGO" who "arouses admiration and loathing for all his qualities".
If it's true that Deeb is a substantial businessman this would go a long way towards explaining GNRD's mysterious funding but Naba's article provides no evidence to support the claim and there are several reasons for doubting it.
Before founding GNRD in 2008, Deeb – a Norwegian citizen of Palestinian origin – did not appear to be particularly wealthy. According to Norwegian media reports he earned a living distributing newspapers and as an airport security guard, and his personal income was around $25,000 a year until 2013 when it suddenly leapt to $600,000.
Around the same time, GNRD began to receive very generous funding via the United Arab Emirates: more than $1.6 million via the UAE in 2013, almost $5 million in 2014 and more than $6.9 million in 2015. The figure for 2015 would probably have been far higher if payments had not been curtailed in mid-year by the Norwegian police investigation.
The donations came almost entirely from obscure companies registered in the UAE, at least one of which – Deeb Consulting, the main donor in 2014 – was owned entirely by Loai Deeb.
Deeb Consulting was set up in 2014 and, if Deeb's account is to be believed, it almost immediately became profitable enough to start funding GNRD on a grand scale. Quoted in Stavanger Aftenbladet last month, Deeb explained this by saying "I have a large network in the Middle East, so it was possible for me to quickly establish a consultancy there" and "We made some good contracts early." However, he declined to give details, citing confidentiality and Emirati law.
This apparently instant success is all the more remarkable since Deeb had no known expertise in business consultancy work and if, as Naba suggests, his clients were oil companies it is unclear why they would want to consult him. One question this raises is whether Deeb Consulting was a genuine business or merely a conduit for funds (see previous blog post).
One startling feature of Naba's article is that it refers to Deeb in French transliteration as "Lou'ay Dib Badeer". In a previous article, in May last year, Naba also called him "Loua'y Badeer". The "Badeer" name does not appear to have been used anywhere else – not even by Deeb himself, at least while living in Norway.
However, Badeer (or Badir) is apparently the name of Deeb's Palestinian clan. Naba writes:
"Anyone who knows a little about the Palestinian social fabric and the historic inter-clan solidarities would easily know that the Badeer the family divided its sympathies, like many Palestinian families, between the two charismatic leaders of the Palestinian national movement, Yasser Arafat, leader of Fatah, and George Habbash, head of the Marxist organisation PFLP (Popular Front for the Liberation of Palestine)."
Naba's apparent purpose in mentioning this is to counter persistent claims that a hugely expensive conference on counter-terrorism organised by GNRD in Geneva last year had been funded by Mohammed Dahlan, the exiled former head of Palestinian "preventive security" in Gaza. The suggestion in Naba's article seems to be that traditional clan loyalties would have prevented Dahlan and Deeb from collaborating in such a way.
The Geneva conference was almost certainly the biggest and most expensive gathering organised by GNRD in its seven-year history and Deeb clearly attached great importance to it. Money appeared to be no object. It was attended by some 200 delegates from 67 countries and held in the five-star Hotel President Wilson on the shores of Lake Geneva where room prices start at around £250 a night.
British MEP Julie Ward was among those flown in for a panel discussion at the conference. GNRD paid for her £525 business class ticket from Manchester to Geneva via Brussels, and provided her with two nights' accommodation at the Wilson.
The main purpose of the conference was to present GNRD's solution to the problem of terrorism, in the form of a draft International Convention on Counter-Terrorism (full text here). Basically, GNRD's proposal was to set up an international body modelled on one of the UN's most ineffective institutions – the Human Rights Council – which would then compile a list of terrorist groups based on voting by member states rather than an assessment of evidence (see previous blog post for futher discussion of this).
Attendees at the conference were not given an opportunity to discuss the draft convention in open sessions but individual clauses from the draft were read out to them by a succession of female GNRD employees who had been given money to buy new clothes specially for the occasion.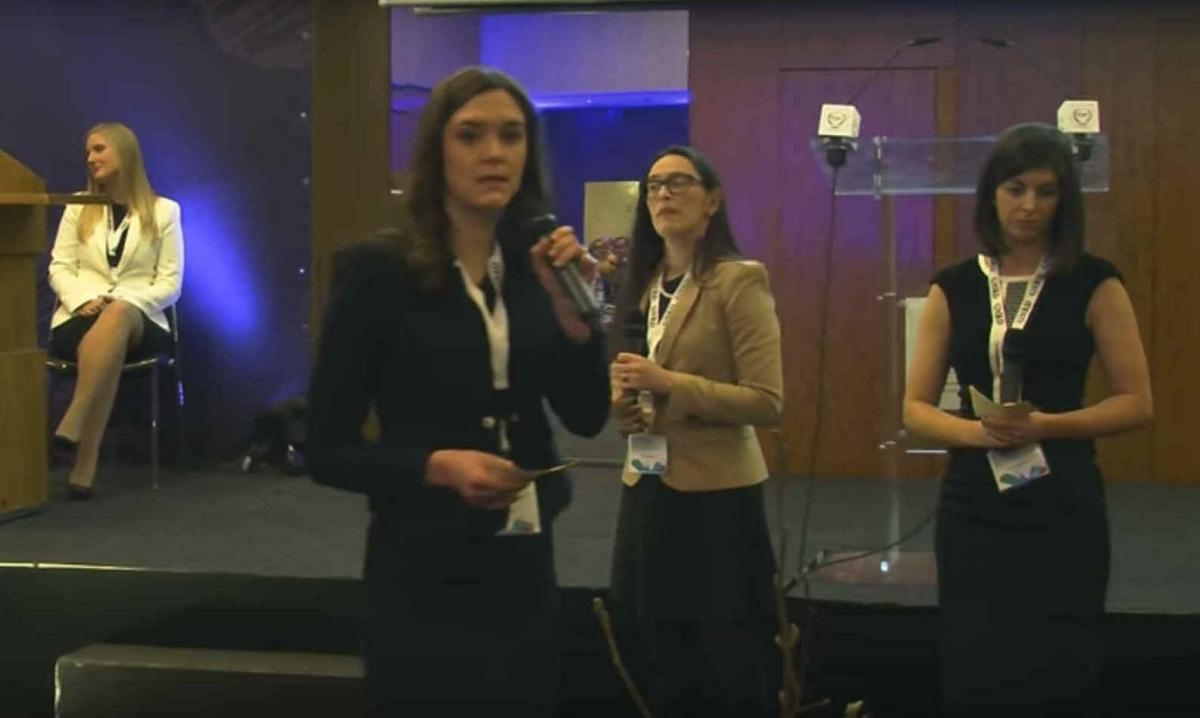 This work is licensed under a Creative Commons Attribution-NonCommercial 4.0 International Licence.