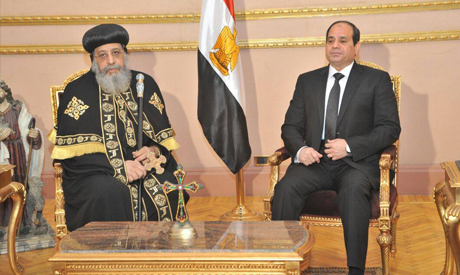 There are signs of growing consternation among Coptic Christians over the Egyptian patriarch's obsequious behaviour towards the Sisi regime. Last week, amid preparations for Sisi's visit to the United States, Pope Tawadros issued instructions for Copts living in the US to welcome the dictator "with respect, honour, and dignity".
In his eagerness to ensure a warm reception for Sisi, Tawadros dispatched two bishops from Egypt to help with preparations and buses were provided at the church's expense to transport Egyptian Christians from New York and New Jersey to the UN headquarters where Sisi was addressing the General Assembly.
Even so, the number of Sisi supporters gathered outside the UN building was pretty small – no more than 150 according to Amr Khalifa in a report for Middle East Eye – but a group of Islamist supporters turned up too, resulting in confrontational scenes where opposing sides hurled abuse at each other.
Egypt has the largest Christian community in the Middle East. Although there are no official figures, Christians – mostly Copts – are thought to account for about 10% of the country's 90 million population and they have long suffered from discrimination and sectarian violence.
While Tawadros apparently hopes his sycophancy towards the regime will benefit Egypt's Christians, others fear it could ultimately make their situation worse. Pro-Sisi demonstrations are one thing, but pro-Sisi demonstrations organised by the church add a dangerously sectarian dimension to the politics. Becoming closely identified with the regime could also have negative repercussions for Copts when Sisi eventually falls from power.
On Wednesday, the Associated Press reported that nearly 800 Christians, including authors, academics, activists and professionals, had signed an online statement expressing concern about what they saw as the church's deepening involvement in politics. The statement said:
"We stress our opposition to Egyptian churches taking the lead in mobilising demonstrations, regardless of whether they are for or against the president. It's a departure from the rules of democracy as well as dragging religion into politics.

"We urge Egyptian churches to stay clear of politics and restrict themselves to their spiritual and religious tasks."
In 2013, following the overthrow of the Islamist president, Mohammed Morsi, Pope Tawadros and the grand imam of al-Azhar (Egypt's highest Islamic authority) both welcomed the military takeover. Tawadros said the roadmap announced by the military offered a political vision and would ensure the security of all Egyptians.
Since then, Sisi has reciprocated to some extent. He has twice attended the Coptic Christmas mass and last year he visited the pope to offer condolences after 21 Coptic migrant workers were killed by IS militias in Libya.
In defence of this relationship Tawadros can point to one achievement (of sorts) in the shape of a new law which may make it easier to build and restore churches in Egypt – which has long been a contentious issue. The law, finally approved by parliament last month, empowers provincial governors (rather than the security services) to grant church construction permits.
The Coptic church hailed this as "something that will make all Egyptians proud" but although the new rules might be considered a step forward they are nonetheless discriminatory: the rules relating to construction of mosques are far less restrictive.
Meanwhile, Pope Tawadros has been trying to stop expatriate Copts in the United States from protesting against sectarian attacks on Christians in Egypt. In a statement last month, he said he was "totally opposed to protests which may cause serious harm to Egypt, and greatly embarrass our senior officials".
He was responding to a demonstration on August 2 when Copts with placards gathered outside the White House complaining about a series of violent incidents:
In May, an elderly Coptic woman was publicly stripped and assaulted and Coptic properties were attacked in the village of Karm. While 16 people were arrested, they were all later released.
In July, the cousin of a priest was stabbed to death in Minya, and three others were injured in an attack targeting a Coptic family.
Also in July, a Coptic-owned property under construction in Beni Suef was attacked and destroyed by a mob who believed it was intended to be a church.
In his statement, Pope Tawadros described the White House protest as "unacceptable behaviour" and said its effect was to "distort the image of Egypt both domestically and abroad". According to the Egyptian Al-Shorouk newspaper, he "sent a notice to the the Coptic Orthodox churches in the United States regarding the need to halt the demonstrations".
Quoted by Mada Masr website, Kamal Sabbagh, one of the protest organisers, said: "We know that the [Coptic Orthodox] Church has its hands tied. Our obedience to the church and to the holy Pope is a spiritual obedience. Yet when it comes to demanding our rights, we will listen to our consciences."
This work is licensed under a Creative Commons Attribution-NonCommercial 4.0 International Licence.