According to Islamic tradition the Prophet Muhammed once said: "Pay the labourer his wages before his sweat dries". But in the devout Gulf states that is one religious instruction employers are often content to ignore. Stories abound of workers being unpaid for months – and sometimes never getting what they are owed.
This is a long-running problem in the Gulf but the economic downturn caused by low oil prices has made it a lot worse. When companies run short of cash their workers are among the first to suffer.
The most prominent example is Saudi Arabia where tens of thousands employed by the kingdom's two largest construction firms have been hit. But over the last few months Qatar, Bahrain, Kuwait, Oman and the UAE have also witnessed complaints – and sometimes illegal demonstrations – by workers who have not been paid. In Kuwait, according to a government official, all recent strikes have been caused by non-payment of salaries.
Athough Gulf regimes acknowledge the problem their current legal and administrative systems are inadequate for dealing with it and workers who have the misfortune to find themselves without pay can end up being treated as law-breakers rather than victims.
Last Sunday, for example, a group of Indian workers – unpaid since last October – were expelled from the Emirates with a lifetime ban on returning to work there. Their "crime" was failing to renew their visas (the employer had been holding their passports) and as they left the country their retinas were scanned to make sure they would be spotted if they ever tried to come back.
One of the group, who had earlier spent 10 days in jail, was allowed to leave without a ban after his brother and friends paid a fine for his breach of the visa rules. A solitary member of the group remains stuck in the UAE ... because the authorities have lost his file.
Saudi construction firms in crisis
Towards the end of last year Saudi Binladin – the kingdom's largest construction firm, heavily dependent on government contracts – ran into cash flow problems and suspended payments to tens of thousands of its workers. Workers responded with a series of protests and by February frustrations had reached the point where seven of the company's buses were burned during a riot in Mecca.
Binladin's problems were mainly a result of the Saudi government's own financial difficulties, as a report by Reuters later explained:
The finance ministry has cut advance payments to firms doing state building work, the government has awarded fewer contracts, and its payments to companies for work already done have slowed.

In absolute terms, the state does not lack money to pay its debts; it still has nearly $600 billion in overseas assets. But austerity controls imposed on government departments have slowed approvals for payments and their disbursement.

The government has not disclosed a figure for the amount of money it owes the companies, but industry executives estimated privately that it could total hundreds of millions of dollars; one executive suggested at least several billion dollars.
The Binladin company's difficulties were not helped by the fact that it was also in trouble with the authorities and had been suspended from taking on new government contracts. Last September, because of its negligence, a crane toppled on to the Grand Mosque in Mecca, killing more than 100 people.
In November there were reports that the company was planning to cut 15,000 jobs among its estimated 200,000 workforce. By May this year, though, the job losses were reported to have reached 89,000 – about 40% of the workforce. These included 12,000 of the company's 17,000 Saudi employees and 77,000 expatriate workers.
According to the Saudi Gazette, dismissed expatriate workers, some of whom had not been paid for six months, were given the option of receiving an immediate exit visa or staying in the kingdom until their wages had been paid. 
Meanwhile, the kingdom's second-biggest construction firm – Saudi Oger, chaired by Saad Hariri, the Lebanese politician – was also in trouble. In March there were reports that its 38,000 employees had not been paid for four months.
How far government austerity measures contributed to this is unclear, because it seems that Saudi Oger was already burdened with debt and that money which might have been used to pay salaries was being used to fend off pressure from bankers instead.
In April, Prince Mohammed bin Salman, who is in charge of the Saudi economy, insisted the government was continuing with its contractual payments to Saudi Oger but the banks were confiscating the money.
"Saudi Oger can't cover their own labour costs," the prince said. "That's not our problem, that's Saudi Oger's. The contract between us and Saudi Oger, we will honour it. But if the bank withdraws our instalments and Saudi Oger can't pay a thing to its own contractors and workers, that's their own problem."
In August, the Jeddah-based Arab News reported that 31,000 of the company's Saudi and foreign employees had lodged formal complaints with the Labour Ministry about delayed payment of wages. According to a Labour Ministry official, fines and other penalties had already been imposed on Saudi Oger for violating the Wage Protection Law. 
The Saudi Oger affair is still rumbling on and it looks as if the Hariri family's once-impressive business empire is falling apart. This week several hundred of the company's Pakistani employees flew home without the salaries they had waited months to collect. Many more are still waiting and hoping. There was further bad news this week when Saudi Oger dismissed 1,300 employees at a printing works in Medina, apparently after losing a government contract to operate the plant.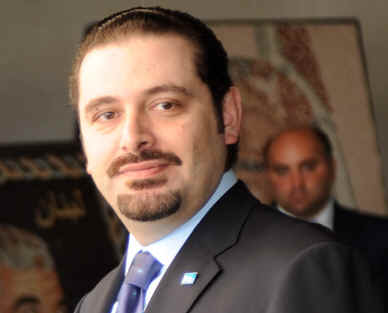 There are undoubtedly many smaller firms in Saudi Arabia, especially in the construction industry, which also owe their workers money – though how many is impossible to say. One Riyadh-based company, United Seemac has 500 employees – mainly from Pakistan, India, the Philippines, and Indonesia – who have not been paid for between six and 20 months. The company, in turn, claims it is owed money by the government for completed contract work. Last weekend a group of workers broke into the company's head office and say they will occupy it until they are paid.
Saudi Oger and Saudi Binladin used numerous suppliers and subcontractors who are very likely to be owed money too – and consequently having difficulty paying their workforce.
In terms of numbers, construction workers seem to be most badly affected but they are not the only ones. Staff at a privately-owned hospital in Saudi Arabia's eastern province – doctors, nurses and support staff – are currently on strike, having not been paid for almost four months.
The Saad Specialist Hospital in Khobar, which employs about 1,200 people, is part of the Saad Group, owned by Saudi billionaire Maan al-Sanea who has a somewhat controversial past and is accused by his staff of holding lavish parties while they struggle to make ends meet. Why the payments were stopped is still a mystery. Staff point out that the hospital received a $3.7 million payment last month from Bupa, the health insurance firm, but none of it has been passed on to them in wages. Rori Donaghy of Middle East Eye has been following the story in detail.
Other Gulf states face similar problems
Media reports from other Gulf states show a similar pattern to Saudi Arabia, but perhaps on a smaller scale. The examples below, though, give only a part of the picture: they are cases that happen to have been reported in the media. Others go unreported, often because workers are nervous about making a fuss.
Kuwait
September: About 100 Bangladeshis hired by a Kuwaiti company to provide security at shops and supermarkets staged a sit-in at the Bangladesh embassy. They said the had not been paid for two months and the company had also failed to provide them with residence permits or housing since they joined the firm 11 months earlier.
August: Two hundred reportedly Asian workers went on strike complaining they had not been paid for six months. They held a protest outside the Justice Ministry building where an official told them to submit their grievances at the Ministry of Social and Labour Affairs. News reports did not identify the company involved.
July: Cleaners are Kuwait airport went on strike complaining they had not been paid since May. An airport source told the Kuwait Times this delay in payment of salaries was not the first, and it had happened before with security workers. The source blamed the problem on "the inability of the Ministry of Social Affairs and Labour to adopt an effective law to ensure that companies pay the salaries of their workers on time".
Oman
June: The Times of Oman reported: "Workers across Oman are facing serious salary delays with some waiting almost a year for wages. The hidden pay freeze is cutting across all sectors, with workers reporting salary delays in the health, the IT sector and in construction. Under Omani law, it is illegal to withhold a worker's salary for more than seven days after the due payment date falls."
June: Gulf News reported that some 24 Omanis working as medical interns at government hospitals had not been paid for six months. The Ministry of Finance had apparently blocked their payments due to the country's economic downturn
March: Local media reported that more than 60 workers went on strike after their employer failed to pay salaries and provide them with food (as required by their contracts).
March: India said its embassy was providing financial help to unpaid workers and had repatriated 80 of them.
Bahrain
September: Cypriots working for a Cyprus-owned construction firm in Bahrain complained they had not been paid for three months. The company, which was not identified in news reports, acknowledged that it owed them money but gave no explanation.
July: Hundreds of workers who said they had not been paid for two-and-a-half months by their employer, GP Zachariades Civil Engineering and Contractors, held a protest march. A government official said 2,000 labourers took part but the company said the number was only 600 and they were owed only 45 days' money. The company also denied the workers had marched towards the Labour Ministry and claimed they were "simply walking from one labour camp to another".
Qatar
September: Doha News reported that several hundred Indian expatriates working in Qatar for ETA, an Emirati contractor, have gone unpaid for up to four months. No clear reason has been given for the delay.
September: Ajaya Behara, 44, an Indian scaffolder who had been asking his employer to pay outstanding wages and renew his expired visa, hanged himself on a building site in Doha. His employer has said the suicide was not related to work conditions. 
UAE
September: A group of about 25 Indian and Pakistani labourers who had not been paid for 11 months began to be sent home. In the meantime their employer, Legend Project Contracting LLC, had confined them to their accommodation camp.
May: Eleven former employees of a cleaning company who had won a court case over unpaid wages the previous December were reported to be still struggling to get their money.
Life without wages
"Lately," Saudi Gazette columnist Mahmoud Ahmad wrote this week, "I have been receiving many emails from readers complaining about salary delays. Some did not receive their monthly salaries for three months and others for eight months." He went on to describe how some of them were struggling to cope.
One man, married with three children and working for a construction firm, had not been paid for six months but he was relatively fortunate because his extended family had a kind of informal social security system: "The family has a special fund in which they collect monthly from each earning member and the fund is activated in times of family members' needs."
This provided him with a basic safety net but, even so, it was far short of what he needed to pay his bills. He was also borrowing money and the debts were piling up, with no solution on the horizon.
Another man – working as a security guard and unpaid for eight months – was less fortunate, with no large family to support him. To save on rent he had given up his apartment and moved in with his brother. He had managed to find some casual work driving taxis and helping in the fruit market.
In his column, Ahmad described other emails signed by groups of people – mostly expatriate workers:
"The common refrain in all these mails was that the company they were working for had failed to meet their obligations for months, and after the patient wait of five, six, seven, eight months they have collectively come out in the open to name the company ... The expatriates who write about their plight have reached the end of their tether and are willing to rock the boat."
Usually when groups such as these contact the press they are hoping that publicity will persuade their embassy to intervene, help them get the money they are owed and cut through the bureaucracy involved in their repatriation.
While some employers appear not to care, others are clearly decent people. Ahmad's column described one who at the start of the crisis had given his workers written assurance they would be paid in full once he received the money he was owed by others. Those who decided to return home in the meantime would also get their money. Despite good intentions, though, the employer will only be able to keep the promise if he gets what he is owed – which is by no means certain.
Although employers often have genuine reasons for delayed payment of wages, there are also accusations that some habitually use non-payment as a way of cutting their costs.
Martin Hedley from Britain took a job with a small consulting firm in Qatar which he says offered $60,000-a-year plus accommodation and a car. In an article for Doha News he described what happened next:
I was supposed to move to Qatar in March 2015, but given the company's cashflow situation, the CEO and I agreed that I would fly in regularly instead, and use the expenses part for that.

However, after a few months of working for the company, my salary wasn't paid, apparently due to the late payment of a large invoice by a client – a fact I knew to be true.

Several of my colleagues were also not paid that month. We were told to wait.

When the company's invoice was finally paid, however, less than 10 percent of the outstanding wages were settled, despite the fact that the amount received more than covered them all.

Staff were told instead that they would need to stay and work to complete more projects before full payment could be made.

I began to question the employment histories of former employees at the company, who my boss had told me had left due to "shoddy work, or only turning up on occasion."

I got in touch with them, and one by one they told me the same story, that they had left over non-payment of salary.
Asked by Doha News to comment on this, the company – Excellence Factors International – responded by accusing Hedley of "incompetency and lack of commitment" and "incomplete, overdue, and flawed work" which had "severely impacted" the company's business.
In the article, Hedley suggests cases like his are part of a pattern:
The pattern starts by bringing the person into Qatar and paying them for a period, then delaying or stopping payments on the basis of cash-flow issues or other semi-plausible reason, until that person is in a financial position that forces them to leave the country.

Then the employer can hire new staff, and the cycle begins again.
Leaving a job – and risking arrest
If your employer stops paying you, one obvious course of action is to look for another job. For Gulf citizens this is certainly an option though in the current situation the chances of finding a new job may be limited. For the expatriates who constitute most of the Gulf workforce, however, it's a lot more complicated – mainly because of the iniquitous kafala ("sponsorship") system which operates in various forms throughout the Gulf and ties residence in the country to a particular employer.
In Saudi Arabia, expatriates who walk out of a job, even with good reason, risk being reported to the authorities by their employer for huroub ("absconding") – in which case they can be arrested and expelled from the country. In effect, they are treated as illegal immigrants.
The most common reasons for huroub are ill-treatment by an employer, delayed payment of wages or because the worker has found a better-paid job. While it's possible to transfer legally from one employer/sponsor to another, the original sponsor may object, having incurred recruitment and visa costs.
Recently, however, the Saudi authorities have been ignoring huroub complaints where non-payment of wages is the reason for fleeing. In February the Saudi Gazette reported that employers had been getting text messages – apparently from the Labour Ministry – informing them that the residence permits of workers they had reported for huroub had been transferred to new employer/sponsors without their knowledge or consent.
According to the paper, the ministry is now allowing transfers of sponsorship, regardless of any huroub complaints, where an employee has not been paid for three months or more.
Another aspect of kafala is that unpaid employees can't simply get on a plane and leave the country, even if they have the money for a ticket: employers are responsible for organising their exit visas. Employers also often have possession of the workers' passports, despite laws against this.
This can result in workers becoming trapped in a country for months on end, with no income and no immediate prospect of leaving. Unscrupulous employers may even use the exit visa as a bargaining chip – to get the workers to resign and settle for less money than they are entitled to.
Penalising employers who default
Withholding wages is illegal in most if not all of the Arab Gulf states, though the law is clearly not effective. Qatar, for instance, has a new law, introduced last year, which requires employers to pay all salaries by the last day of each month, and through a bank account in order have a record of the payment.
But it appears that employers can safely ignore the law because – as Martin Hedley discovered when he tried to complain – the Labour Ministry has no budget for investigating possible infringements.
An alternative course is for aggrieved employees to launch a civil lawsuit but in Qatar this can take between one-and-a-half and three years to get to court.
One especially harrowing story in this regard is the case of the expatriate workers expelled last weekend from the UAE who had sought redress through the courts but became caught up in a legal/administrative tangle between two different emirates, Dubai and Abu Dhabi.
Saudi Arabia, to its credit, seems broadly sympathetic to the unpaid workers' plight. It appears to be turning a blind eye to peaceful strikes and protests by unpaid workers, even though demonstrations and trade union activity are officially banned. According to one report, a government official even advised unpaid staff at the Saad hospital in Khobar to carry on striking – apparently in the hope that it would hasten a solution.
On the face of it at least, the Saudi authorities have adopted a robust stance against defaulting employers, fining those who delay wage payments.
Under a series of measures decreed by the king last month, the government will withhold payments to contracting companies unless the ministry of labour confirms that their employees are being paid on time.
King Salman also authorised the labour minister to "immediately address" housing needs of the distressed workers, to "coordinate with the Saudi Arabian airlines to transport foreign workers who wish to return to their countries" and provide legal help "to pursue the financial claims of the workers in local courts".
The king announced a fund of 100 million Saudi riyals (about $26 million) to fulfil these instructions, though according to Arab News the intention is to "deduct the spent amounts from the floundering companies' accounts".
While this may alleviate some of the workers' immediate difficulties it doesn't point to a solution of the underlying economic problem. For those companies which are genuinely unable to pay their employees, imposing financial penalties such as fines and withheld contract payments will make them even less able to meet their debts and could force them into bankruptcy – in which case unpaid workers may never get what they are owed.