The battle over Britain's arms sales to Saudi Arabia is getting dirtier and dirtier, amid talk of disbanding a troublesome parliamentary committee which sought to have sales suspended.
In a draft report earlier this month, the all-party Committee on Arms Export Controls (CAEC) warned:
"The weight of evidence of violations of international humanitarian law by the Saudi-led coalition in Yemen is now so great that it is very difficult to continue to support Saudi Arabia while maintaining the credibility of our arms licensing regime."
Committee members who support continued arms sales to the kingdom, led by Crispin Blunt (Conservative) and John Spellar (Labour), then tabled more than 130 amendments to the draft – which included removing the call for a suspension of sales.
But it seems that these amendments didn't find favour with the committee. According to latest reports, Blunt has now sabotaged the entire report by walking out of the meeting which was supposed to finalise it. His departure is said to have made the committee inquorate – thus preventing completion and publication of the report.
Blunt's disruptive tactics have not been formally confirmed because the committee's proceedings are supposed to take place in private. However, there has been a succession of leaks to the BBC and the Guardian – presumably by one or more members disgruntled at the behaviour of Saudi Arabia's supporters. Interviewed on the BBC's Newsnight programme, Blunt was repeatedly asked if it was true that he had walked out of the committee, and he repeatedly refused to answer (see video below).
Blunt has also called for parliament to hire private detectives in order to discover the source of the leaks, though he appears to have had no qualms about leaking from what was supposed to be a private briefing of MPs by Adel al-Jubeir, the Saudi foreign minister. In a post on his Twitter feed, Blunt said he was "delighted" to hear Jubeir "promote expectation" of a free trade agreement between Britain and the Gulf Cooperation Council states after Britain leaves the EU.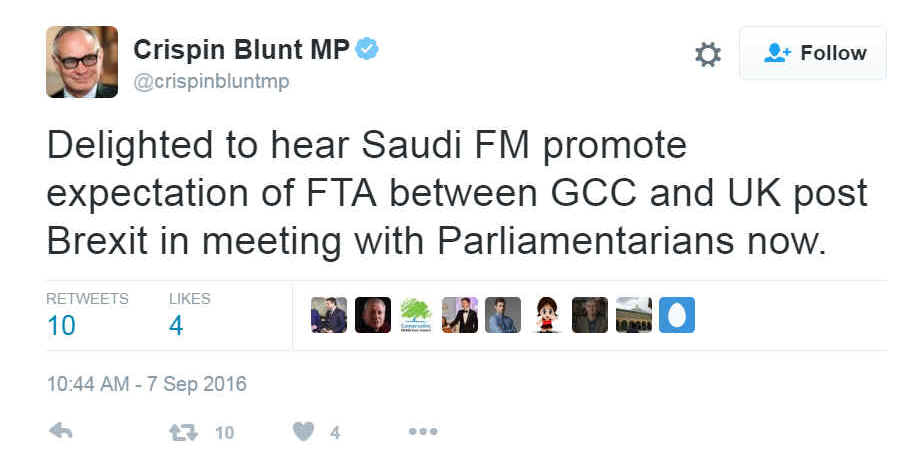 Having blocked the Arms Export Control Committee's report, Blunt is now planning to issue an alternative report through the Foreign Affairs Select Committee – which he chairs.
But worse may be yet to come. If Blunt gets his way, the Arms Export Control Committee will be shut down on the grounds that it is "unwieldy" – which sounds suspiciously like a way of punishing it for its dissent. The Guardian reports:
"Blunt also appears to be suggesting that the arms export control committee, partly due to its structure, is too unwieldy and should be abandoned. It is argued it would be better if responsibility for monitoring arms sales were handed to a new select committee responsible for overseeing the work of the new Department for International Trade."
The likely effect of a shift to the Department for International Trade would be to put scrutiny of arms sales in the hands of more "trustworthy" politicians – the sort who are unlikely to quibble too much about Saudi war crimes so long as there is money to be made.
In charge of the Department for International Trade is the disgraced but recently rehabilitated Liam Fox who briefly served as defence minister in the Cameron government before resigning amid a scandal. Fox, like Blunt, is a strong supporter of Brexit and his department's main role is to boost trade with non-EU countries (including dictators and autocrats) to compensate for lost trade with Europe.
This work is licensed under a Creative Commons Attribution-NonCommercial 4.0 International Licence.