A battle at the UN over the appointment of the Human Rights Council's first "independent expert" on LGBT rights appears to have been settled – for now. Vitit Muntarbhorn, the law professor from Thailand appointed in September to monitor "violence and discrimination based on sexual orientation and gender identity", can keep his job but further opposition is likely as he continues his work.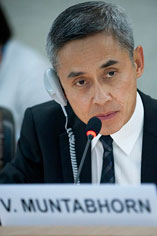 The original decision was approved in the Human Rights Council by 23 votes to 18, with six abstentions. However, opponents of LGBT rights then launched an unprecedented move to overturn the council's decision in the UN General Assembly – a move that ultimately failed, though only by a narrow margin, earlier this week.
Although there were objections on technical grounds, this referral to the General Assembly did have one useful effect. It gave all 193 member states an opportunity to have their say, and from voting records during the debates it is now possible to get a clearer picture of the global divide over LGBT rights – which countries are in favour, and which are against.
Based on a proposal by Botswana (later co-sponsored by Yemen), the question for the General Assembly was whether to block the appointment of the "independent expert" on LGBT rights pending "further consultations" about its "legal basis". This was discussed several times by the General Assembly's Third Committee which deals with social, humanitarian and human rights issues. Despite being called a committee, it is open for all UN members to attend.
At a crucial meeting on 21 November, 84 countries voted in favour of the appointment and 77 voted to block it.
Analysis of the voting record shows that most of the opposition came from two groups of countries – the African Union (AU) and the Organisation of Islamic Cooperation (OIC).
Only 12 of the 77 countries opposing the appointment were NOT members of the AU or the OIC. These included two UN heavyweights, Russia and China, along with six members from the Caribbean area – Antigua & Barbuda, Jamaica, Nicaragua, Saint Kitts & Nevis, Saint Lucia and Saint Vincent & the Grenadines – plus Belarus, Nauru (population 10,000), Singapore and North Korea.
Belarus, incidentally, is the driving force behind a smaller UN bloc known as the Group of Friends of the Family which works with right-wing Christian organisations to opposed LGBT right (among other things).
Although the African Union has 54 members and the Organisation of Islamic Cooperation has 57, their membership overlaps to some extent. This means that even when they act in unison they can muster a maximum of only 86 votes – not enough to ensure a majority in the General Assembly.
In the vote on 21 November, 39 African Union countries opposed the appointment:
Algeria, Angola, Benin, Botswana, Burkina Faso, Burundi, Cameroon, Central African Republic, Chad, Comoros, Côte d'Ivoire, Congo (Democratic Republic), Congo (Republic), Djibouti, Egypt, Eritrea, Ethiopia, Gabon, Gambia, Ghana, Guinea, Kenya, Lesotho, Libya, Madagascar, Malawi, Mali, Mauritania, Mauritius, Namibia, Niger, Nigeria, Senegal, Sudan, Swaziland, Togo, Uganda, Zambia, and Zimbabwe.
Three AU countries – Cabo Verde, Seychelles and South Africa – voted in favour of the appointment. Twelve others either abstained or absented themselves from the vote: Equatorial Guinea, Guinea-Bissau, Liberia, Mozambique, Rwanda, Sahrawi Arab Democratic Republic (disputed state), São Tomé and Príncipe, Sierra Leone, Somalia, South Sudan, Tanzania and Tunisia.
Among the 57 OIC countries (who describe themselves as "the collective voice of the Muslim world"), 45 voted against the appointment:
Afghanistan, Algeria, Azerbaijan, Bahrain, Bangladesh, Benin, Brunei Darussalam, Burkina Faso, Cameroon, Chad, Comoros, Djibouti, Egypt, Gabon, Gambia, Guinea, Guyana, Indonesia, Iran, Iraq, Jordan, Kuwait, Kyrgyzstan, Libya, Malaysia, Maldives, Mali, Mauritania, Morocco, Niger, Nigeria, Oman, Pakistan, Qatar, Saudi Arabia, Senegal, Sudan, Suriname, Syrian Arab Republic, Tajikistan, Togo, Uganda, United Arab Emirates, Uzbekistan and Yemen.
Only two of them – Albania and Turkey – voted in favour, while 10 others abstained or absented themselves: Guinea-Bissau, Ivory Coast, Kazakhstan, Lebanon, Mozambique, Palestine, Sierra Leone, Somalia, Tunisia and Turkmenistan.
It's also worth noting that among the 22 countries that form the Arab League, none voted in favour of the appointment. Eighteen of them voted against:
Algeria, Bahrain, Comoros, Djibouti, Egypt, Iraq, Jordan, Kuwait, Libya, Mauritania, Morocco, Oman, Qatar, Saudi Arabia, Sudan, Syrian Arab Republic, United Arab Emirates, Yemen
The remaining four – Lebanon, Palestine (not a full UN member), Somalia and Tunisia – either abstained or were absent.
The 84 countries voting in favour of the appointment were:
Albania, Andorra, Argentina, Australia, Austria, Bahamas, Belgium, Belize, Bolivia , Bosnia & Herzegovina, Brazil, Bulgaria, Cabo Verde, Cambodia, Canada, Chile, Colombia, Costa Rica, Croatia, Cyprus, Czechia, Denmark, Dominican Republic, El Salvador, Estonia, Fiji, Finland, France, Georgia, Germany, Greece, Guatemala, Honduras, Hungary, Iceland, Ireland, Israel, Italy, Japan, Kiribati, Latvia, Liechtenstein, Lithuania, Luxembourg, Malta, Marshall Islands, Mexico, Monaco, Mongolia, Montenegro, Netherlands, New Zealand, Norway, Palau, Panama, Peru, Poland, Portugal, Republic of Korea, Republic of Moldova, Romania, Samoa, San Marino, Serbia, Seychelles, Slovakia, Slovenia, South Africa, Spain, Sri Lanka, Sweden, Switzerland, Thailand, Macedonia, Timor-Leste, Turkey, Tuvalu, Ukraine, United Kingdom, United States, Uruguay, Vanuatu, Venezuela amd Vietnam.
This work is licensed under a Creative Commons Attribution-NonCommercial 4.0 International Licence.