A former director of GNRD, the strange "human rights" organisation that went bankrupt last year amid accusations of money-laundering, has been taken into custody on fraud charges in Austria.
Hassan Moussa is suspected of diverting funds from an Islamic education centre in Vienna and is now in pre-trial detention, the Austrian newspaper Die Presse reports.
Moussa, 57, is a prominent figure in the Austrian Muslim community. He denies the charges and says he is the victim of "intrigue", according to his lawyer.
Moussa was chair of an organisation running the Austrian International Schools (AIS) – with classes from kindergarten to secondary level – which were subsidised from public funds. The schools became controversial partly because several of their alumni went on to become jihadists.
In 2015, the Swiss newspaper Neue Zürcher Zeitung published a detailed article about AIS headed Die Lieblingsschule der Fundamentalisten ("The favourite school of fundamentalists"). According to that report, all the girls wore hijab – even those who had not yet reached puberty – and fathers in Salafi garb were seen arriving with their children.
Moussa himself does not appear to have much interest in puritanical or political Islam. His office at AIS was extravagantly furnished and Neue Zürcher Zeitung describes him as having a fondness for "well-fitting suits" and "a predilection for expensive whisky". In 2013 he is also said to have joined a demonstration in Vienna against Egypt's Islamist president, Mohammed Morsi.
It appears that the school may have drifted in a fundamentalist direction under pressure from parents.
Last year, amid concerns about the nature of AIS, Vienna municipality withdrew its subsidies, forcing the schools into bankruptcy. However, a new organisation, known as "Oasis of the Child" sprang up at the same address and began operating nine kindergartens at various locations in the city. Die Presse says Moussa was not officially in charge of the new organisation but was "de facto" running it.
The main allegation against Moussa is that he transferred assets from the bankrupt AIS to Egypt, thus depriving creditors of their money.
Moussa was also a director of GNRD, the Global Network for Rights and Development, and its "spokesman for political affairs". Although funded almost entirely from mysterious sources in the United Arab Emirates, GNRD was based in Norway.
In May 2015, Norwegian police raided its offices and the home of its founder/president, Loai Deeb, as part of a $13 million money-laundering investigation. Following that, its funds dried up and in July 2016 GNRD too was declared bankrupt. GNRD denied money laundering and claimed the police investigation had been instigated by the government of Qatar.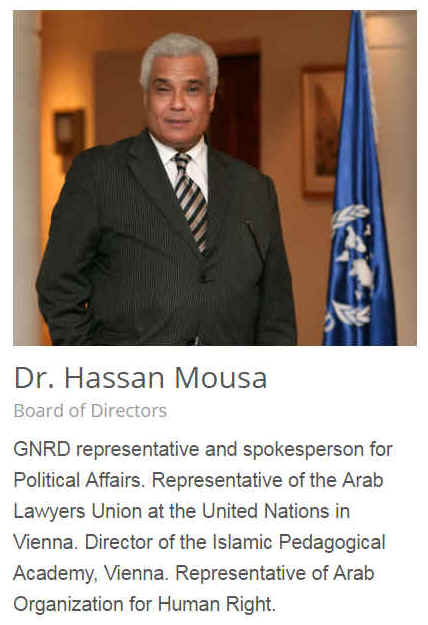 GNRD had developed good relations with the Sisi regime in Egypt. In 2014 GNRD headed a "joint observer mission" for the presidential election which legitimised Sisi's seizure of power – and produced an enthusiastic report. "The Egyptian people have experienced a unique process toward democratic transition," it said, and commended them on "their achievements thus far towards a path to democracy".
Not surprisingly, GNRD was then chosen by the regime as an official observer for Egypt's parliamentary elections in 2015 and Mousa took charge of the operation. Turnout for the elections was low and although GNRD had promised to issue a report that would make "a vital contribution to this epoch-making democratic process" the report was never published.
Moussa took charge of GNRD mission observing elections in Egypt
This work is licensed under a Creative Commons Attribution-NonCommercial 4.0 International Licence.