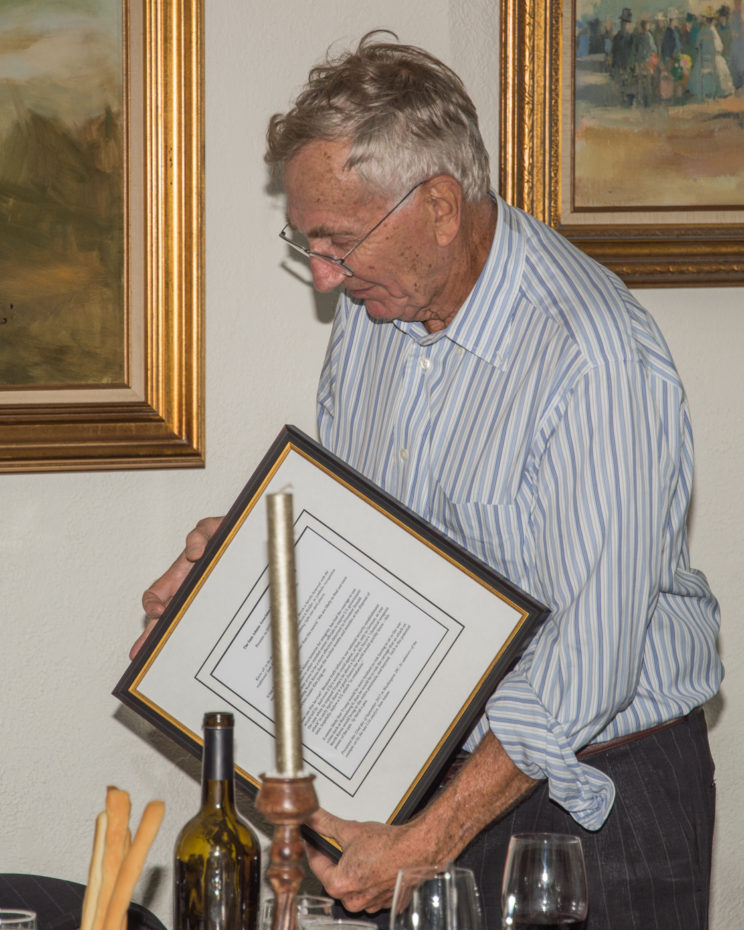 American journalist Seymour Hersh – author of several error-strewn articles about chemical attacks in Syria – has accepted a controversial award for "truth-telling" even though the previously-announced presentation ceremony was cancelled.
Hersh received the award at a "festive dinner" on Friday after organisers re-drafted the citation to provide a different reason for giving it to him. The new wording played down his flawed reporting on Syria and instead celebrated him as someone whose yet-to-be-written work might deter Donald Trump from bombing North Korea.
Three weeks ago Hersh was named as this year's winner of the Sam Adams Award "for integrity and truth-telling". The original citation stated specifically that he was being honoured for an article published in June by the German news organisation Welt which has since been thoroughly debunked.
In the article, Hersh attempted to explain dozens of deaths from the nerve agent sarin by suggesting that Syrian forces using a conventional explosive bomb had accidentally hit a store of "fertilisers, disinfectants and other goods" causing "effects similar to those of sarin". This was scientifically impossible and laboratory tests later confirmed that sarin had been used.
Hersh had been due to collect his award – a candle holder for "shining light into dark places" – at a ceremony on Friday during a "No War 2017" conference at the American University in Washington. However, the ceremony was removed from a later version of the conference programme and a note was inserted to say that Hersh would not be attending.
The original award citation was a follows:
"This year's award goes to renowned Pulitzer prize-winning journalist, Seymour Hersh, for his most recent report earlier this year on President Donald Trump's lie that a Syrian aircraft carried out a 'chemical weapons attack' in Syria's Idlib Province on April 4. This disclosure of a deception by the new President would have been a big deal, at least by the journalistic standards of the past, since Trump openly attacked Syria with 59 cruise missiles on April 6 in ostensible 'retaliation'.

"Despite his reputation and the importance of the story, Hersh tried in vain to find a US or British outlet that would publish his report, and eventually ended up having to go to the mainstream German newspaper Die Welt to get the results of his investigation published.

"The common challenge we all face is getting such information into media outlets that US citizens regularly access. Encouragement comes from Hersh's example of grit, integrity and tenacity, which have already had a powerful influence on Sam Adams Associates. In sum, this year's awardee is a wonderfully good fit."
The re-drafted citation switched its focus from Syria to North Korea, suggesting that Trump could hold back from bombing Pyongyang – for fear of what Hersh might write about it:
"Sy Hersh, this year's Sam Adams honoree for integrity, has had the courage to use his unparalleled access to sober-minded senior officials to expose U.S. government misdeeds.  This may prove to be a more effective deterrent to President Donald Trump attacking North Korea than the nuclear bombs and missiles at the disposal of North Korean leader Kim Jong-un.

"How can this be true?  Because truth tellers in our national security establishment would tell Sy.  And even if Sy's words could appear, at first, only in German, as was the case when Sy exposed Trump's lie about a Syrian Air Force's 'chemical weapons attack' in early April, there is a good chance the world would quickly know – this time, hopefully, before a US attack 'in retaliation'.

"It seems likely that Trump would be more hesitant to risk having to sit in the war-crime dock at Nuremberg II, than he would be to risk the carnage that an attack on North Korea would bring to the entire peninsula, and beyond.  Such is the potential power of the pen. Sy Hersh's pen."
The Sam Adams Award was established by Ray McGovern, a former CIA officer turned activist who is also co-founder of VIPS (Veteran Intelligence Professionals for Sanity).