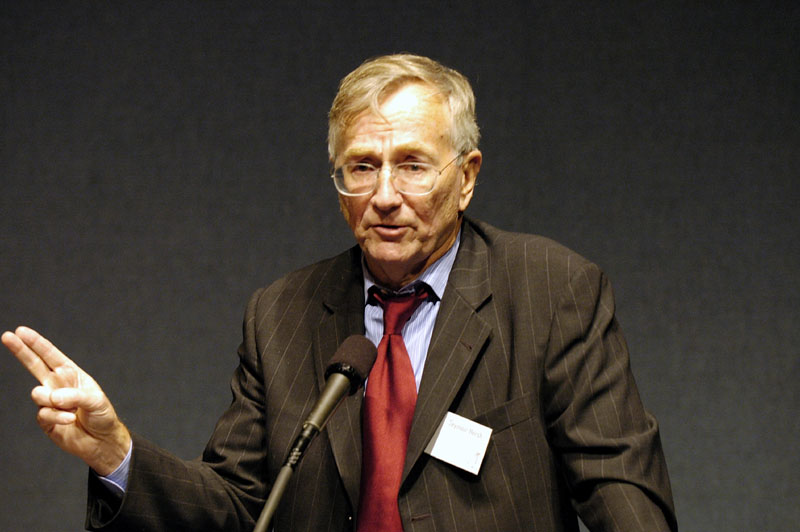 A ceremony where American journalist Seymour Hersh was due to be presented with an award for an error-strewn article about a chemical attack in Syria has been cancelled.
[See update here]
Three weeks ago Hersh was named as this year's winner of the Sam Adams Award "for integrity and truth-telling".
The citation stated that Hersh was being honoured specifically for an article published in June by the German news organisation Welt which has since been thoroughly discredited.
In the article, Hersh attempted to explain dozens of deaths from the nerve agent sarin by suggesting that Syrian forces using a conventional explosive bomb had accidentally hit a store of "fertilisers, disinfectants and other goods" causing "effects similar to those of sarin".
Laboratory tests supervised by the Organisation for the Prohibition of Chemical Weapons (OPCW) later confirmed that sarin had indeed been used and a report from a UN Commission of Inquiry concluded that the sarin attack had been carried out by the Syrian air force. (See previous blog post for further discussion of Hersh's article.)
Hersh had been due to collect his award at a ceremony on Friday during a "No War 2017" conference at the American University in Washington.
A conference programme issued earlier this month said the presentation ceremony would take place at 8pm on September 22 and added: "Presenting this year will be Elizabeth Murray, Annie Machon, Larry Johnson, Larry Wilkerson, and Philip Giraldi, with special guest Chelsea Manning".
A revised version of the programme has now replaced this with a 15-minute musical interlude, after which Sam Adams Associates (organisers of the award) will present an unspecified "event" with Elizabeth Murray, Annie Machon, Larry Johnson, Larry Wilkerson, Daniel Ellsberg, Thomas Drake, Ray McGovern, and Ann Wright.
A note in the programme says: "Chelsea Manning sends regrets that she cannot attend as we had hoped, as does Seymour Hersh." No reason is given for Hersh's non-attendance.
The inclusion of Larry Wilkerson in the list of participants is interesting because of similarities between an interview given by Wilkerson last April and Hersh's subsequent article for Welt. These suggest that either Wilkerson, a retired US Army colonel, was one of the anonymous sources quoted in Hersh's article or that both Hersh and Wilkerson had been getting inaccurate information from a shared source.
One of the similarities was that both Wilkerson and Hersh made the scientifically impossible claim that the symptoms caused by sarin in Khan Sheikhoun could be the result of an air raid hitting stocks of fertiliser.
The Sam Adams Award was established by Ray McGovern, a former CIA officer turned activist who is also co-founder of VIPS (Veteran Intelligence Professionals for Sanity).
This work is licensed under a Creative Commons Attribution-NonCommercial 4.0 International Licence.