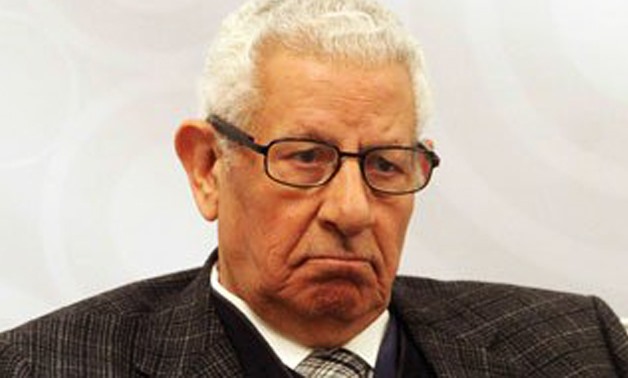 The moral panic over homosexuality in Egypt, which began when several fans at a music concert waved rainbow flags, took a new turn at the weekend when the authorities ordered local media not to show any sympathy for LGBT rights.
On Saturday the Supreme Council for Media Regulation – whose members are hand-picked by President Sisi – announced a ban on "the promotion or dissemination of gay slogans" because "homosexuality is a disease and a disgrace that is better covered up, not promoted, until it is treated and eliminated".
The decree added that gay people must not appear in print or audio or visual media "except in recognition and acknowledgment of their misconduct".
What this means in practice is that in future only anti-LGBT coverage will be allowed.
The Supreme Council continued:
"This does not mean that we bury our heads in the sand and ignore the disease or deny it. On the contrary, it is necessary to treat it – and treat it as a common disease."
In this context, it said, the media has a "duty to highlight the seriousness of the disease and the causes of its spread and to warn of the dangers".
Quoted by the Egypt Independent, Makram Mohamed Ahmed, head of the Supreme Council, said the focus should be on ending homosexuality by providing parents with the "appropriate ways of raising children".
---
Egypt's war on rainbow flags: a compilation of blog posts
---
Egypt has witnessed other moral panics in the past – in 2014, for example, the regime announced plans to "eliminate" atheism – and they normally fizzle out after a while. Even so, the hysteria generated by the rainbow flags affair has been extraordinary.
It started on September 22 with a performance in Cairo by Mashrou' Leila, a Lebanese band whose lead singer, Hamed Sinno, is openly gay. Photographs posted on social media showed a handful of people in the audience waving rainbow flags and this brought complaints from religious leaders, politicians and sections of the media – all demanding government action.
The results were as follows:
● The Syndicate of Musical Professions – a government-linked body tasked with suppressing "abnormal" kinds of music – said future performances in Egypt by Mashrou' Leila would be banned.
● The Deputy of al-Azhar – Egypt's highest Islamic authority – described the flag-waving as "an act of moral terrorism".
● The Coptic Church said it would hold a conference entitled "The Volcano of Homosexuality" where priests would help people towards a "speedy recovery" from homosexuality.
● A lawyer who is vice-president of an Egyptian "human rights" organisation (Al-Haq International) filed a complaint with the Public Prosecutor accusing the concert organisers, the director of Cairo Festival City Mall, Mashrou' Leila band members and the administrators of the Rainbow Egypt Facebook page of "spreading debauchery".
● The authorities initially claimed that seven men had been arrested for waving flags at the concert. (It's not clear if this was true at the time. Some activists suggest it was a made-up claim, to give the impression the authorities were taking swift action.)
● Since the concert, at least 11 allegedly gay men have been arrested in various parts of Cairo. It is not clear that any of them were involved in the flag-waving.
● One of the arrested men, reportedly entrapped through a gay dating app, has since been convicted of "inciting debauchery" and "declaring himself queer" – and sentenced to six years in prison.
● The authorities have ordered anal examinations for at least six of the other arrested men "to determine if they have committed homosexual acts" (which are not actually illegal in Egypt). Such tests are not scientifically valid and are widely regarded as medically unethical.
This work is licensed under a Creative Commons Attribution-NonCommercial 4.0 International Licence.