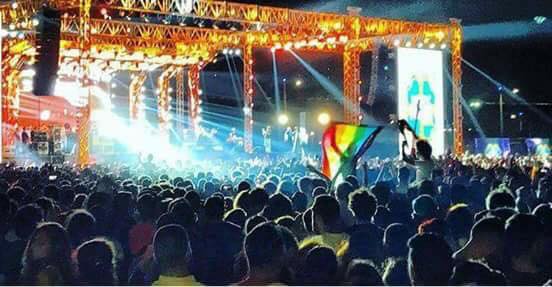 At least 11 allegedly gay men have now been arrested in the backlash against last month's Mashrou' Leila concert in Egypt, human rights groups say.
Mashrou' Leila, a Lebanese band whose lead singer is openly gay, performed at the Music Park Festival in Cairo on September 22 and photos circulated on social media showed several members of the crowd waving rainbow flags.
The sight of these flags triggered a moral panic in Egypt, with demands for government action coming from religious leaders, politicians and sections of the media. Dr Abbas Shuman, Deputy of al-Azhar – Egypt's highest Islamic authority – described the flag-waving as "an act of moral terrorism".
Religious complaints came from Christians as well as Muslims and the Coptic church announced plans for a conference to tackle "the volcano of homosexuality". According to one news report, priests will give lectures at the conference with the aim of promoting "speedy recovery" from homosexuality.
---
Egypt's war on rainbow flags: a compilation of blog posts
---
Three days after Mashrou' Leila's performance, Egyptian officials announced that seven of the concert flag wavers had been identified and arrested. This claim appears to have been untrue – made up to please the anti-LGBT campaigners. None of the seven have appeared in court and there has been no further information about any of them. However, since the concert police have been rounding up other allegedly gay men.
Last Thursday, 19-year-old student identified only as "Mustafa W. M." was sentenced to six years in jail for "inciting debauchery" and "declaring himself queer". The student, who had no lawyer to defend him, had been arrested on September 23. According to Human Rights Watch he had been entrapped through a dating app – a common police tactic in Egypt – though there were claims in court that he had attended the Mashrou' Leila concert.
Amnesty International reports that two other men who were arrested last week are currently detained in Agouza police station in Cairo are due to stand trial on 11 October. Another two men were arrested on 28 September and are detained in Dokki police station.
On Saturday, Ahram Online reported that a further six men had been arrested for "debauchery" and "forming a network for homosexual acts". According to prosecutors, the six were found in "indecent positions" during a raid on a flat in Cairo's Ramses Square. They will now be subjected to anal examinations "to determine if they have committed homosexual acts".
Once again, there are (rather tenuous) attempts to link these men to the flag-waving incident. Ahram Online says:
"The prosecution has said that a number of young men who had frequented the Ramses flat were the ones who raised the rainbow LGBT flag while attending a concert featuring Lebanese rock band Mashrou' Leila."
Egypt has no specific law against homosexuality and yesterday Human Rights Watch called for the men's immediate release.
"The Egyptian government, by rounding people up based on their presumed sexual orientation, is showing flagrant disregard for their rights," Sarah Leah Whitson, HRW's Middle East and North Africa director said. "Whether they were waving a rainbow flag, chatting on a dating app, or minding their own business in the streets, all these debauchery arrest victims should be immediately released."
A similar call came from Amnesty International. "The fact that Egypt's Public Prosecutor is prioritising hunting down people based on their perceived sexual orientation is utterly deplorable," Najia Bounaim, AI's North Africa Campaigns Director said.
"These men should be released immediately and unconditionally – not put on trial.

"Forced anal examinations are abhorrent and amount to torture. The Egyptian authorities have an appalling track record of using invasive physical tests which amount to torture against detainees in their custody. All plans to carry out such tests on these men must be stopped immediately."
This work is licensed under a Creative Commons Attribution-NonCommercial 4.0 International Licence.