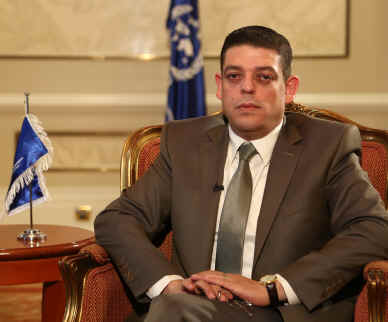 The head of an international human-rights-and-development organisation siphoned off more than $1 million of its funds to cover his gambling debts, police and bankruptcy investigators believe.
Palestinian-born Loai Deeb founded the Global">http://al-bab.com/blog/2016/01/gnrd-scandal">Global Network for Rights and Development (GNRD) in 2008, while also running a fake">http://al-bab.com/blog/2016/01/gnrd-scandal#odd">fake university from his home. Based in Norway but funded almost entirely via the United Arab Emirates, GNRD expanded rapidly, opening branch offices in Belgium, Switzerland, Spain, Sudan, Jordan and the UAE. It also gained official recognition from the UN, the EU and the African Union and acted as an official observer for elections in several Arab and African countries.
In 2015, Norwegian police raided GNRD's headquarters and Deeb's home on suspicion of money-laundering. That case has still not come to court and Deeb denies the charges, claiming the police action was part of a vendetta by the government of Qatar.
Following the raids GNRD's funding dried up and in 2016 it was declared">http://al-bab.com/blog/2015/07/gnrd-scandal-part-2#bust">declared bankrupt after failing to pay employees' wages for several months.
Deeb, however, appeared">http://al-bab.com/blog/2015/07/gnrd-scandal-part-2#villa%20in%20Amman">a... to prosper while running GNRD. In 2013 his personal income – which had been around $25,000 a year until 2012 – suddenly leapt to $600,000, raising questions about where the money was coming from. In 2014 he bought">http://www.aftenbladet.no/nyheter/okonomi/Blir-Deeb-knyttet-til-Fatah-ko... two properties in Norway for a total of 12.3 million kroner ($1.6 million) and paid for them in full without taking out a loan. In Jordan he bought a $534,000 villa – again without needing to borrow.
During the 2015 raids, police confiscated $220,000-worth of gold jewellery from Deeb's home. A court later refused to return it, saying that "at least the bulk" of the seized items were "likely" to have been purchased using the proceeds">https://www.nrk.no/rogaland/gullsmykker-leveres-ikke-tilbake_-1.12789884... of criminal acts.
Online gambling losses
It has since been alleged that Deeb was also gambling heavily with GNRD's money. In September, Norwegian broadcaster NRK reported that he had run up losses">https://www.nrk.no/dokumentar/nekter-for-a-ha-gamblet-med-menneskerettig... of more than 10 million kroner ($1.2 million) with Betsson">http://www.betssongroup.com/">Betsson and NordicBet">https://www.nordicbet.com/en">NordicBet – two online gaming firms. It quoted an unnamed former employee of one of the gaming firms as saying Deeb "was one of our top customers for a while and could play for millions in a matter of months".
NRK said it had gained access to multiple bank statements showing transfers from GNRD's account to Swiftvoucher, a payment system used by gaming companies. Swiftvoucher advertised">https://web.archive.org/web/20151122134155/http://www.swiftvoucher.com:8... its services as a way of making payments online "without having to reveal your confidential card or bank account details".
Deeb denies embezzlement and appears to be claiming that GNRD used Swiftvoucher for legitimate international payments.
Disguised payments
However, a">https://www.aftenbladet.no/lokalt/i/8wB6LQ/-Saksoker-menneskerettighetsl... report last week by Hans Petter Aass for Stavanger Aftenblad gave new details of how GNRD's payments to online gambling firms were allegedly disguised.
Among documents seized during the 2015 police raids was a purported contract with a South African water company dated 12 January 2013. Under the contract, GNRD was supposed to sponsor water projects carried out by the South African firm in Chad, Congo, Cameroon and the Central African Republic.
According to Stavanger Aftenblad, this contract was a fake. The South African company says it has no knowledge of any such agreement with GNRD and the person who apparently signed it on behalf of the firm has never worked there.
Between February 2013 and April 2014, supposedly in connection with this contract, GNRD made no fewer than 860 payments. The paper says these payments "largely coincide" with Deeb's gambling activity and that police believe the contract document was intended to conceal it.
Stavanger Aftenblad quotes Deeb's lawyer as saying: "Such an alleged counterfeit is completely unknown to my client."
Meanwhile Bengt Eriksen, the chief accountant dealing with GNRD's bankruptcy, has identified further irregularities in the organisation's finances besides the online gambling. In an official report last month he also highlighted loans from GNRD to Deeb made without a formal agreement, private travel expenses charged to GNRD and undocumented payments to Deeb's account, plus coverage of his private rent and his personal lawyer's expenses.
Legal documents released in Norway show that GNRD's funding">http://al-bab.com/blog/2015/07/gnrd-scandal-part-3#bankrupt-millions-uae... via the UAE amounted to more than $1.6 million in 2013, almost $5 million in 2014 and more than $6.9 million in 2015. The figure for 2015 would probably have been far higher had the transfers not been curtailed in mid-year by the police investigation.
In its heyday, GNRD appeared to be a free-spending organisation. For an especially">http://al-bab.com/blog/2016/01/gnrd-scandal#A%20junket%20in%20Geneva">es... lavish conference on terrorism, held in Geneva in 2015, female staff were allowed to buy new outfits on expenses.
Deeb and GNRD also purchased">http://al-bab.com/blog/2016/01/gnrd-scandal#Suspect%20rights%20group%20b... millions of fake followers on social media and regularly paid for their tweets to be retweeted by thousands of bogus accounts. The same bogus accounts were used to spread">http://al-bab.com/blog/2016/01/gnrd-scandal#Online%20harassment%20resume... defamatory tweets about al-bab when it investigated GNRD's affairs.
The big question yet to be answered is who was really funding GNRD, and why they handed over so much money without, apparently, taking much interest in how it was used.
In 2013 and 2015 GNRD's largest">http://al-bab.com/blog/2015/07/gnrd-scandal-part-3#bankrupt-millions-uae... donor was an Emirates-based company called Advance Security Technology FZE; in 2014 the main donor was Dubai-based Deeb Consulting FZF – in which GNRD founder Loai Deeb was sole proprietor. Another "significant sponsor" in 2015, according to Norwegian media, was MGS General Trading FZE, also based in the Emirates.
Deeb has previously claimed these were successful companies, generously donating profits to  GNRD. But so far there is no evidence that any of them were substantial businesses and it seems more likely that funds were simply being channelled through them in order to disguise the true sources.
Advance Security Technology and MGS General Trading – have no presence on the internet apart from being listed in some online business directories.
Deeb Consulting appears to have had little or no expertise in consulting and may">http://al-bab.com/blog/2015/07/gnrd-scandal-part-2#cut-and-paste%20consu... or may not have been a real business. It did have its own website (since deleted) but its content had been plagiarised from the websites of established consulting firms.