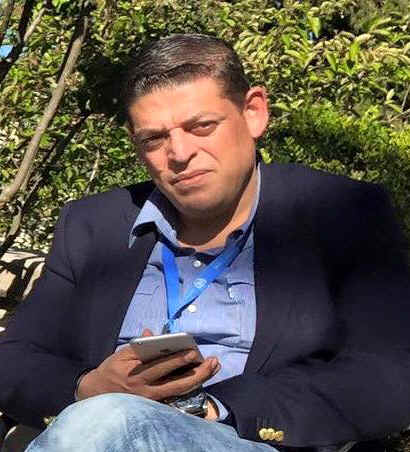 The former head of an Emirates-linked human rights organisation which went bankrupt in 2016 claims he is owed more than $200,000.
Palestinian-born Loai Deeb founded the Global Network for Rights and Development (GNRD) in 2008 while also running a fake university from his home. Based in Norway, GNRD expanded rapidly, opening branch offices in Belgium, Switzerland, Spain, Sudan, Jordan and the UAE. It gained official recognition from the UN, the EU and the African Union and acted as an official observer for elections in several Arab and African countries.
Lavishly funded – almost entirely via sources in the United Arab Emirates – GNRD also had an unusually favourable view of human rights in the homeland of its funders.
In 2015, Norwegian police raided GNRD's headquarters along with Deeb's home on suspicion of money-laundering. That case has still not come to court and Deeb denies the charges, claiming the police action was part of a vendetta by the government of Qatar. Following the raids GNRD's funding dried up and in 2016 it was declared bankrupt.
Deeb is now claiming 1.7 million kroner ($213,486) in salary and holiday pay – on the grounds that the authorities dealing with the bankruptcy of his organisation failed to notify him that he had lost his job.
Deeb took his claim to court in January and it was rejected but he is now appealing, the Norwegian broadcaster, NRK, reports. According to NRK, he had been sent a registered letter terminating his employment but the letter was returned because Deeb was in Spain at the time.
While running GNRD Deeb suddenly became very prosperous. In 2013 his personal income – which had been around $25,000 a year until 2012 – leapt to $600,000. In 2014 he bought two properties in Norway for a total of 12.3 million kroner ($1.6 million) and paid for them in full without taking out a loan. In Jordan he bought a $534,000 villa – again without needing to borrow.
During the 2015 raids, police confiscated $220,000-worth of gold jewellery from Deeb's home. A court later refused to return it, saying that "at least the bulk" of the seized items were "likely" to have been purchased using the proceeds of criminal acts.
Last month police and bankruptcy investigators said they believe Deeb siphoned off more than $1 million from GNRD's funds to cover gambling debts. Deeb denies the accusation.
This work is licensed under a Creative Commons Attribution-NonCommercial 4.0 International Licence.