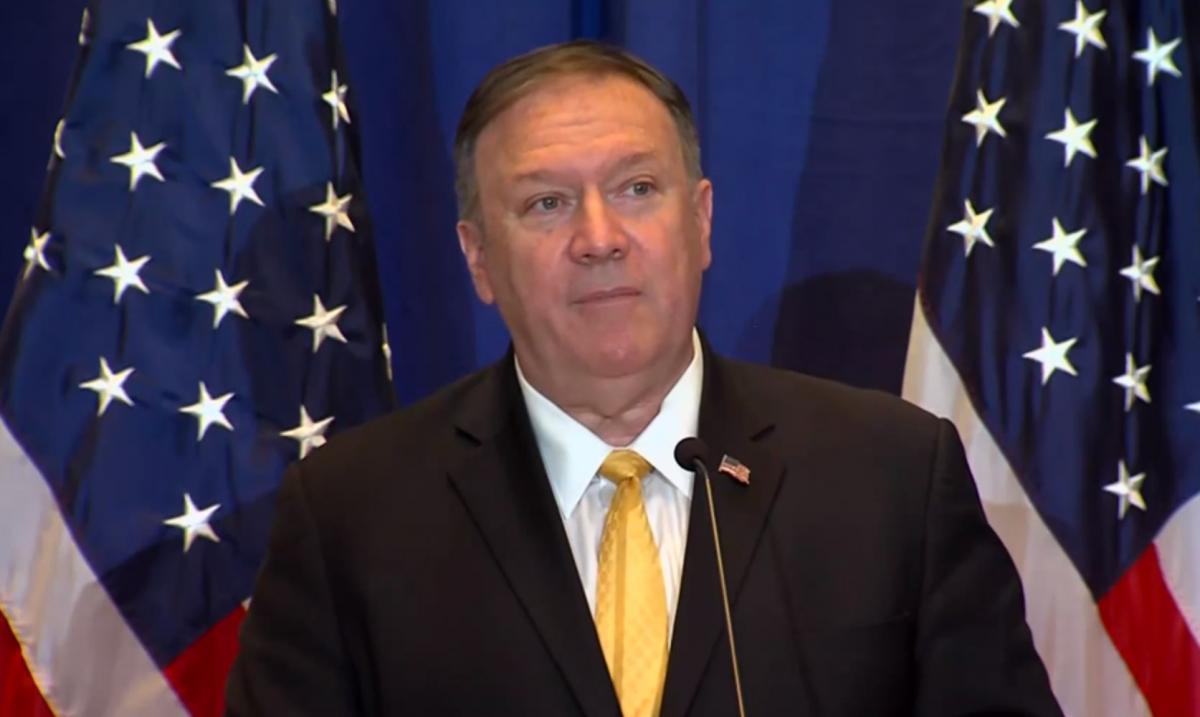 The United States has concluded that the Assad regime carried out a chemical attack in north-western Syria last May, secretary of state Mike Pompeo announced on Thursday. Speaking to reporters on the sidelines of the UN General Assembly, he said:
"This attack was part of the Assad regime's ongoing violent campaign in Idlib, which has killed more than 1,000 innocent Syrians and displaced hundreds of thousands more. It is also the latest instance in a long pattern of Assad's chemical weapons attacks that have killed or wounded thousands of Syrians. Assad has used chemical weapons every year since Syria's accession to the Chemical Weapons Convention in 2013."
Pompeo gave no further details beyond saying the attack involved chlorine but he is believed to have been referring to an incident near the village of Kabana, about 30 km east of Latakia, on 19 May.
There was no independent confirmation of the attack at the time, though it was said to have injured four rebel fighters. According to some reports they were members of the Salafi jihadist group Hay'at Tahrir al-Sham. However, the Syrian Observatory for Human Rights (SOHR) said they belonged to another armed Salafi group, the Turkistan Islamic Party.
According to the SOHR the fighters were in "caves and trenches" being shelled by regime forces. This could account for the reported use of chlorine gas since it is heavier than air and sinks into low-lying places. There have been previous occasions when the regime appeared to be using chemical weapons to clear out fighters from caves and underground facilities.
SOHR said the four fighters were taken to hospital but only one of them – an asthma sufferer – had been in a serious condition.
On Thursday Pompeo offered no evidence to support his claim about the attack but said:
"The work that's been done has taken us a little bit of time to collect the data sufficient that we had the confidence to make the statement that we just made. We are – we're always careful to make sure we get the data right before we announce conclusions about that. We're now very confident that the intelligence community and all the data that we've seen support the conclusion that we just reached there."
The question this raises is what to do about it. Military action of the kind taken by the Trump administration over Khan Sheikhoun in 2017 and Douma in 2018 would be obviously disproportionate considering that the incident in Kabana had only minor consequences. Nevertheless, an important principle is at stake. Use of chlorine as a weapon is a breach of the Chemical Weapons Convention, and Syria is a member of the Convention.
Asked about possible future action, Pompeo said:
"The Syrian regime should know and the world should appreciate the fact that we're going to do everything we can reasonably do to prevent this kind of thing from happening again, which starts with identifying both what took place and who should properly be held accountable for that."
Following the established international procedure would require an initial investigation by the OPCW's Fact-Finding Mission (FFM). If the FFM concludes that a chemical attack is likely to have taken place the OPCW's recently-created Investigation and Identification Team (IIT) would then look into it further, with a view to establishing who was responsible.
This appears to be what the Trump administration has in mind, because Pompeo also announced that the US will provide $4.5 million to the OPCW "to help its investigations of continued chemical weapons use in Syria".
In connection with Khan Sheikhoun and Douma the administration took a different course, launching punitive airstrikes without waiting for reports from the OPCW.
The announcement of extra funding for the OPCW could be counter-productive, however. As a result of events in Syria the OPCW has become increasingly politicised and the American money will give Russia and Syria a further opportunity to question the independence of its investigations.
This work is licensed under a Creative Commons Attribution-NonCommercial 4.0 International Licence.