Since the beginning of March striking differences have emerged in the course of the coronavirus epidemic among Arab countries – especially in the numbers of deaths.
The graph below shows that Bahrain, Kuwait, Oman, Qatar and the UAE have all been relatively successful in controlling the epidemic's spread. They have achieved this by taking strong preventive measures early, testing and quarantining extensively and, to varying degrees, educating the public about what precautions to take. They are also fortunate in having small populations, plenty of money and good health services.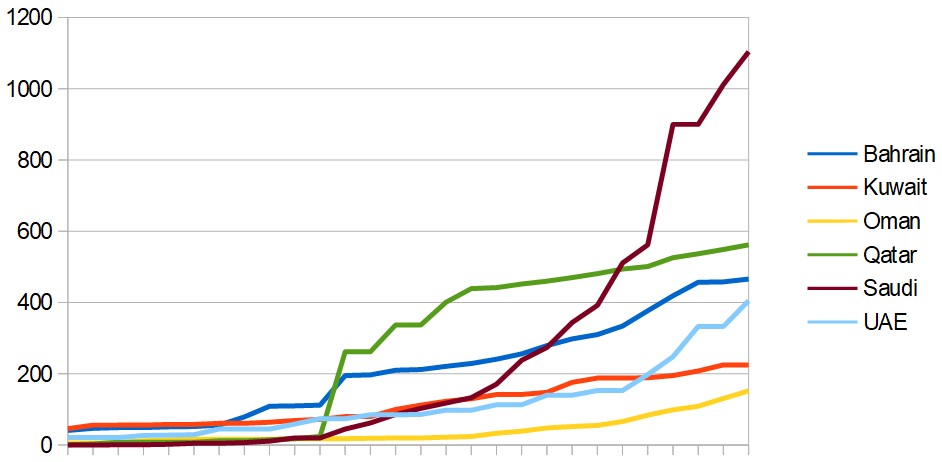 In terms of confirmed cases, the exception among the Arab Gulf states is Saudi Arabia, which clearly doesn't have the situation under control at present, though it tightened up its preventive measures earlier this week.
Most notable, though, is that among 3,000 confirmed cases in the Arab Gulf states there have so far been only nine deaths.
In contrast to that, four countries – Algeria, Egypt, Iraq and Morocco – account for 76% of the region's coronavirus-related deaths (excluding those in Iran). Together, they have reported a combined total of 119 deaths but only 1,748 confirmed cases of infection.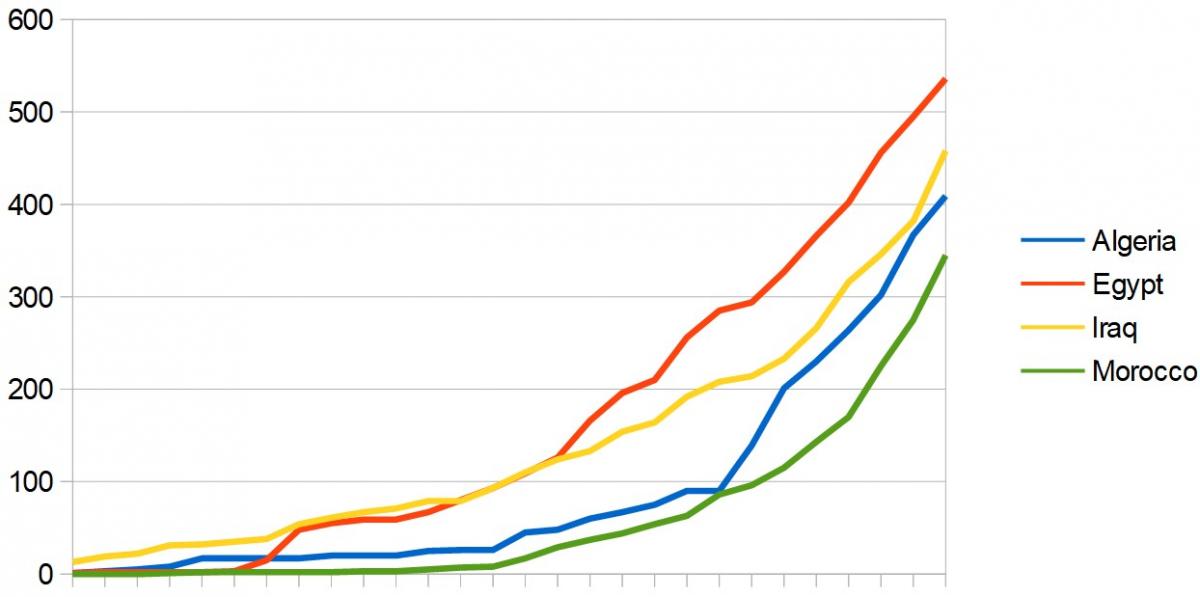 Looking at how the number of cases has grown in each of these four countries during March, we see a very similar curve. Looking at the actual figures, however, and after taking into account what is probably a lower quality of medical care, the inescapable conclusion is that many cases of infection are not being detected until it is too late.
---
Latest updates
Iran reported 2,926 new coronavirus cases – the highest daily increase so far – bringing the total of confirmed cases to 32,332 since the outbreak began. A further 144 deaths were reported, bringing the cumulative death toll to 2,378.
The daily death toll in Iran doesn't appear to be rising significantly. Since 16 March the official daily average has been 138 deaths.
Elsewhere in the Middle East 938 new cases have been reported since yesterday's update, bringing the cumulative total to 9,077.
Algeria 409 (+42)
Bahrain 466 (+8)
Egypt 536 (+41)
Iraq 458 (+76)
Israel 3,460 (+425)
Jordan 235 (+23)
Kuwait 225 (-)
Lebanon 391 (+23)
Libya 1 (-)
Morocco 345 (+70)
Oman 152 (+21)
Palestine 91 (-)
Qatar 562 (+13)
Saudi Arabia 1,104 (+92)
Sudan 5 (+2)
Syria 5 (-)
Tunisia 227 (+30)
UAE 405 (+72)
TOTAL: 9,077 (+938)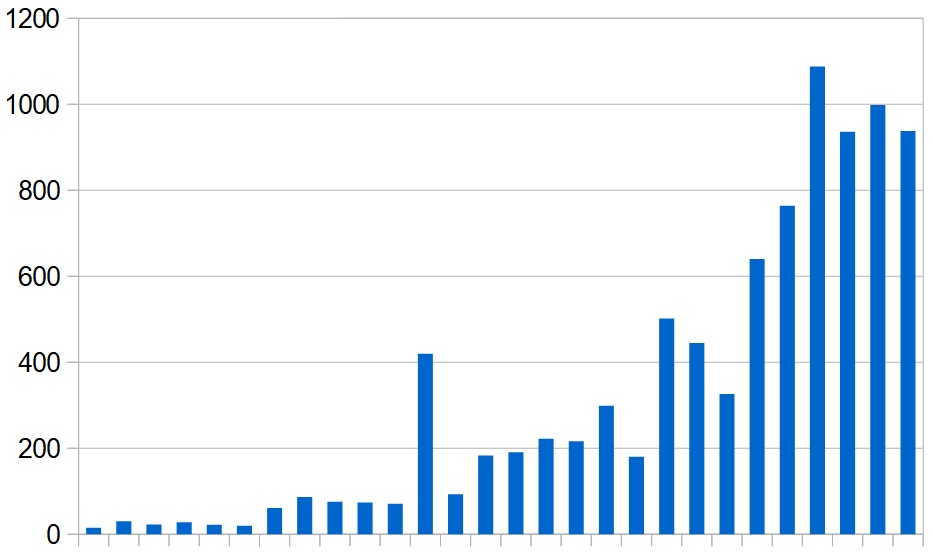 A further 28 deaths were reported in the region (excluding Iran), bringing the total to 156. This is the current list:
Algeria 26
Bahrain 4
Egypt 30
Iraq 40
Israel 12
Lebanon 7
Morocco 23
Palestine 1
Saudi Arabia 3
Sudan 1
Tunisia 7
UAE 2
TOTAL: 156
CLICK HERE for previous updates
For anyone interested: A spreadsheet documenting the coronavirus cases reported each day in the Middle East (excluding Iran) can be viewed here.
This work is licensed under a Creative Commons Attribution-NonCommercial 4.0 International Licence.