In Iran, the daily death toll from coronavirus and the numbers of new cases continue to rise – as they have done on each of the last five days. Saturday's official figures showed 97 more deaths and 1,365 new cases.
Elsewhere in the Middle East 191 new cases were confirmed, bringing the cumulative total to 1,523. Two more deaths were reported, in Algeria and Iraq, bringing the total to 20 deaths.
Outside Iran, the epidemic in the rest of the region is clearly gathering pace. The numbers of new cases are now almost three times what they were a week ago. During the last four days the average has been 220 new cases per day compared with an average of only 77 per day during the previous four days.
Algeria 45 (+19)
Bahrain 212 (+2)
Egypt 109 (+16)
Iraq 110 (+17)
Israel 200 (+57)
Jordan 7 (+6)
Kuwait 112 (+12)
Lebanon 110 (+32)
Morocco 17 (+9)
Oman 20 (-)
Palestine 38 (+3)
Qatar 337 (-)
Saudi Arabia 103 (+17)
Sudan 1 (-)
Tunisia 16 (-)
UAE 86 (+1)
TOTAL: 1,523 (+191)
CLICK HERE for previous updates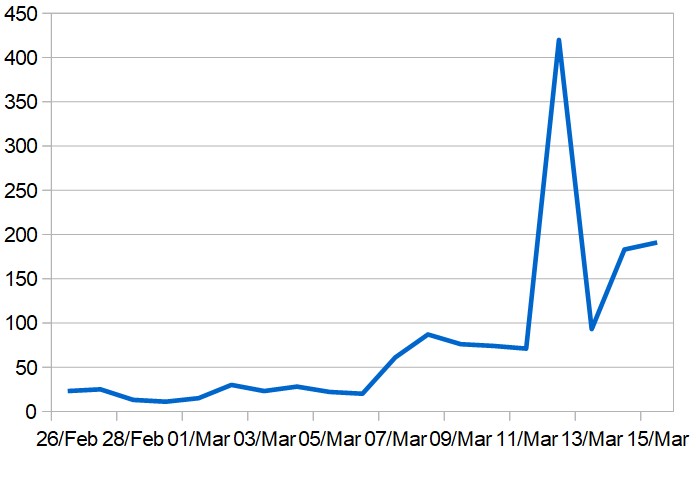 Country-by-country round-up
● Algeria: The country's third coronavirus death was that of a 51-year-old woman in Blida. She was a member of a large family that became infected after hosting two visitors from France.
● Bahrain: An unnamed person has been placed in compulsory quarantine and will be prosecuted for failing to comply with the rules for self-isolation at home, the government news agency reported. It quoted the public prosecutor as saying the authorities will take "immediate action" against any violations.
● Israel is at war with an invisible enemy and will use counter-terrorism technology to track coronavirus carriers, Prime Minister Binyamin Netanyahu said on Saturday. Meanwhile, non-urgent court cases are being postponed as a preventive measure – which means Netanhayu's corruption trial, which was due to start on Tuesday, will not now take place before May.
● Jordan reported six new cases on Sunday morning – two Jordanians and four French tourists.
● Morocco: Transport minister Abdelkader Amara has tested positive after returning from a trip to Europe.
● Palestine: A new (unofficial) website gives details of the situation in the Palestinian territories.
● UAE: The central bank announced a Dh100bn ($24bn) economic stimulus package to help offset the effects of coronavirus.
● Yemen: No coronavirus cases have been confirmed so far but the Saudi-backed (anti-Houthi) government is suspending all flights to and from the airports under its control – Aden, Sayoun and Mukalla.
* * *
For anyone interested: A spreadsheet documenting the new coronavirus cases reported each day in the Middle East (excluding Iran) can be viewed here.
This work is licensed under a Creative Commons Attribution-NonCommercial 4.0 International Licence.