Throughout the Middle East, governments of all political complexions are trying – and in many cases struggling – to check the spread of coronavirus. Lockdowns, curfews, quarantine – at home or in hospitals – and social distancing are the order of the day. But there's something else looming: Ramadan is just four weeks away and the question is what will happen then.
During the holy month, daytime fasting is an obligation for all adult Muslims but it's as much a social occasion as a religious one and the daytime fasting alternates with nighttime feasting.
As al-Arabiya points out, the traditions of Ramadan "are centered on group gatherings: communal taraweeh prayers, the evening meal of iftar in which Muslims break their fast together, shared food and shisha in Ramadan tents and other religious and social events with family and friends".
Those are all the sorts of things that the social distancing currently in force is intended to prevent. No one seriously expects the coronavirus plague to be over by then, and a traditional Ramadan would undo whatever good has been done in the meantime.
So far, governments in the region haven't said what they intend to do about this. The fasting itself should not be a problem but contraints on the communal activities associated with Ramadan are likely to run into opposition.
Next month will also see Christians and Jews observing Easter and Passover. Yesterday the Jerusalem Post reported that a group of senior Orthodox rabbis have given permission for the use of Zoom video conferencing to bring families together during Passover – while keeping them physically apart.
Although some Jews regard use of electricity and electronic devices as forbidden on holy days, the rabbis argued that a dispensation could be granted on this occasion. Their ruling, however, is likely to be disputed by others.
---
Latest updates
Iran reported 2,206 new coronavirus cases – the highest daily total so far. The last three days have seen large rises which may to be due to increased testing. Fars News reports that an Iranian company is now producing test kits at a rate of 80,000 a week.
A further 143 coronavirus-linked deaths were reported, bringing the official cumulative total to 2,077. According to Fars News, the army has established 4,750 new hospital beds, including 2,000 at an exhibition centre in Tehran.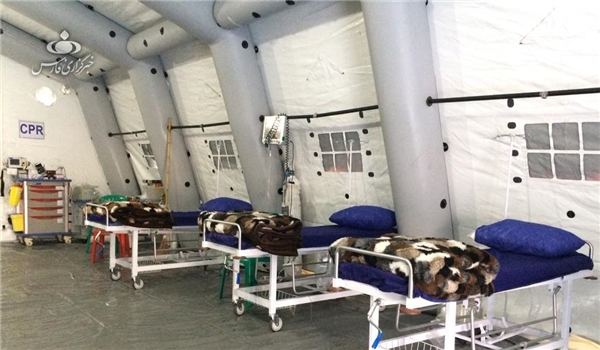 Elsewhere in the Middle East 936 new cases have been reported since yesterday's update, bringing the cumulative total (excluding Iran) to 7,141. Once again, Israel reported the largest number of new cases (465), followed by the UAE with 85 and Tunisia with 59.
It should be noted that the numbers of new cases are often a reflection of the levels of testing – which vary widely between countries. Libya, for example, has carried out only 61 tests while other countries are carrying out thousands.
Algeria 302 (+38)
Bahrain 457 (+38)
Egypt 456 (+54)
Iraq 346 (+30)
Israel 2,495 (+465)
Jordan 172 (+19)
Kuwait 208 (+13)
Lebanon 333 (+29)
Libya 1 (-)
Morocco 225 (+55)
Oman 109 (+10)
Palestine 86 (+26)
Qatar 537 (+11)
Saudi Arabia 900 (-)
Sudan 3 (-)
Syria 5 (+4)
Tunisia 173 (+59)
UAE 333 (+85)
TOTAL: 7,141 (+936)
A further 10 deaths were reported in the region (excluding Iran), bringing the total to 101. Palestine recorded its first coronavirus-linked death. Here is the current list:
Algeria 21
Bahrain 4
Egypt 21
Iraq 29
Israel 5
Lebanon 4
Morocco 6
Palestine 1
Saudi Arabia 2
Sudan 1
Tunisia 6
UAE 2
TOTAL 102
CLICK HERE for previous updates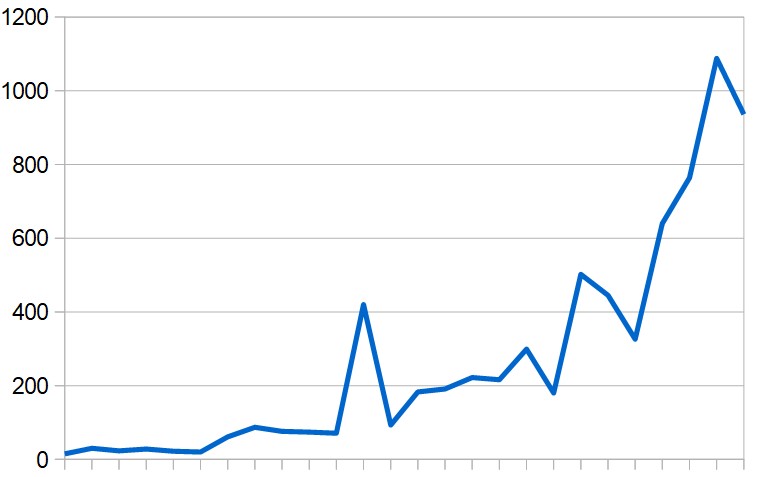 ---
Country-by-country round-up
● Egypt: At least 15 people died in Giza when a lorry crashed into a line of vehicles stopped at a checkpoint on the first night of the country's night-time curfew. The people in the stationary vehicles were claiming exemption from the curfew and had been queuing to have their papers checked.
● Iraq: Some of the economic consequences of coronavirus in Iraq are discussed in an article for Al-Monitor by Iraqi writer Omar al-Jaffal.
● Lebanon: The health ministry is inviting tenders for the supply of 70 ventilators. This sounds like a very small number.
● Palestine: Seven new cases were reported in Gaza, bringing the total there to nine. All seven are members of the Hamas security forces stationed at a quarantine centre which is housing the two earlier cases. In the West Bank, the first coronavirus-related death was reported – a 60-year-old woman in the village of Bidu. Her known contacts have been quarantined in hospital and all the other villagers are in home isolation.
● Saudi Arabia: A specialist laboratory in the kingdom's Eastern Province has tested more than 5,000 samples during the past week.
● Syria: The health ministry announced four new cases, bringing the total to five. Three of them are said to have been quarantined since last week but there are no further details. In north-western Syria there are four million people not under the regime's control. The World Health Organisation (WHO) says test kits have begun arriving there and 5,000 more are due to be delivered next week. WHO is also sending large amounts of personal protective equipment (PPE) to health facilities in the area and is working with partners to train 540 health workers in infection prevention measures.
● UAE: Following yesterday's news that banknotes are being sterilised in Bahrain, the UAE has ordered banks to issue only new notes through ATM cash machines and to provide disposable gloves for customers using the machines.
***
For anyone interested: A spreadsheet documenting the new coronavirus cases reported each day in the Middle East (excluding Iran) can be viewed here.
This work is licensed under a Creative Commons Attribution-NonCommercial 4.0 International Licence.