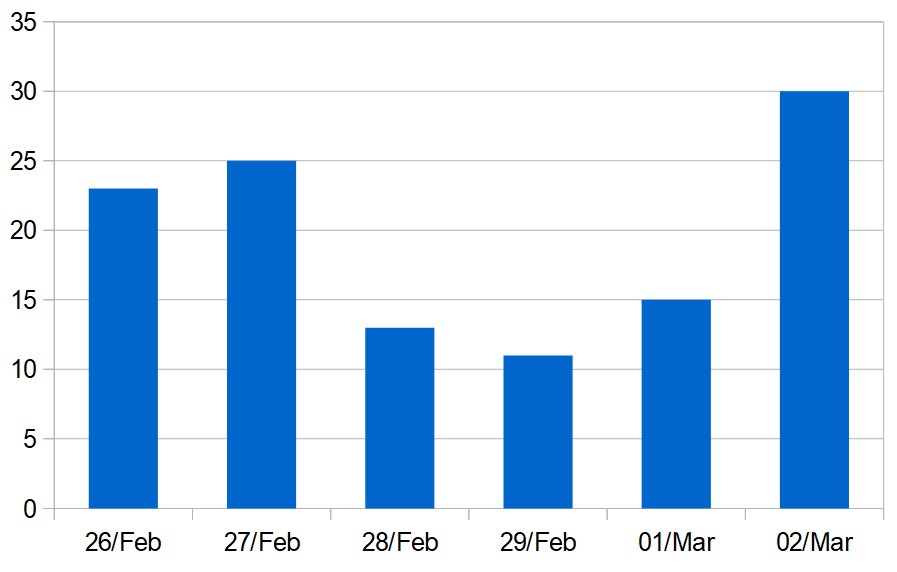 There's good news from Iran – at least, according to health ministry spokesperson Kianoush Jahanpour. On Sunday he announced that Iran has "been able to cure" more coronavirus patients than another other country apart from China. Meanwhile, Iran's health minister has written to Supreme Leader Ayatollah Khamenei, assuring him that "the world will be awed" by Tehran's way of managing the epidemic.
Attitudes like this are extremely worrying – as are the official figures, even if they don't reveal the full extent of Iran's COVID-19 problem. On Friday the official number of infections was 388 – an unbelievably low number. This was raised on Saturday to 593, and raised again on Sunday to 978. In the same period, the official number of deaths has risen from 34 to 54.
Elsewhere in the Middle East, 30 new cases have been confirmed since yesterday's update. This is the highest daily number so far, though it follows three days of relatively low numbers. Kuwait has 10 new cases, Bahrain and Iraq each have six, Israel has three, Algeria and Qatar each have two, and Egypt has one.
Algeria 3 (+2)
Bahrain 47 (+6)
Egypt 2 (+1)
Iraq 19 (+6)
Israel 10 (+3)
Kuwait 56 (+10)
Lebanon 7 (-)
Oman 6 (-)
Qatar 3 (+2)
UAE 21 (-)
TOTAL: 174 (+30)
CLICK HERE for previous updates
As is customary with military dictatorships, Egypt is in denial mode – which raises the question of whether it is mishandling the situation (as Iran has done, and as China did in the early stages).
On Sunday, Qatar unexpectedly announced that it was banning all arrivals from Egypt, except for returning Qatari citizens. Shortly afterwards, Kuwait said it would be checking all travellers from Egypt (and also Syria). They will be tested before departure and again on arrival in Kuwait.
On the face of it, there was no need for this action because officially Egypt was corona-free. Its only confirmed case – a 33-year-old Chinese citizen who tested positive on February 14 – had since recovered, apparently without infecting anyone else.
Kuwait and Qatar have given no particular reason for their action but it looks as if they had received some information that raised alarm.
On Sunday the Egyptian health ministry denied a report that two new cases had been discovered in northern Egypt. On Monday morning, however, it announced that one new case had been confirmed. So far, no further details have been given.
There's also the unresolved matter of seven travellers – six from France and one from Canada – who tested positive after returning from a trip to Egypt. It's unclear whether they caught the virus from fellow-travellers or local residents but the Egyptian authorities – aware of the possible effect on the tourism trade – are denying that they could have been infected in Egypt.
Country-by-country round-up
● Algeria confirmed two new cases on Monday morning – a mother and daughter aged 53 and 24 in Blida province. Last month the women hosted two people from France who have since tested positive. This brings Algeria's total of cases to three.
● Bahrain: Five Bahrainis and a Saudi tested positive after arriving from Iran, bringing the total of confirmed cases to 47. Nine Saudis are now known to have been infected, though all the reported cases have occurred outside the kingdom.
● Egypt: One new case was confirmed on Monday morning by the health ministry and the World Health Organisation (WHO).
● Iraq: The Kurdistan Regional Government reported four cases of coronavirus in Sulaimani, the first in the Kurdish region. Three of the four are from the same family; the fourth person is unrelated. Two further cases were reported in Baghdad, bringing Iraq's total to 19.
● Israel reported three more cases on Sunday. Two of them are members of a family who arrived from Italy on Thursday. Passengers who were on the same flight have been told to isolate themselves at home for two weeks. The third newly-diagnosed person is employed at a toy shop where a co-worker tested positive earlier after returning from Italy. This brings Israel's cumulative total to 10 cases.
● Kuwait confirmed 10 more cases, bringing the total to 56. No further details are currently available.
● Oman, which has only six confirmed cases so far, is denying allegations of a new case in Dhofar. The health ministry is threatening to prosecute "those who publish or spread this rumour".
● Qatar confirmed two new cases, bringing the total to three.
This work is licensed under a Creative Commons Attribution-NonCommercial 4.0 International Licence.