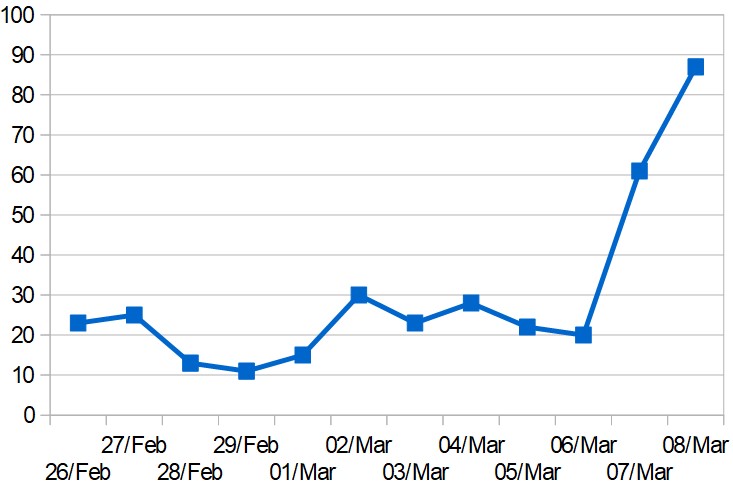 Iran reported 1,076 new coronavirus cases on Saturday, bringing the official total to 5,823. Across the rest of the Middle East the total is much lower – 415 confirmed cases – but the overall trend is now relentlessly upwards.
On Friday, the number of new cases, which had not previously risen above 30 in a single day, suddenly surged to 61. Saturday's tally shows a further big rise to 85 new cases.
The cumulative total for the region (excluding Iran) has doubled over the last five days.
Saturday's rise is mainly accounted for by Egypt with 33 new cases, Bahrain with 23 and Iraq with 16.
Algeria 17 (-)
Bahrain 79 (+23)
Egypt 48 (+33)
Iraq 54 (+16)
Israel 25 (+4)
Jordan 1 (-)
Kuwait 61 (-)
Lebanon 28 (+6)
Morocco 2 (-)
Oman 16 (-)
Palestine 19 (+3)
Qatar 12 (-)
Saudi Arabia 7 (+2)
Tunisia 1 (-)
UAE 45 (-)
TOTAL: 415 (+87)
CLICK HERE for previous updates
What about Syria, Yemen and Libya?
It's worth noting that so far none of the three war-torn Arab countries – Syria, Yemen and Libya – have reported any cases.
In Syria, the Assad regime insists that none have been detected. On Friday the Daraa National Hospital denied "baseless" rumours that eight coronavirus patients were being treated there. According to the hospital, the people concerned were "suffering from simple respiratory infections" and had since been discharged.
The regime says "precautionary measures" are in place at airports and border crossing points (at least those under its control). The official news agency has issued a video showing passengers at Damascus airport having their temperatures checked.
Nevertheless, the situation in Iraq and Lebanon – two neighbours which have similar political and religious ties to Iran – suggests that if Syria has no coronavirus cases at present it will do soon.
Yemen may benefit from the fact that it had travel restrictions – involuntary ones – long before other countries started introducing them for health reasons. The Houthi-controlled area in the north is probably most at risk because of its ties to Iran.
At the beginning of February at least 95 Yemenis arrived in the southern city of Aden, fleeing the outbreak in China and were not checked on arrival. At the end of February there were protests over moves to establish quarantine facilities at a hospital in Aden. Locals feared this could spread the virus in surrounding areas.
In Libya's eastern region there have been claims that two people from the same family were infected and that one of them died. This has been denied by a health official at Benina airport near Benghazi. Experience in other North African countries – Algeria, Egypt, Morocco and Tunisia – suggests the virus is more likely to arrive in Libya from Europe than Iran.
Country-by-country round-up
● Algeria confirmed two more cases – one person in Bleda whose relatives have previously been diagnosed, and a man who recently arrived from Europe. On Saturday a 40-year-old man escaped from quarantine in Boufarik Hospital.
● Bahrain: The health ministry reported on Sunday morning that there are now 79 confirmed cases – an increase of 23 – but gave no further details.
● Egypt: 33 new cases were reported on board the Nile cruise ship, River Anuket, in addition to the 12 detected earlier. Officials say all 45 are being transferred to isolation in hospital. Nineteen of those infected are said to be non-Egyptians. The vessel was reportedly carrying more than 150 passengers and crew.
● Iraq: Once again, there are conflicting figures. The most recent cumulative total from the World Health Organisation is 54 cases. China is reported to be sending medical supplies and a specialist team to train Iraqis.
● Oman has reported no new cases but a man who travelled to India from Oman on Friday died shortly after arriving. He was said to have breathing problems but it's not yet clear whether he had coronavirus.
● Qatar: The Indian authorities are trying to trace people who travelled on two Qatar Airways flights – from Venice to Doha and from Doha to Kochi. The Times of India reports that three passengers, all from the same family, have been diagnosed with the virus.
● Saudi Arabia: Six of the seven cases reported so far have been linked to Iran. The authorities have a problem tracing others who may have been infected there because members of the kingdom's Shia minority often visit Iran secretly via third countries – and without having their passports stamped by the Iranian authorities. On Thursday the health ministry set up a toll-free phone line and said that people who disclosed their secret trips to Iran within the next 48 hours would not be punished. On Saturday the ministry announced that 128 people had come forward. Of those, 26 are currently in Saudi Arabia, 95 are in Iran and seven are in other countries.
* * *
For anyone interested: A spreadsheet documenting the new coronavirus cases reported each day in the Middle East (excluding Iran) can be viewed here.
This work is licensed under a Creative Commons Attribution-NonCommercial 4.0 International Licence.