War-torn Yemen is one of the few countries in the world where no Covid-19 cases have yet been reported, but it's widely expected that if the virus does take hold there the result will be catastrophic.
Yesterday, at the behest of the UN's special envoy, the Saudi-led coalition which has been fighting Houthi forces for the last five years announced a ceasefire. Initially it's for two weeks but it could be extended.
Coalition spokesperson Turki al-Malki said the move was to create "a conducive environment" for the UN's de-escalation efforts and "to alleviate the suffering of the brotherly people of Yemen and support the efforts towards combatting the spread of Covid-19 pandemic."
So far, though, it's unclear whether the Houthis will agree.
Regional round-up
● Egypt: The night-time curfew imposed on March 25 has been extended until April 23. However, it will now begin at 8pm rather than 7pm. The later start is apparently to reduce overcrowding on public transport as people return home from work.
The daily numbers of confirmed cases in Egypt continue to rise. The cumulative total is now 1,560 but there are doubts about the official figures.
● Kuwait: Two districts – Jleeb al-Shuyoukh and Mahboula – have been under "complete isolation" since Monday. They are both described as "densely populated areas where poorer expatriate workers live". Meanwhile, some of the Kuwaitis quarantined in five-star hotels after returning from abroad have been complaining on social media about the quality of the food and service. The meat is said to be fatty and "staff are slow to clean up coffee stains".
● Oman: The whole of Muscat governorate, which includes the capital, is to be locked down from 10 am Friday for the next 12 days. One district within the governorate – Muttrah, which includes a commercial centre and seaport – has been locked down since April 1.
● Saudi Arabia: Under the slogan "Culture in isolation", the Saudi culture ministry is promoting various home-based activities that are intended to be mentally enriching. One of them is a "reading marathon".
---
New cases
Official figures from Iran continue to indicate that the spread of Covid-19 is subsiding. The number of new cases reported yesterday was 1,997. This is well below the peak of 3,186 on March 30 and it's the first time since March 24 that the daily total has been below 2,000.
In the rest of the Middle East and North Africa region 1,378 new cases have been reported since yesterday's update, bringing the cumulative total to 26,980. This is a drop of 271 on the previous day but is mainly due to Israel not updating its figures, presumably because of Passover.
Saudi Arabia has the highest number of new cases (327), followed by the UAE (300) and Qatar (327).
The list below shows cumulative totals since the outbreak began, with day-on-day increases in brackets:
Algeria 1,572 (+104)
Bahrain 823 (+12)
Egypt 1,560 (+110)
Iraq 1,202 (+80)
Israel 9,404 (-)
Jordan 358 (+5)
Kuwait 855 (+112)
Lebanon 576 (+28)
Libya 21 (+1)
Morocco 1,275 (+91)
Oman 419 (+48)
Palestine 263 (+2)
Qatar 2,210 (+153)
Saudi Arabia 3,122 (+327)
Sudan 14 (-)
Syria 19 (-)
Tunisia 628 (+5)
UAE 2,659 (+300)
TOTAL: 26,980 (+1,378)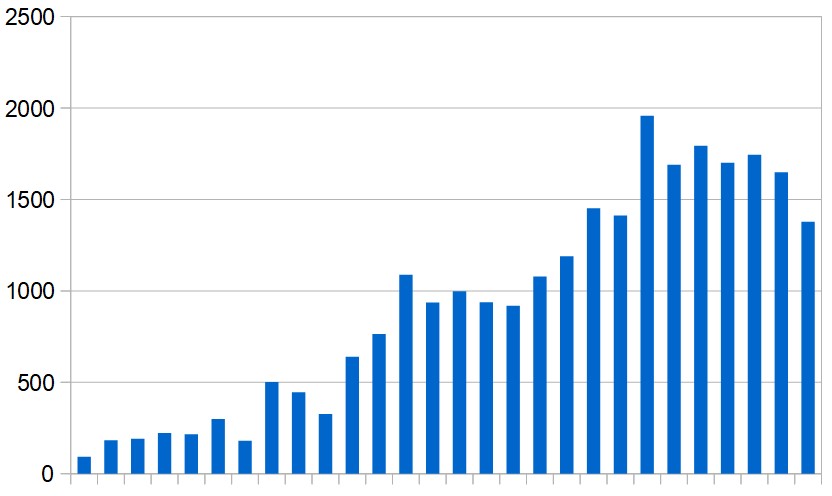 ---
Death toll
A further 121 coronavirus-related deaths were reported in Iran yesterday. The daily total has fallen slightly for four days in a row but there have been similar falls before, followed by a rise.
Elsewhere in the region 33 deaths were reported, bringing the total to 666. Twelve of the most recent deaths were in Algeria and nine in Egypt.
This is the current list:
Algeria 205 (+12)
Bahrain 5 (+1)
Egypt 103 (+9)
Iraq 69 (+4)
Israel 74 (+3)
Jordan 6 (-)
Kuwait 1 (-)
Lebanon 19 (-)
Libya 1 (-)
Morocco 93 (+3)
Oman 2 (-)
Palestine 1 (-)
Qatar 6 (-)
Saudi Arabia 41 (-)
Sudan 2 (-)
Syria 2 (-)
Tunisia 24 (+1)
UAE 12 (-)
TOTAL: 666 (+33)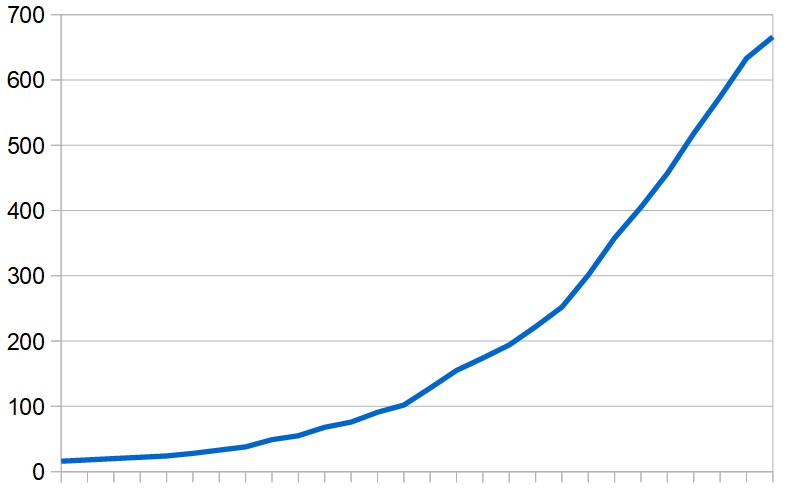 CLICK HERE for previous updates
For anyone interested: A spreadsheet documenting the new coronavirus cases and deaths reported in the region each day can be viewed here.
This work is licensed under a Creative Commons Attribution-NonCommercial 4.0 International Licence.