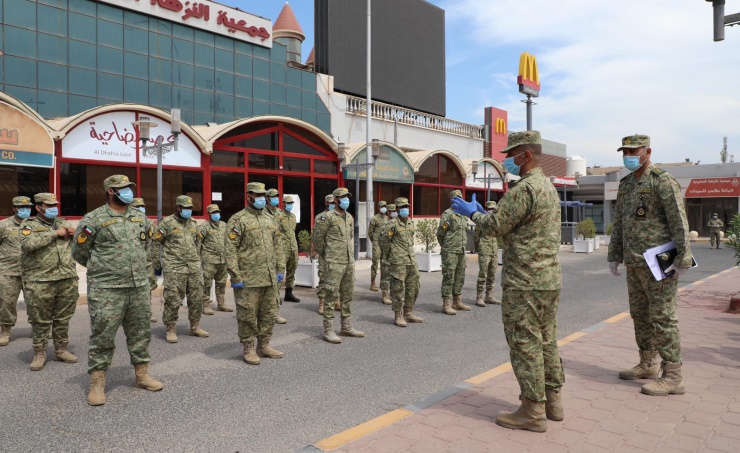 Kuwait has assigned its National Guard to take over the running of supermarkets where staff have been struck down by the Covid-19 coronavirus.
One of those placed under military operation and management is the Khaldiya Cooperative Society which closed its doors ten days ago following the discovery that 103 employees – about 40% of its workforce – were infected. Several other large supermarkets have been brought under the National Guard's control, including the Mahboula and al-Nuzha stores.
The stores are reopening after being disinfected but customers are no longer allowed to enter. Instead, they must order goods online or over the phone and then collect them from the car park.
---
CLICK HERE to jump to Middle East updates
---
The outbreak in supermarkets was one factor behind Kuwait's imposition of a full-scale lockdown which began on May 10 and is due to last until May 30. This replaced a night-time curfew and it means all non-essential businesses are closed for the duration. Government services are available only online and people are not allowed out of their homes except to buy food or to go for walks between 4.30 and 6.30 pm each day.
One side-effect of this is a log-jam in Kuwait's ports which could jeopardise food supplies. The ports of al-Shuwaikh and al-Shuaiba are said to be packed full with thousands of tonnes of uncollected goods and unable to receive any more from incoming ships.
"Companies and individuals have been unable to obtain security permits during the curfew to allow clearing their goods," a report in Gulf News says. Beside the risk of food perishing in warehouses, Kuwait could face heavy penalty charges if ships are unable to make their deliveries.
According to a survey by Bensirri, a Kuwaiti PR firm, many businesses had already closed before the government announced its full-scale lockdown.
Conducted towards the end of April and covering almost 500 Kuwaiti businesses that made profits last year, the survey found that 45% had either suspended their activities or closed altogether, while 32% had illegally reduced the wages or working hours of their employees.
Suspended businesses still face fixed costs even if they are not paying wages and 56% of the firms surveyed said they did not have enough capital to survive for the next couple of months.
The survey is clearly part of an effort to lobby the government for financial aid but there's no obvious reason to doubt the problems it reports.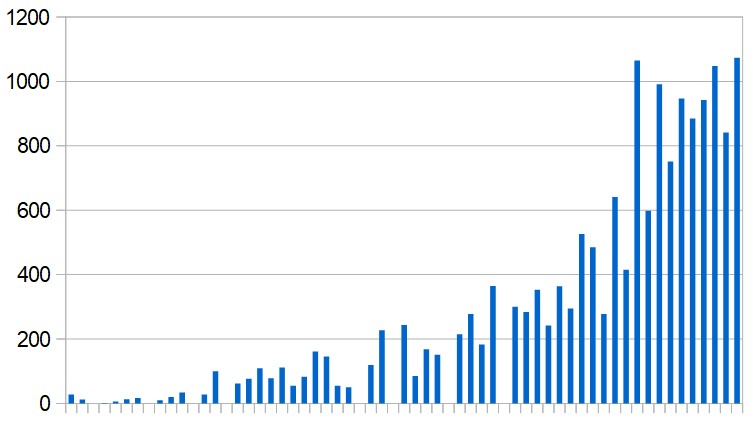 ---
New cases
A further 10,265 Covid-19 infections have been reported in the Middle East and North Africa since yesterday's update.
Once again, Saudi Arabia reported the largest number of new cases (2,509), followed by Iran (2,111) and Qatar (1,637).
Egypt reported 810 new cases – the highest daily total so far. This is 300 more than its previous highest figure recorded two days ago.
The list below shows cumulative totals (excluding Iran) since the outbreak began, with day-on-day increases in brackets.
Algeria 7,377 (+176)
Bahrain 7,532 (+348)
Egypt 13,484 (+57)
Iraq 3,611 (+150)
Israel 16,659 (+9)
Jordan 649 (+20)
Kuwait 16,764 (+1,073)
Lebanon 961 (+30)
Libya 68 (+3)
Morocco 7,048 (+96)
Oman 6,043 (+372)
Palestine 570 (+3)
Qatar 35,606 (+1,637)
Saudi Arabia 59,854 (+2,509)
Sudan 2,728 (+137)
Syria 58 (-)
Tunisia 1,044 (+1)
UAE 25,063 (+873)
Yemen 171 (+37)
TOTAL: 205,119 (+8,154)
Note: Yemen's total includes four cases reported by the unrecognised Houthi government in the north of the country.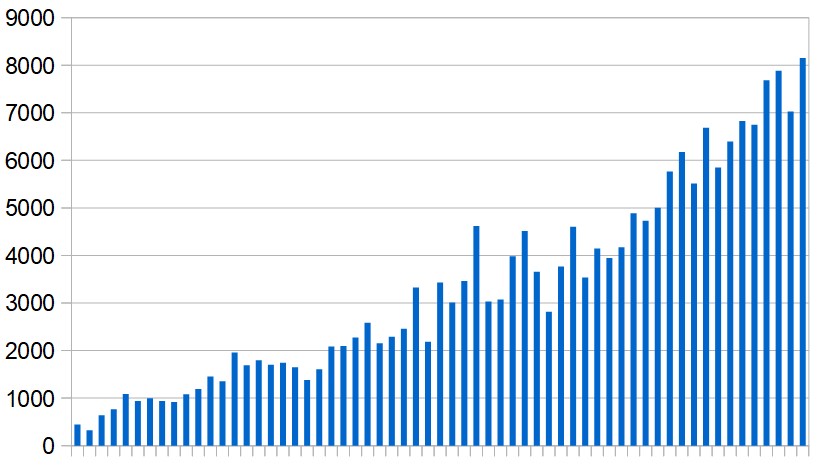 ---
Death toll
A further 120 coronavirus-related deaths were reported in the region yesterday – 62 of them in Iran and 14 in Egypt.
A further eight coronavirus-related deaths were reported in southern Yemen but the true figure may be much higher.
The list below shows cumulative totals of reported deaths in the region outside Iran, with day-on-day increases in brackets.
Algeria 561 (+6)
Bahrain 12 (-)
Egypt 659 (+14)
Iraq 131 (+4)
Israel 278 (+1)
Jordan 9 (-)
Kuwait 121 (+3)
Lebanon 26 (-)
Libya 3 (-)
Morocco 194 (+2)
Oman 27 (+1)
Palestine 4 (-)
Qatar 15 (-)
Saudi Arabia 329 (+9)
Sudan 111 (+6)
Syria 3 (-)
Tunisia 47 (+1)
UAE 227 (+3)
Yemen 29 (+8)
TOTAL: 2,786 (+58)
Note: Yemen's total includes one death reported by the unrecognised Houthi government in the north of the country.
CLICK HERE for previous updates
For anyone interested: A spreadsheet documenting the coronavirus cases and deaths reported in the region each day can be viewed here.
This work is licensed under a Creative Commons Attribution-NonCommercial 4.0 International Licence.