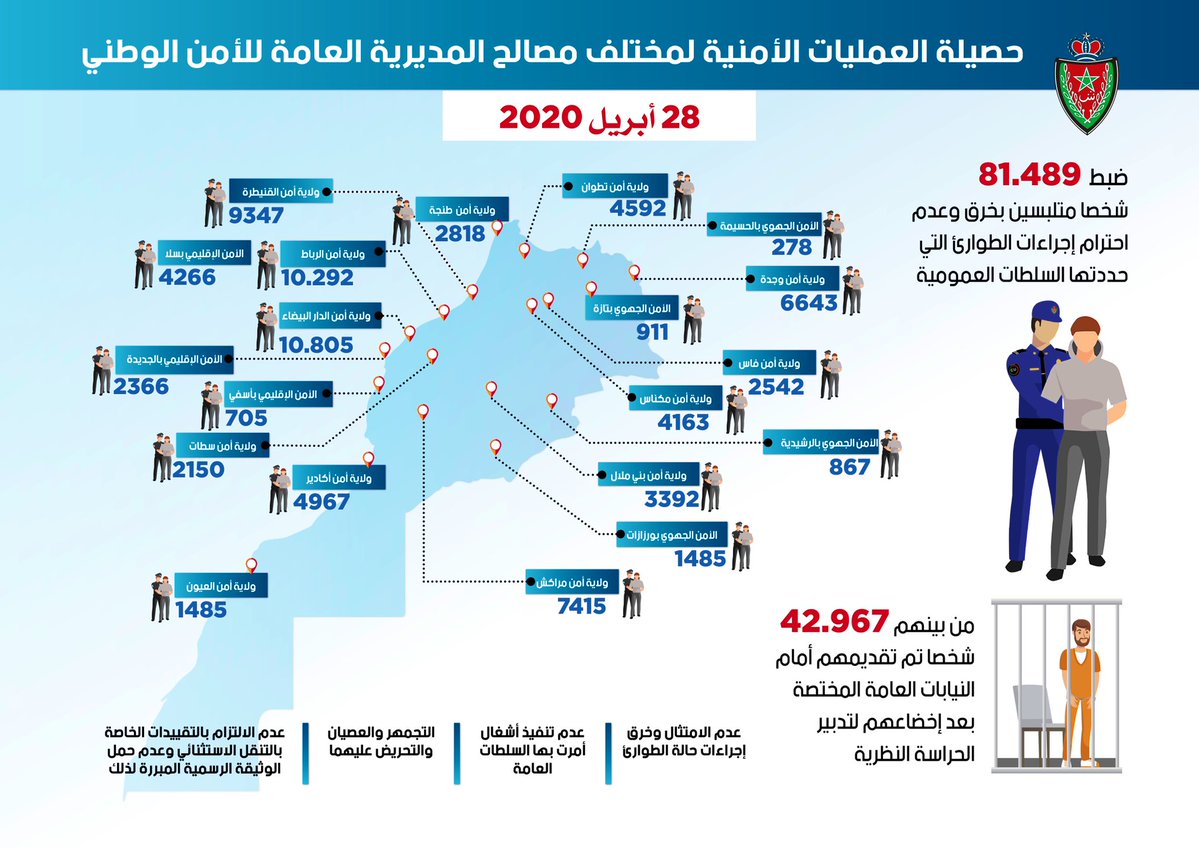 Police in Morocco have arrested more than 80,000 people during the last six weeks for violating the coronavirus lockdown, according to official figures from the Direction Générale de la Sûreté Nationale (DGSN). On Wednesday alone, 4,582 were arrested – the highest daily total so far.
Other countries have also faced problems with non-compliance but enforcement of the preventive measures in Morocco has been especially strict. When the state of emergency began on March 20 the public prosecutor gave orders to "ensure rigorous application" of its provisions. Penalties for violators – including those who fail to wear a face mask in public – range up to three months in jail and a fine of 1,300 dinars ($130). It's likely that about half of those arrested will eventually be prosecuted.
---
CLICK HERE to jump to Middle East updates
---
Fortunately for the police, they don't have to spend so much time on routine work at the moment. Crime in general has fallen substantially during the lockdown in comparison with the same period last year, Morocco World News reports:
"Crimes related to theft under the threat of a weapon decreased by 52%, reported sexual assault and rape cases decreased by 41%, premeditated homicide cases went down 67%, and reported economic and financial crimes fell by 23%, in addition to decreases in other categories of crime."
Restrictions on movement have also brought a huge reduction in deaths and injuries caused by road accidents.
However, there's bad news from Morocco's prisons. Covid-19 outbreaks have been reported in three of them – initially among prison staff. Further testing has since revealed that more than 200 prisoners at a jail in Ouarzazate have also been infected.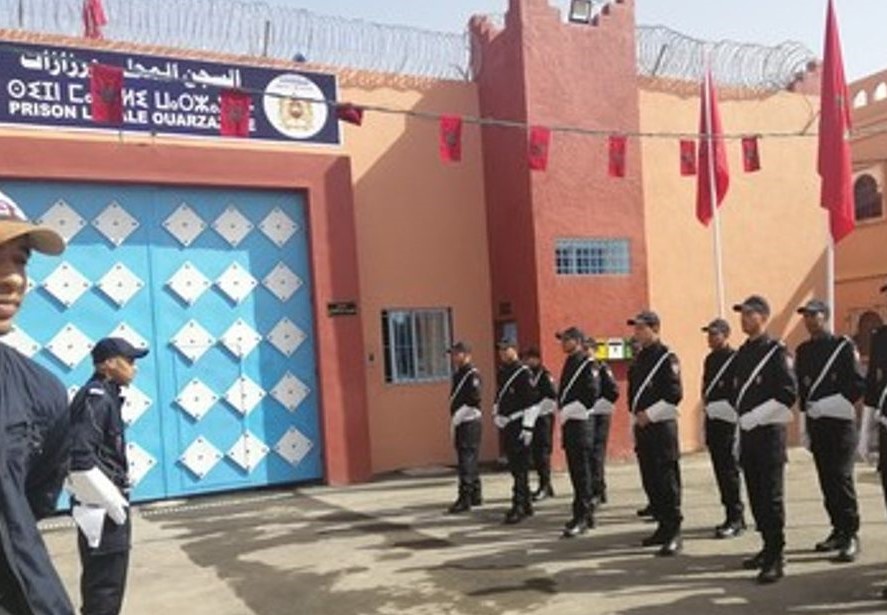 The state of emergency is due to last until May 20 and the Moroccan authorities are hopeful that by then they can start lifting the restrictions. There's a reasonable prospect they will be in a position to do so. Official figures show that while the virus is still spreading the rate of increase has slowed considerably.
The total of confirmed cases has risen by 20% over the past week – well below the regional average. "Active" cases (after deducting recoveries and deaths) have risen by only 11% week on week.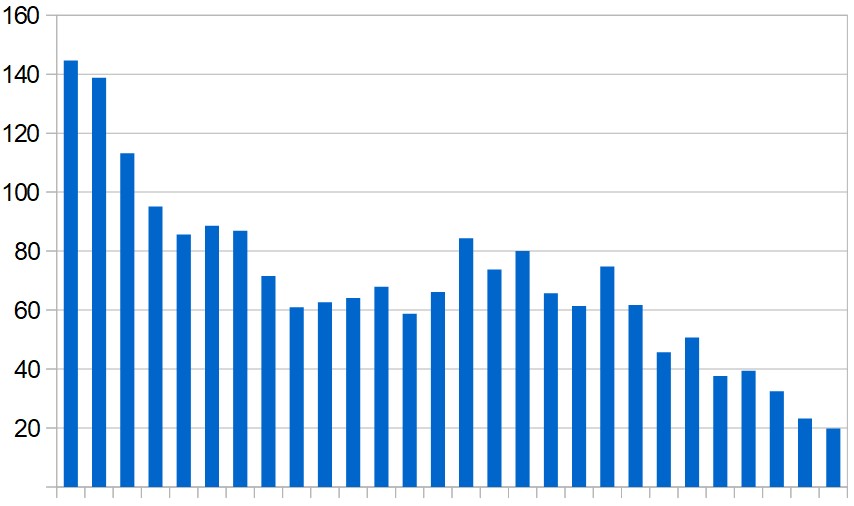 ---
New cases
A further 5,584 Covid-19 infections have been reported in the Middle East and North Africa since yesterday's update.
Once again, Saudi Arabia reported the largest number of new cases – 1,351 – followed by the UAE with 1,109 and Iran with 983.
The list below shows cumulative totals (excluding Iran) since the outbreak began, with day-on-day increases in brackets.
Algeria 4,006 (+158)
Bahrain 3,040 (+119)
Egypt 5,537 (+269)
Iraq 2,085 (+82)
Israel 16,004 (+134)
Jordan 453 (+2)
Kuwait 4,024 (+284)
Lebanon 725 (+4)
Libya 61 (-)
Morocco 4,423 (+64)
Oman 2,447 (+99)
Palestine 507 (-)
Qatar 13,409 (+845)
Saudi Arabia 22,753 (+1,351)
Sudan 442 (+67)
Syria 43 (-)
Tunisia 994 (+14)
UAE 13,038 (+1,109)
Yemen 6 (-)
TOTAL: 93,991 (+4,601)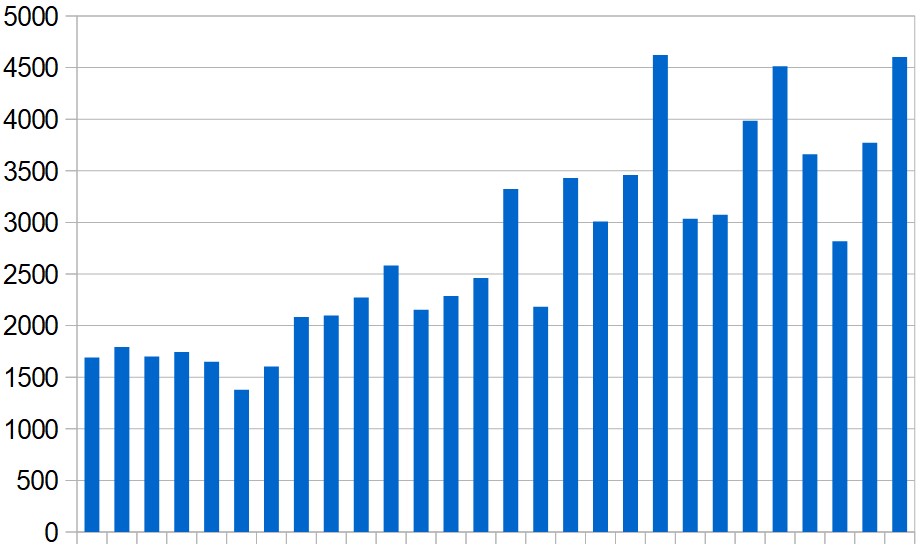 ---
Death toll
A further 122 coronavirus-related deaths were reported yesterday – including 71 in Iran, 13 in the UAE and 12 in Egypt.
The list below shows cumulative totals of reported deaths in the region outside Iran, with day-on-day increases in brackets.
Algeria 450 (+6)
Bahrain 8 (-)
Egypt 392 (+12)
Iraq 93 (+1)
Israel 223 (+4)
Jordan 8 (-)
Kuwait 26 (+2)
Lebanon 24 (- )
Libya 3 (+1)
Morocco 170 (+2)
Oman 11 (+1)
Palestine 4 (-)
Qatar 10 (-)
Saudi Arabia 162 (+5)
Sudan 31 (+3)
Syria 3 (-)
Tunisia 41 (+1)
UAE 111 (+13)
Yemen 2 (-)
TOTAL: 1,770 (+51)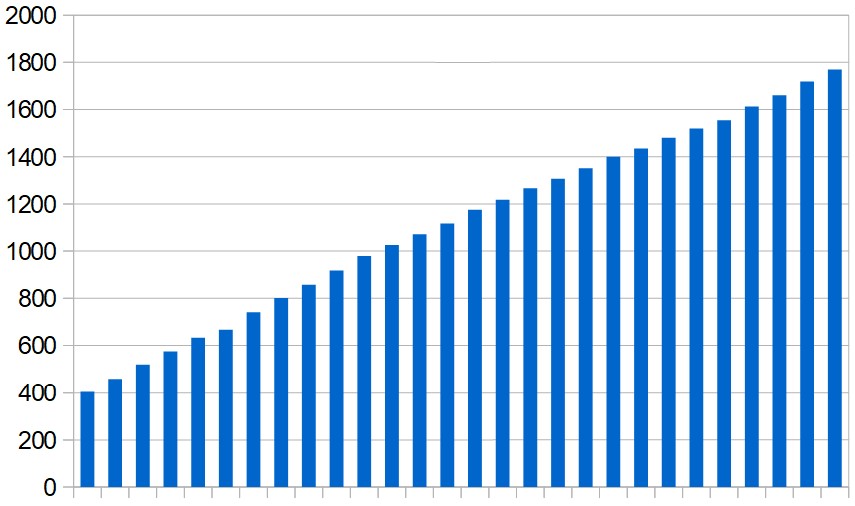 CLICK HERE for previous updates
For anyone interested: A spreadsheet documenting coronavirus cases and deaths reported in the region each day can be viewed here.
This work is licensed under a Creative Commons Attribution-NonCommercial 4.0 International Licence.