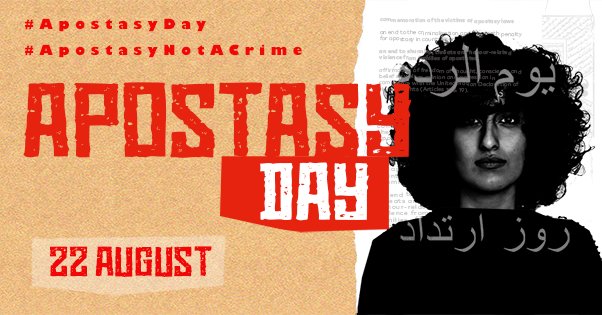 More than 20 ex-Muslim organisations from around the world have joined forces to mark today (August 22) as the first annual International Apostasy Day.
Persecution of apostates has a long history but it's a particular problem today in Muslim countries. Any Muslim who publicly renounces Islam, whether to join another faith or to abandon religion entirely, risks being accused of apostasy – which is widely regarded as a serious crime. A remark attributed to the Prophet Muhammad says "He who changes his religion should be killed".
In some countries the death penalty for apostasy has been incorporated into law, either explicitly in the penal code or indirectly through the role granted to Islamic shariah in the legal system. Actual executions are rare, though, and several recent apostasy cases – in Kuwait, Yemen and Sudan – were resolved by allowing the accused person to flee the country. More commonly, apostates are imprisoned under vague laws against "defaming religion" or "insulting God".
Tough action against apostates also appears to have widespread public support in Muslim countries. A poll conducted by the Pew Research Center in 2010 showed that 84% of Egyptian Muslims believe those who leave Islam should be punished by death.
Even so, the whole idea of legislating against religious "thought crime" is at odds with the Universal Declaration of Human Rights which says everyone has "the right to freedom of thought, conscience and religion". It also appears to be at odds with a verse in the Qur'an (2:256) which says "There is no compulsion in religion".
Legitimising vigilantes
One effect of having such laws is that they provide a veneer of legitimacy for the activities of religious vigilantes – either by initiating court cases or violently taking matters into their own hands.
In 1992 Farag Fouda, an outspoken secularist who ruthlessly mocked many of Egypt's leading Islamists, was shot dead by two members of the militant group, al-Gama'a al-Islamiyya.
Two years later, Naguib Mahfouz, the only Arab ever to win a Nobel prize for literature, was stabbed in the neck outside his home after being accused by militants of apostasy. Mahfouz, who was eighty-two at the time, survived the assassination attempt but with his right arm partly paralysed.
In 2016, Jordanian writer Nahed Hattar was shot dead as he arrived at a court in Amman to answer charges of "insulting religion" and inciting "sectarian strife and racism". Hattar was a controversial figure – a leftist supporter of the Assad regime in Syria – who had been arrested for sharing a cartoon on Facebook. The cartoon poked fun at a prominent financier of the Islamic State (ISIS/Daesh) who had earlier been reported killed. It depicted him living a dissolute lifestyle in heaven and being disrespectful towards God.
In the ensuing fuss Hattar deleted the cartoon and apologised, saying his intention was to criticise ISIS and not to insult Islam. Despite calls on social media for him to be killed or lynched, the authorities failed to protect him. After the shooting on the courthouse steps it was Hattar's family, rather than the police, who initially apprehended the killer, a 49-year-old imam, who was later executed for the murder.
Many of those accused of apostasy are not actually apostates: they haven't renounced Islam but have simply expressed a view that upset the vigilantes. In Egypt, for example, lawsuits have often been used – by Islamists in particular – to harass those they disagree with.
Compulsory divorce
For Nasr Abu Zayd, a teacher of Arabic literature at Cairo University in Egypt, the trouble began in 1992 when he applied for a professorial post. The committee responsible for promotions considered three reports on his work – two of which were favourable. But the third report, prepared by the Islamist Dr Abdel-Sabour Shahin, questioned the orthodoxy of Abu Zayd's religious beliefs, claiming that his research contained "clear affronts to the Islamic faith", and the committee rejected his appointment by seven votes to six.
Not content with having deprived Abu Zayd of a promotion, Shahin then wrote a newspaper article accusing him of apostasy. This in turn prompted a group of Islamist lawyers to file a lawsuit seeking to divorce Abu Zayd from his wife, on the grounds that a Muslim woman cannot be married to an apostate. They eventually won their case and Abu Zayd fled the country along with his newly-divorced wife.
The Egyptian writer and feminist, Nawal el Saadawi, faced a similar situation in 2001 when Islamists sought to have her divorced after thirty-seven years of marriage, on the grounds that her views had placed her outside Islam. The case seems to have been prompted by an interview in which she said kissing the black stone of the Kaaba (which Muslims do on the pilgrimage to Mecca) is a "vestige of pagan practices". Fortunately for Saadawi, the divorce claim was rejected.
"Civil death"
In some countries defectors from Islam can be taken to the sharia courts (by relatives or others) and stripped of basic rights in the areas of marriage, inheritance and custody of children – a legal concept known as "civil death".
In 2005, for example, Jordan's shariah appeals court declared a Muslim convert to Christianity to be a ward of the state, stripped him of his civil rights and annulled his marriage. The court ruled that he no longer had any inheritance rights and that he could not remarry his wife unless he returned to Islam.
Egypt, like Jordan, has no specific law forbidding apostasy but in another "civil death" case a 73-year-old Egyptian Muslim was awarded custody of his seven-year-old grandson because the boy's parents changed their religion, converting to the Baha'i faith. The grandfather, Mohammad Abdul Fatah, said he had gone to court after seeking advice from Egypt's Grand Mufti: "He advised me to consider my daughter dead, and to file a lawsuit to demand the guardianship of my grandchild."
This work is licensed under a Creative Commons Attribution-NonCommercial 4.0 International Licence.