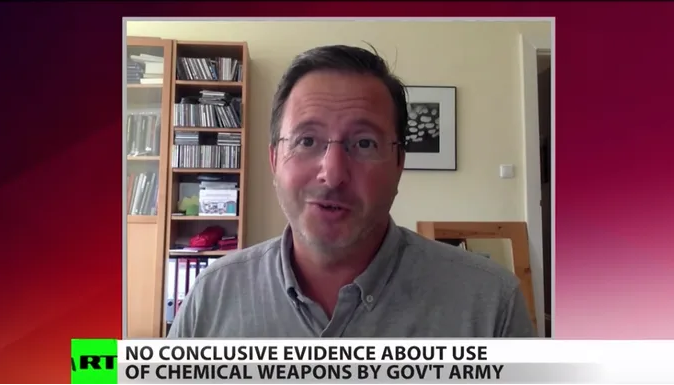 A new book containing a chapter by a prominent defender of Syria's Assad regime has been withdrawn from sale, the publisher confirmed today.
The Research Handbook on Political Propaganda comprises 29 chapters by a variety of academic authors. When it first went on sale last December the publishers described it as "a crucial resource for both scholars and students".
One of its chapters purported to be a study of "war propaganda" in democracies, and it cited media treatment of a small group of university professors and researchers as an example. Known as the Working Group on Syria, Propaganda and Media, they denied chemical weapons attacks by Syria's Assad regime (despite an abundance of evidence), sought to cast doubt on Russia's involvement in the poisoning of Sergei and Yulia Skripal and promoted numerous conspiracy theories.
The chapter's author was Piers Robinson, a former professor in the journalism department at Sheffield University who has often appeared on RT, the Russian propaganda channel. Besides promoting conspiracy theories about chemical attacks in Syria he has dabbled in 9/11 trutherism. In 2018 he wrote a positive review of "9/11 Unmasked", a book by two prominent truthers whose work he described as "diligent and painstaking". His name also appeared on the book's back cover, endorsing it as "authoritative and carefully argued".
In one of his university lectures, posted online in a YouTube video, he also claimed the famous photo of President Bush standing on an aircraft carrier in front of a banner saying "Mission Accomplished" was faked.
Robinson was a founding member of the Working Group and acted as its convenor (though the book did not make this clear). In his chapter, Robinson asserted that members of the group had been unfairly maligned in the media, simply for expressing views about Syria that differed from those of the British government, and it presented them as victims of a "smear campaign" which he claimed was part of an "organised attempt to manage dissent".
In response to an email enquiry, Alex Pettifer, editorial director of Edward Elgar Publishing, said today that the chapter has been removed "on legal advice" and the book will be re-published without it in March.
● See previous blog post for more background.
This work is licensed under a Creative Commons Attribution-NonCommercial 4.0 International Licence.