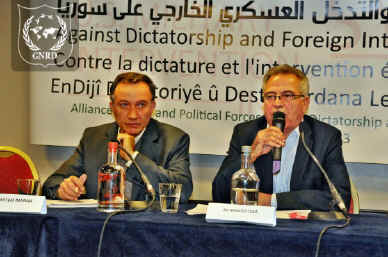 In a blog post last week I wrote about the Global Network for Rights and Development (GNRD) and its extensive network of Palestinian connections. Since then, as part of my continuing investigation, I have been looking at GNRD's Syrian connections.
Syria actually gets more attention on GNRD's website than Palestine – there are 112 pages mentioning Syria compared with only 42 pages mentioning Palestine – but its connections with Syria are far more limited. They revolve mainly around Haytham Manna of the National Coordination Body for Democratic Change (NCB) and a Kurdish organisation, the Democratic Union Party (PYD).
In 2009, a few months after Israel's "Operation Cast Lead" in Gaza, an organisation called the International Coalition Against War Criminals (ICAWC) filed a lawsuit in Norway. It sought to have three Israeli politicians and seven military commanders prosecuted for war crimes.
One of those involved in preparing the lawsuit was GNRD's founder-president, Loai Deeb, a Norwegian citizen of Palestinian origin. At the time of the war crimes lawsuit Deeb was described as ICAWC's Executive Director. Another prominent figure in ICAWC was Haytham Manna, a Syrian who had the title of General Coordinator.
Deeb and Manna were also connected as co-founders of the Scandinavian Institute for Human Rights (SIHR) which aimed to "disseminate the culture of human rights, especially in the Middle East". Deeb left the board of SIHR in 2013 (according to his own account) but he and Manna have continued working together GNRD.
Last year, for example, Manna spoke at a GNRD event in Spain about preserving freedom of speech in public broadcasting services.

In February this year Manna was moderator for a panel discussion at GNRD's strange counter- terrorism conference in Geneva where, according to GNRD's report of the event, he warned that "we must be wary of NGOs controlled by dictatorial regimes".

Last week Manna spoke at a GNRD event held at the UN headquarters in Geneva on the subject of human rights and counter-terrorism.
In September 2013, GNRD also held a conference "in cooperation" with the "Alliance of Civil and Political Forces against Dictatorship and Foreign Intervention in Syria". The conference, entitled "Against Dictatorship and Foreign Intervention in Syria" and held in Brussels, was publicised in a GNRD press release, though GNRD's report of the event has joined a growing number of pages deleted from its website. However, a series of videos from the conference can be found on YouTube and there's also an account on a Kurdish website which lists the main speakers:
Anne-Marie Lizin, GNRD's "High Commissioner" for Europe

Haytham Manna, spokesperson of the Arab Commission for Human Rights

Loai Deeb, president of GNRD

Khaled Issa, Kurdish Democratic Union Party (PYD)
Haytham Manna is a leftist Syrian dissident of long standing. He was spokesperson for the Arab Commission for Human Rights but reportedly left it in 2011 to become a founder of the Syrian National Coordination Body for Democratic Change (NCB).
Describing Manna, Aron Lund of the Syria in Crisis website says he became a polarising figure in the Syrian opposition:
"Some dissidents viewed him as too lenient toward the government of President Bashar al-Assad and as an alliance wrecker who combated pro-US and Islamist dissidents more fervently than he fought the government itself. Others appreciated his hard-line secularism and anti-interventionist policies, as well as his insistence that elements of the regime must also be involved in any transition."
Within the NCB, Syrian Kurds are represented by the Democratic Union Party (PYD).
In June last year, GNRD sent a delegation to Syria "to document the humanitarian situation in the Kurdish province of Syria (Rojava) with emphasize [sic] on human rights and crimes of war".
This mission, it said, was "based on invitations from the Supreme Kurdish Committee and from the People's Council for Western Kurdistan" – two bodies connected to the PYD. A news report of the trip on GNRD's website also talks of meeting a PYD representative, Mohammad Resho.
The delegation consisted of three Norwegian lawyers, an interpreter and a photographer. All three lawyers – Kjell Brygfjeld, Bent Endresen and Pål Hadler – had previously been involved in ICAWC's attempt to prosecute Israelis for war crimes. Brygfjeld is now representing Loai Deeb in a Norwegian money-laundering case. Endresen works for the same law firm as Brygfjeld.
The trip to Syria seems to have been a costly failure, mainly due to travel difficulties. A five-page report on GNRD's website explains that the team were unable to reach their intended destination and decided to return to Norway.
The report did, however, make recommendations to the UN and the Norwegian government. In particular, it urged the Norwegian authorities to focus on the situation of Kurdish refugees in Northern Iraq and "very quickly survey what these refugees need in order for them to meet with harsh winter conditions".
This year, early in April, Anne-Marie Lizin, the discredited Belgian politician who serves as GNRD's "High Commissioner for Europe" visited the PYD office in Brussels for a meeting with Asya Abdullah, PYD's co-chair. They discussed "the plight of Kurdish women and the ongoing fight against religious extremism" according to a news item on GNRD's website:
"All parties agreed that greater attention to the role of women was key to finding a lasting solution in Syria. Mrs Lizin emphasised GNRD's interest in surveying the region's needs and meeting with Kurdish parliamentarians in both Qamishli and in Erbil on the Iraqi side of the Kurdish region."
Less than two weeks later, a GNRD "team of five specialists" headed by Lizin arrived in Erbil. The other four were PYD member Rhodi Mellek; Amir Forotan, a journalist who had previously worked with GNRD and its sister organisation, IIPJHR; Léonard Fisch, a photographer; and Robert Pingeon, a consultant. (Assuming this is Pingeon's profile on LinkedIn, he runs a consultancy "specialising in business opportunities in Iraq and the Middle East" along with "NGO consulting on refugee issues".)
The team were said to have spent five days in Erbil "completing field research, interviews and meetings". GNRD does not seem to have posted a detailed report of their findings on its website but has presented it at a couple of gatherings in Brussels and Geneva.
In Brussels earlier this month, GNRD hosted a business lunch for "decision-makers" attending the Crans Montana Forum. Lizin spoke about "GNRD's latest work on women's rights" and then introduced PYD member Mellek who "presented GNRD's mission report on women's rights situation in the areas and emphasised the plight of Syrian refugees".
Mellek and journalist Forotan also presented the report during a GNRD event at UN headquarters in Geneva last week. Interestingly, the account on GNRD's website makes no mention of the PYD or Mellek's connection with it. Instead, she is described as "Head of the European Kurdish television for Rojava".
GNRD, of course, is entitled to work with the PYD if it chooses, but such a close relationship with one Kurdish faction does raise questions about its claim to be "neutral and impartial".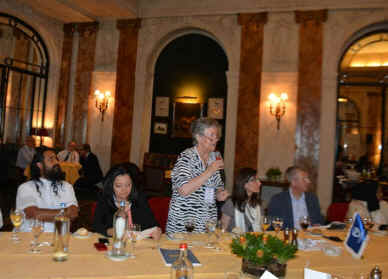 Posted by Brian Whitaker
Tuesday, 30 June 2015
This work is licensed under a Creative Commons Attribution-NonCommercial 4.0 International Licence.