Largely unnoticed by the British public, the Emir of Qatar has arrived in London for a visit which includes talks with prime minister Theresa May. Visits by Gulf potentates don't generally arouse much interest in Britain and the Emir's arrival is no exception – though it hasn't escaped the attention of Qatar's foes in the Gulf.
"Angry protests greet Qatar emir in London," a headline in the Emirati newspaper Gulf News proclaimed. The National (also Emirati) reported "a barrage of protests" against the Emir while the Saudi-owned Asharq Al Awsat quoted Nigel Farage, "leader of the British Independence Party" [sic], deploring the visit and describing Qatar as the biggest supporter of Iran and terrorist organisations.
The Great Gulf Feud, which pits Qatar against three of its Arab neighbours – Saudi Arabia, the UAE and Bahrain – has been raging for more than a year now, fortunately without bloodshed. For those watching from further afield it has been immensely entertaining, with lots of skulduggery on all sides. Fake news, hacking, Twitter bots, bogus PR firms, embarrassing leaked emails ... you name it, Gulf rulers have the money to pay for it.
On that basis, the Emir's visit to London shows every sign of living up to expectations. Someone, somewhere, appears to have become worried that anti-Qatar protests would not have enough support and turned for help to Extra People, a firm which recruits "background artistes" for walk-on parts in films. Its website says:
"Our team have worked across a variety of sectors within entertainment and have built up years of experience providing background artistes. It might be a butler with a limp or a crowd of baying men in a miners strike ... every day is different."
This time, though, Extra People wasn't looking for anyone to be a limping butler or a baying miner. It circulated a note to artistes saying it was looking for "a large group of people to fill space outside Downing Street during the visit of the president [sic] of Quatar [sic]." It added:
"You will not have to do or say anything, they just want to fill space. You will be finished at 12:30."
For this, the artistes would be paid £20 ($26) from which Extra People would be deducting 20% commission, along with VAT.

Extra People later withdrew its advertisement, though an archived copy is here. A news report in the Guardian quotes the agency as saying it pulled out "upon receiving further information about the event".
Extra People also initially declined to identify the client who was seeking Downing Street space-fillers but – seemingly before anyone had a chance to voice suspicions – a mysterious PR firm stepped forward to deny responsibility. Shortly after 1am this morning Neptune PR posted this tweet: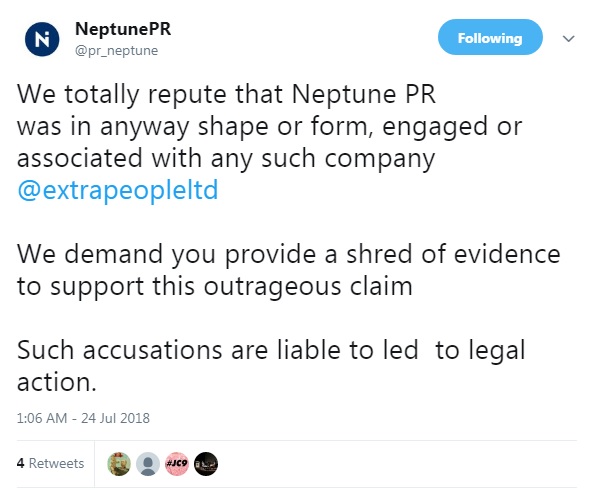 Rather oddly, considering it's a PR firm, Neptune appears to have created its Twitter account specially to issue this denial. A search of the British companies register shows Neptune was set up in April this year and its sole director is Lola Tirand, a French citizen. Again, oddly for a PR firm, Neptune's website has no content.
Extra People has since posted a screen grab of an email purportedly showing Neptune as the company to be invoiced for providing the demonstrators.
The Downing Street demonstration is due to take place today but there were several others yesterday attended by "scores of protesters" plus Khalid al-Hail, the self-styled leader of the Qatari opposition.
Al-Hail, a colourful character who fronted a hugely expensive but sparsely attended "anti-Qatar conference" in London last year, posted a jubilant tweet yesterday saying that out of 650 British MPs invited to hear a talk by the Emir in the Houses of Parliament, fewer than ten had turned up.
"Looks like my awareness campaign is having some effect," he boasted.
Among others attending yesterday's demonstrations in London were a group who had travelled from Birmingham in two coaches. According to Arab News, a Saudi newspaper, the coaches were organised by Egyptian-born Magda Sakr, a freelance PR consultant, and 20-year-old university student Belle Yassin.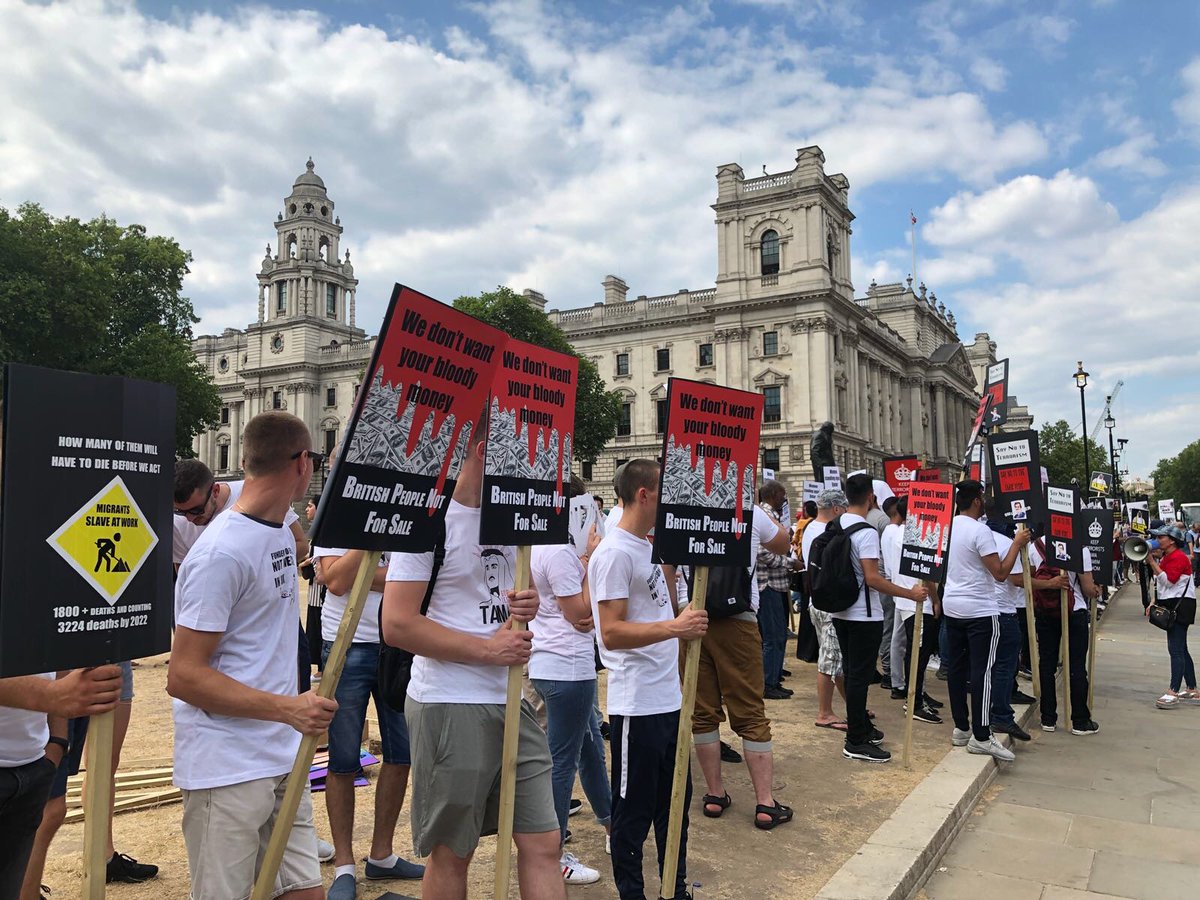 The obvious assumption is that whoever lies behind the ad for Downing Street space-fillers is one of Qatar's foes – most likely Saudi Arabia or the Emirates – but in the Great Gulf Feud things are not necessarily what they seem.
Another possibility, which can't be entirely ruled out at this stage, is that it might be a Qatari ruse to discredit any genuine anti-Qatar demonstrators. One reason for viewing the affair with caution is that Neptune PR, the firm which was so eager to deny involvement, is based at Kemp House in City Road, London – an office block previously associated with some pro-Qatari campaigns.
This work is licensed under a Creative Commons Attribution-NonCommercial 4.0 International Licence.