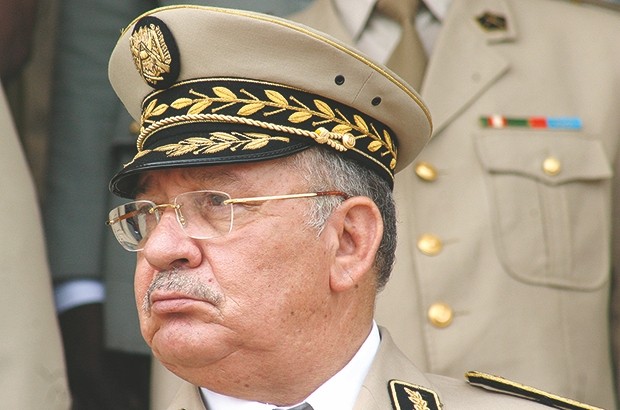 President Abdelaziz Bouteflika returned to Algeria on Sunday after two weeks at a hospital in Switzerland for what were described as routine medical tests. His plane arrived at a secluded military airfield outside the capital where there was no official welcoming ceremony. He was then whisked away – presumably to the presidential palace – in a convoy of black limousines.
That, at least, is what appears to have happened, though the entire journey was completed without the public or media being allowed a glimpse of the man at the centre of it. There was no word, either, about his current medical condition.
At the age of 82 and in the face of widespread street protests, Bouteflika is seeking a fifth presidential term, though the constitution only permits two terms.
It's also clear that his state of health restricts his ability to carry out presidential duties. He uses a wheelchair following a stroke in 2013 and is rarely seen in public. Critics refer to him as "the mummy" and "the living dead".
The result of this is that Algerians don't know who is really in charge. In effect, anyone who votes for Bouteflika in next month's election will be voting for the shadowy and unaccountable figures known as Le Pouvoir who wield actual power behind the scenes – including the president's influential youngest brother, Said, and the army's chief of staff, Gaïd Salah.
Widespread demonstrations opposing a fifth presidential term have been taking place for more than two weeks and are said to be the largest seen in Algeria for 28 years.
On Friday, in an apparent move to weaken the protests, the education ministry suddenly announced that universities would be closing for their spring break on March 10 – eleven days earlier than originally planned.
Also last week, a letter circulated in Bouteflika's name sought appease the protesters by offering to start a reform process and not to serve a full term if re-elected. This didn't have the desired effect and since then the protests seem to have become stronger rather than weaker.
Within the regime there's recognition that Bouteflika can't carry on for ever, but there's no agreement on a transition process. There are also vested interests that could be jeopardised by a change at the top.
In those circumstances, nominating Bouteflika for a fifth term looked like an easy way for the regime to postpone the day of reckoning – until the public unexpectedly voiced their objection.
---
CLICK HERE for a compilation of blog posts about the developing situation in Algeria
---
The question now is how far the regime's insiders and hangers-on are prepared to go in defending what was clearly an unpopular decision. For those with political ambitions and an eye on the future, there may be more mileage in distancing themselves from the president.
One straw in the wind was a speech on Sunday by Gaïd Salah who, besides being army chief of staff, is an important figure in Algeria's clan system. He is seen as representing the eastern group of clans while Bouteflika represents the western group.
In his speech to military figures, Salah didn't mention Bouteflika by name – an unusual omission – but said "the people and the army have a common vision of the future" and talked of "strong and spontaneous" links between them.
This can be read as a signal that the military will not intervene to save the president. But it might also be an indication that Salah sees himself as a possible replacement for Bouteflika. At 79, though, Salah is only three years younger and, like Bouteflika, is a stalwart of Algeria's "mafiocracy". It remains to be seen how the public would react to that.
This work is licensed under a Creative Commons Attribution-NonCommercial 4.0 International Licence.