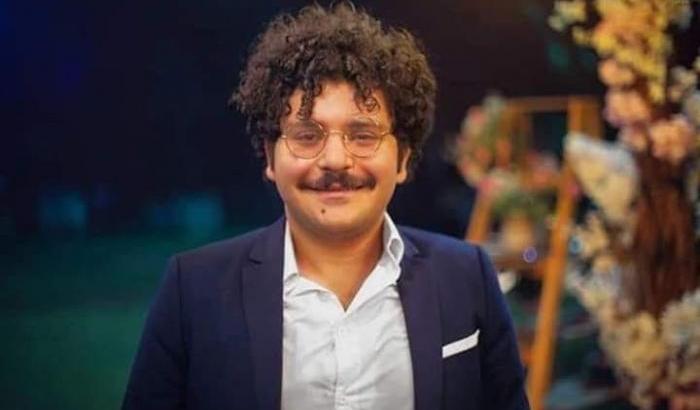 A 27-year-old Egyptian rights activist was detained on arrival at Cairo airport on Friday and now faces multiple charges:
Publishing rumours and false news intended to disturb social peace and sow chaos.
Incitement to protest without permission from the relevant authorities with the aim of undermining state authority.
Calling for the overthrow of the state.
Managing a social media account that aims to undermine the social order and public safety.
​Incitement to commit violence and terrorist crimes.
Patrick George Zaki is a researcher for the Egyptian Initiative for Personal Rights (EIPR), one of the country's most prominent rights organisations.
He had been on leave from EIPR since last August in order to take a master's degree in gender studies at Bologna University in Italy, and was returning to visit his family for the first time since going abroad.
According to the Egyptian website Mada Masr, he was stopped at the airport early on Friday but managed to call his father to say he was being arrested.
He was taken to the National Security Agency facility at the airport where he was blindfolded and held for several hours, according to his lawyer, Samuel Thabet. Mada Masr's report continues:
"He was then moved to the NSA site in his hometown of Mansoura, about 120 kilometers from Cairo. There, he was beaten, stripped, and electrocuted on his back and his stomach, according to statements from Zaki to Thabet and other lawyers. He was also verbally abused and threatened with rape.
"Zaki's blindfold was only removed on Saturday morning, after he was taken to the police station in Mansoura, Thabet said. From there he was taken to the public prosecutor's office, and was questioned with lawyers in attendance later that day ...
"Zaki was questioned about printouts from a Facebook page, which he told prosecutors do not belong to him, and denied all other charges, Thabet said."
He has been remanded in custody for 15 days.
In a statement issued on Saturday, EIPR called for his immediate release and "an end to continued harassment and arbitrary detention of human rights professionals, members of civil society groups and journalists".
The statement added: "Since October 2019, six EIPR staff members have been temporarily detained and questioned, including for a period of two days in one case, as part of arbitrary and entirely illegal stop and search operations that apparently target individuals perceived to be politically active in any way."
Amnesty Italy and several Italian politicians have take up Zaki's case – among them Erasmo Palazzotto, head of the parliamentary inquiry into the death of Italian student Giulio Regeni.
Regeni had been studying for a PhD at Cambridge University and disappeared in Egypt in 2016 while researching trade unions. His badly mutilated body was later found in a roadside ditch and the state security apparatus has been widely blamed for his killing (see previous reports here, here and here).
This work is licensed under a Creative Commons Attribution-NonCommercial 4.0 International Licence.