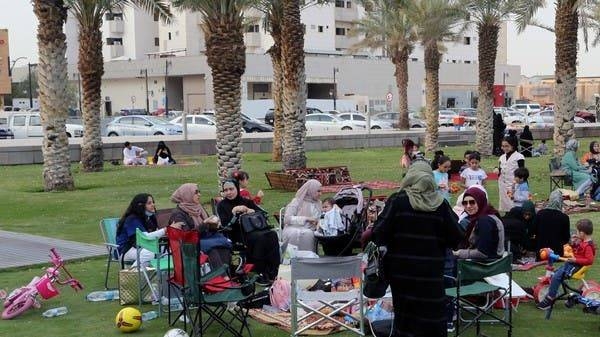 There's alarm in a growing number of Middle Eastern countries about members of the public who are not complying with the rules on self-isolation and social distancing. As a result, the authorities are resorting to ever more draconian measures in their effort to combat coronavirus.
Non-compliance appears to be a particular problem in Israel, Lebanon, Jordan and Saudi Arabia – especially where social gatherings are concerned. Several examples are reported in the round-up below, and there have been others in al-bab's previous daily updates.
Today, the Saudi Gazette has a photo (see above) of families picnicking in Riyadh – contrary to government instructions. The paper reports that one-third of all infections in the kingdom "are due to people coming into contact with previously infected individuals and taking part in social gatherings such as weddings, funerals and family meetings".
Anecdotally, there are also reports that young people whose education has been suspended are continuing to meet socially. Some appear to take the view that since the worst effects of the virus are usually found among elderly people, youngsters don't need to worry about it so much.
Latest updates
Iran reported 966 new coronavirus cases on Saturday – the lowest number in the last 10 days. The number of deaths fell to 123 compared with 149 on each of the two previous days. Based on official figures over the past week, the spread of the virus in Iran appears to be slowing down.
Elsewhere in the Middle East, 326 new cases have been reported since yesterday's update, bringing the cumulative total to 3,713. Lebanon reported the highest number of new cases – 67 – followed by Algeria with 49 and Saudi Arabia with 48. The authorities in Hamas-run Gaza have reported their first two cases (details below).
Four more coronavirus-related deaths were reported in Algeria, plus two in Iraq, bringing the regional death toll outside Iran to 55.
Algeria 139 (+49)
Bahrain 310 (+12)
Egypt 294 (+9)
Iraq 214 (+6)
Israel 945 (+62)
Jordan 99 (+15)
Kuwait 188 (+12)
Lebanon 230 (+67)
Morocco 96 (+10)
Oman 55 (+3)
Palestine 55 (+3)
Qatar 481 (+11)
Saudi Arabia 392 (+48)
Sudan 2 (-)
Tunisia 60 (+6)
UAE 153 (+13)
TOTAL: 3,713 (+326)
CLICK HERE for previous updates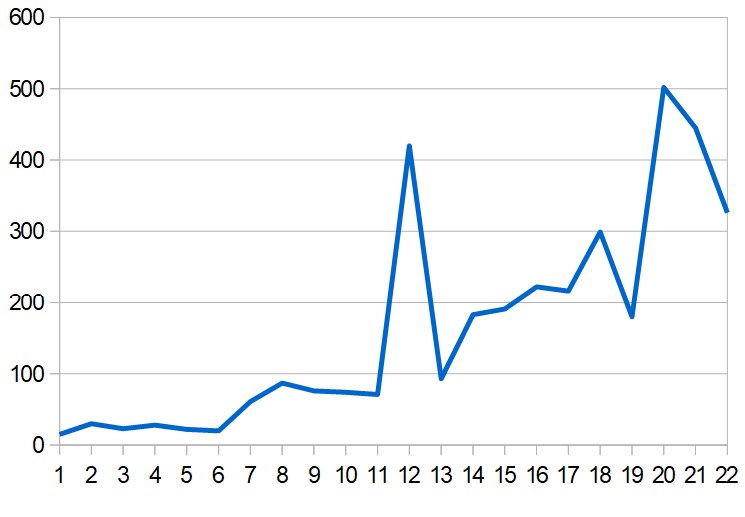 Country-by-country round-up
● Algeria reported 49 new cases, bringing the total to 139. This is the biggest daily increase so far. The health ministry notes that 78 of the 139 cases and eight of the 15 deaths have occurred in Blida province. The outbreak in Blida started at the beginning of March among members of a large family that hosted two visitors from France who later tested positive for the virus.
● Egypt confirmed nine new cases – all of them Egyptians. Two elderly people are reported to have died in Giza, bringing Egypt's death toll to ten.
● Jordan: Since 7am on Saturday Jordan has been under a round-the-clock curfew which is being enforced by the military. By Saturday afternoon 392 people had been arrested for breaking the curfew – which could result in jail sentences of up to a year. The authorities say a curfew became necessary because people were not observing the rules for social distancing. The 15 most recent cases include five people who attended a wedding in Irbid.
● Lebanon reported its largest daily increase so far, with 67 new cases. However, the official figures are a bit deceptive. Previously they only showed the positive test results from university hospitals accredited by the health ministry. The latest figures include 24 cases detected in private hospitals (which are awaiting re-confirmation by the Hariri university hospital in Beirut).
The health ministry warned yesterday that the figures "indicate the start of the stage of proliferation", and emphasised that observance of preventive measures, especially adherence to complete home quarantine, "has become an individual and societal moral responsibility that is incumbent on every citizen". Police have issued warnings to people found breaching home quarantine and carried out raids on businesses ignoring the preventive measures.
● Palestine: One new case was reported in Ramallah on the West Bank but, more alarmingly, the first two cases have been confirmed in Gaza. They are two Palestinians who arrived from Pakistan via Egypt on Thursday. They tested positive for the virus on Saturday and are now quarantined in Rafah.
● Saudi Arabia reported 48 new cases, including five health workers. This is another big increase which brings the cumulative total to 392. The health ministry warned that even small gatherings in people's homes are dangerous and that young men and women should not consider themselves immune to the virus. On Saturday the council of senior religious scholars issued a statement saying that anyone who violates the anti-cornavirus directives is committing a sin. "The gravity of the sin committed by violating these directives increases because the violator is not only harming himself, but others as well."
* * *
For anyone interested: A spreadsheet documenting the new coronavirus cases reported each day in the Middle East (excluding Iran) can be viewed here.
This work is licensed under a Creative Commons Attribution-NonCommercial 4.0 International Licence.