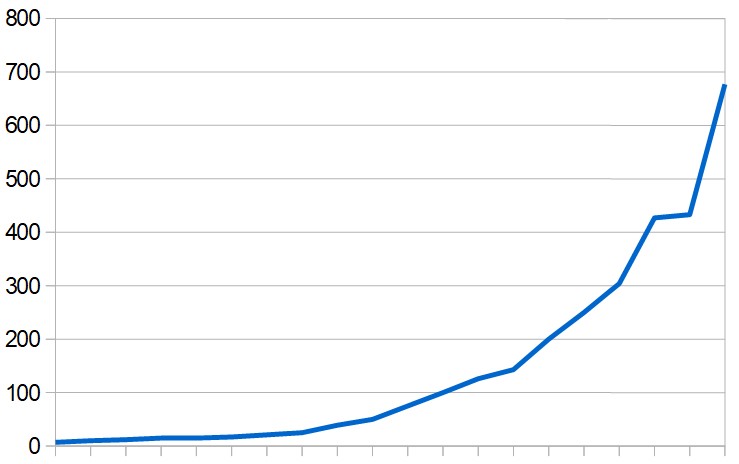 The number of people in Israel known to have been infected with coronavirus rose by 56% yesterday with the confirmation of 501 new cases.
Israel's cumulative total – 677 cases since the outbreak began – is now the highest in the Middle East apart from Iran (though it's still a very long way below Iran's total).
The relatively high numbers in Israel are partly a result of extensive testing. Iraq, for example, probably has a worse coronavirus problem but the official number of cases is lower because there is far less testing.
One particular problem in Israel is compliance. Significant numbers of people are not taking the situation seriously. The Jerusalem Post reports:
"Police opened criminal investigations against 92 people who allegedly violated quarantine instructions by the Health Ministry, and arrested three people who were actively violating it. One man was arrested three times after he continued to break his quarantine."
Similarly with the rules for social distancing. Although gatherings of more than 10 people are forbidden, police had to break up a crowd of about 150 attending an ultra-Orthodox settler wedding.
On Thursday, in an effort to combat non-compliance, caretaker prime minister Netanyahu announced that the existing restrictions on movement are now legally enforceable and anyone who breaks them will be fined.
"There has not been anything like this since the establishment of the state," Netanyahu said. "There has actually been no such thing like this in the last 100 years ... It is not going to be easy; I am asking for your cooperation."
The Jerusalem Post also reports that the Israeli military are "preparing to assist the police to enforce a quarantine should a full nationwide lockdown be imposed".
To help protect the military from infection a "capsule" system is being used in which all troops on each shift remain completely separate from the others. "Troops will also be asked to refrain from taking public transportation; as such, the military will provide buses in which no more than 25 soldiers will travel at a time," the Jerusalem Post says.
The military are already involved in a variety of ways. They are helping the police and the health ministry to run a quarantine centre and their Intelligence Technology Unit is helping to produce face masks and adapting 50 vans to shield the drivers when carrying infected patients.
The defence ministry announced that it has purchased 2,500 ventilators, though these will not arrive until mid-May.
Meanwhile the Mossad is trying to help raise the number of tests carried out from 2,000 a day to 5,000. On Wednesday, 100,000 test kits arrived in Israel, procured by the Mossad from unnamed sources. Unfortunately they were all missing an essential component – the special liquid that the test sticks have to be dipped in. Without it they are useless.
Latest figures
Iran reported 1,046 new coronavirus cases on Thursday, bringing the cumulative total to 18,407. This was the lowest daily number of new cases in the last eight days. However, the death toll continues to rise. Thursday's figure of 149 deaths (bringing the official total to 1,280) was the highest yet but only two more than the previous day.
The reliablity these official figures is uncertain. If correct, they suggest the spread of the virus has slowed a bit during the last week. This may be temporary but it's something to keep an eye on.
In the rest of the Middle East, 502 new cases have been reported since yesterday's update, bringing the cumulative total to 2,942.
This is the biggest daily rise so far and it's mainly accounted for by the 244 new cases diagnosed in Israel. Egypt reported the second-largest rise, with 46 new cases, followed by Saudi Arabia with 36.
Excluding Iran, the regional death toll reached 38, with two more deaths in Algeria and one each in Egypt, Iraq and Tunisia.
Algeria 90 (+15)
Bahrain 279 (+23)
Egypt 256 (+46)
Iraq 192 (+28)
Israel 677 (+244)
Jordan 69 (+13)
Kuwait 148 (+6)
Lebanon 157 (+24)
Morocco 63 (+9)
Oman 48 (+9)
Palestine 48 (+4)
Qatar 460 (+8)
Saudi Arabia 274 (+36)
Sudan 2 (-)
Tunisia 39 (+10)
UAE 140 (+27)
TOTAL: 2,942 (+502)
CLICK HERE for previous updates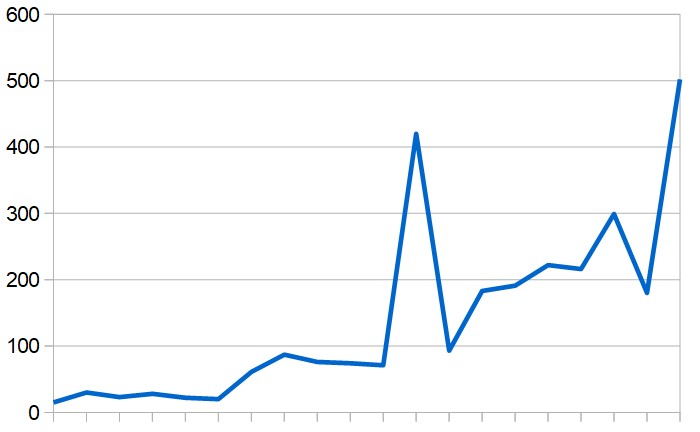 Country-by-country round-up
● Bahrain has called a halt to Friday prayers and sermons in mosques, until further notice. However, mosques will remain open for the five daily prayers.
● Egypt: Although early cases were mostly linked to tourism and foreigners, the virus now appears to be spreading in the general community. Of the latest 46 cases, only four involve foreigners. The other 42 are all Egyptians who, according to the health ministry, were in contact with others who tested positive earlier.
● Jordan now has 69 confirmed cases. Among these, 50 are Jordanians. The others are six French nationals, four Iraqis, three British nationals, two Lebanese, two Argentinians and two from the Philippines.
● Kuwait is doing well on the testing front – it has carried out more than 27,000 tests.
● Palestine: The number of active cases has dropped to 31 according to the health ministry. This is because 17 confirmed cases in Bethlehem are now said to have recovered, while one new case has been confirmed in Salfit.
● Qatar reported eight new cases and, once again, "most" of them are said to be expatriate workers.
● Saudi Arabia reported 36 new cases. Nineteen of these had been in contact with people previously infected. The other 17 were arrivals from various countries.
● Sudan has so far confirmed only two cases but the health ministry says there are also 21 suspected cases.
● Syria: The health minister repeated that no coronavirus cases have been registered in Syria, adding that the health ministry is "the only source about this subject, not what are being circulated on websites". Meanwhile, the foreign ministry has called for sanctions against the Assad regime to be lifted "due to the outbreak of the coronavirus in the neighbouring states".
● Tunisia reported its first coronavirus death – a 72-year-old woman with chronic illnesses. She is said to have returned from Turkey recently.
* * *
For anyone interested: A spreadsheet documenting the new coronavirus cases reported each day in the Middle East (excluding Iran) can be viewed here.
This work is licensed under a Creative Commons Attribution-NonCommercial 4.0 International Licence.