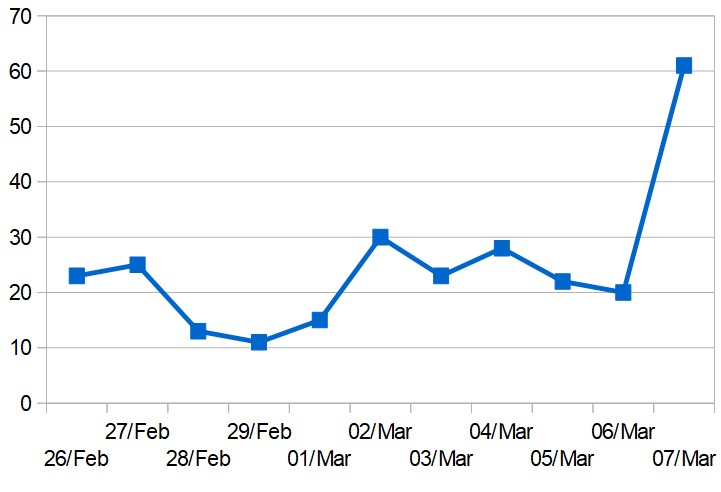 Iran reported 1,234 new coronavirus cases on Friday, bringing the official total to 4,747. The official death toll increased by 17, to 124.
Elsewhere in the Middle East there are 61 new cases – by far the highest daily increase since the epidemic began. It brings the cumulative total for the region (excluding Iran) to 328.
Algeria 17 (-)
Bahrain 56 (+4)
Egypt 15 (+12)
Iraq 38 (+3)
Israel 21 (+4)
Jordan 1 (-)
Kuwait 61 (+3)
Lebanon 22 (+6)
Morocco 2 (-)
Oman 16 (-)
Palestine 16 (+9)
Qatar 12 (+4)
Saudi Arabia 5 (-)
Tunisia 1 (-)
UAE 45 (+16)
TOTAL: 328 (+61)
CLICK HERE for previous updates
Country-by-country round-up
● Egypt detected 12 new cases among the crew of a Nile cruise ship. Checks were carried out after the WHO informed the Egyptian authorities that a Taiwanese-American tourist who had been on board the ship tested positive after returning home. The Egypt Independent reports that crew members had been tested during the previous 13 days and the results came back negative. It was not until the fourteenth day that the crew members tested positive and they were then quarantined. They are said to show no symptoms.
● Iraq: The health ministry is not providing figures on its website. In a Facebook post on Friday, the ministry reported eight new cases – five in Baghdad and two in Sulaymaniyah – but it gave no cumulative total and at least one of the "new" cases appears to have been reported before. Friday's situation report from the WHO gave the Iraqi total as 36 but a later update on Twitter from the WHO regional office gave it as 38.
● Israel confirmed four new cases on Friday, bringing the total to 21. The Jerusalem Post reported that 70,000 people are now in isolation at home. Of the 21 known cases, 13 appear to have contracted the virus in Europe and the authorities announced that anyone arriving in Israel from Germany, Spain, France, Switzerland or Austria must go into immediate quarantine. Lufthansa, Austrian Airlines and SWISS are suspending flights to Israel. Meanwhile, Israeli police say they are cracking down on people who don't comply with the quarantine regulations. Violators could face seven years in jail.
● Lebanon: The Rafiq Hariri University Hospital in Beirut reported that it had tested 127 people and six of them proved positive. This brings Lebanon's total to 22 cases. Health minister Hamad Hasan said on Friday that "the phase of containing the coronavirus outbreak in Lebanon is over".
● Palestine: Nine new cases were detected in Bethlehem, bringing the total to 16. Bethlehem's governor has declared a total shutdown of the area until Monday night, apart from health workers.
● Qatar announced three new cases on Friday – two Qatari citizens and a third person "of another nationality". On Saturday morning it reported a fourth new case – a Qatari citizen who had been in quarantine since arriving from Iran.
● Saudi Arabia, which reported no new cases, is restricting land crossings with the UAE, Kuwait, and Bahrain to commercial vehicles only. Arrivals from those countries by air will also be limited to three airports: Jeddah, Riyadh and Dammam.
● UAE: Late on Friday the health ministry reported 15 new cases, of various nationalities. Thirteen of these were detected through the ministry's monitoring system and two others were of people connected with the UAE Tour cycle race (see previous update). The ministry says its cumulative total is now 45 cases, indicating that there is one further case not previously reported in al-bab's daily updates. Until Friday, cases in the UAE had been increasing only slowly but the graph now looks like this: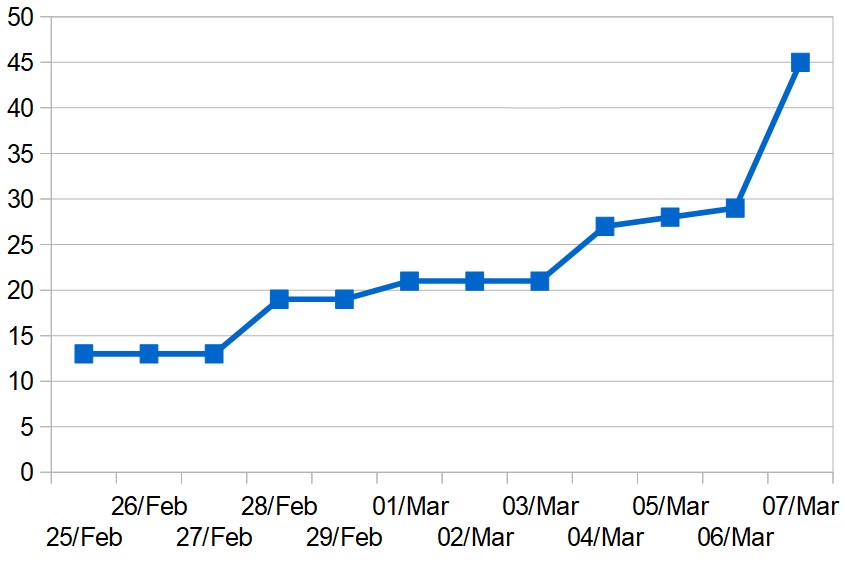 This work is licensed under a Creative Commons Attribution-NonCommercial 4.0 International Licence.