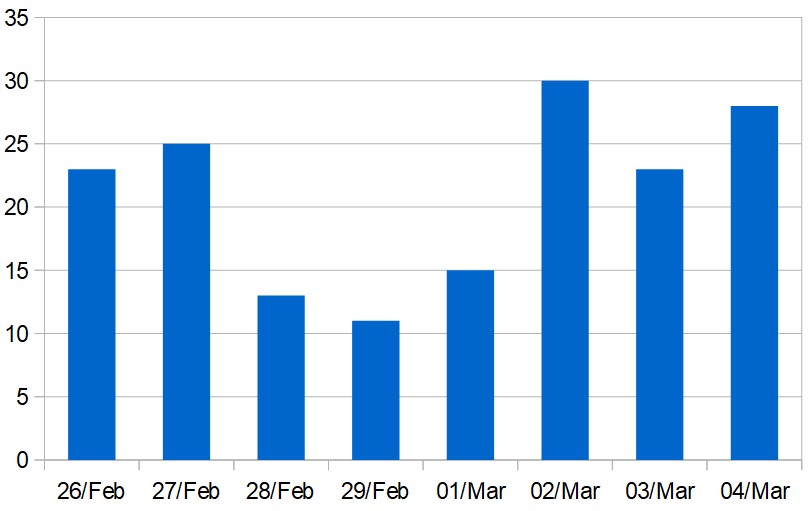 Iran reported 835 new coronavirus cases on Tuesday, bringing the official (but disputed) total to 2,336. The official death toll increased by 11, to 77.
Also on Tuesday, Iran's civil defence chief, Brigadier General Gholam Reza Jalali, made the extraordinary suggestion that his country has been subjected to a biological attack. He told Fars News: "A study of the consequences of the virus in terms of tolls or the extent of the epidemic and the type of media propaganda over this issue that is aimed at increasing fear and panic among people strengthens the speculations that a biological attack has been launched against China and Iran with economic goals."
Elsewhere in the Middle East, 28 new cases have been confirmed since yesterday's update. Iraq has nine new cases, Oman and the UAE each have six, Algeria and Israel each have three and Morocco – the latest addition to the list – has one. This brings the cumulative total for the region (excluding Iran) to 225.
Algeria 8 (+3)
Bahrain 49 (-)
Egypt 2 (-)
Iraq 31 (+9)
Israel 15 (+3)
Jordan 1 (-)
Kuwait 56 (-)
Lebanon 13 (-)
Morocco 1 (+1)
Oman 12 (+6)
Qatar 8 (-)
Saudi Arabia 1 (-)
Tunisia 1 (-)
UAE 27 (+6)
TOTAL: 225 (+28)
CLICK HERE for previous updates
Country-by-country round-up
● Algeria confirmed three new cases, bringing the total to eight. All but one are from the same family which hosted two people from France who have since tested positive. The other case, reported earlier, is an Italian employee of the energy firm Eni who tested positive on arriving in Algeria.
● Bahrain: The health ministry has set up a web page to provide the latest information. It currently shows 49 "active" cases – only two of which need medication. Two people tested positive while in quarantine, while 3,709 people have tested negative.
● Egypt: Mindful of the effects on tourism, the authorities have been less than transparent. On Tuesday the Mada Masr website published a lengthy article which gives the most detailed account of the situation so far.
● Iraq reported nine new cases in various parts of the country, bringing the total to 31. Most are said to involve people who returned from Iran. The first death was reported on Wednesday morning – a 70-year-old cleric who had been quarantined in Sulaymaniyah.
● Israel reported three new cases, bringing the total to 15. One is a part-time worker in a toy shop and another is a customer who reportedly spent only 15 minutes in the shop. The shop's manager was diagnosed earlier, having apparently caught the virus during a visit to Italy. The third new case is a person who had been quarantined at home after returning from Italy.
● Jordan – which so far has only one confirmed case – says 54 people are currently quarantined after arriving from countries where there are outbreaks. A further 204 people have completed two weeks' quarantine without contracting the virus.
● Kuwait: The aviation authority announced new restrictions on non-Kuwaiti passengers arriving from 10 countries: Azerbaijan, Bangladesh, Egypt, Georgia, India, Lebanon, Philippines, Sri Lanka, Syria and Turkey. From March 8 they must obtain embassy-approved health certificates before flying. Kuwaiti citizens will be tested on arrival.
● Morocco reported its first coronavirus case on Tuesday – a Moroccan citizen who arrived from Italy.
● Oman reported six new cases (four Iranians, two Omanis). All had been in Iran. Oman's cumulative total is now 12 cases.
● Tunisia: The first – and so far only – case is a Tunisian man who arrived from Italy by boat on February 27. It now turns out that the boat was a large one, with 247 passengers and crew who are all "subject to preventive measures and testing". In the seaside resort of Hammamet there are complaints from five people (two of them French) who have reportedly been told to quarantine themselves for two weeks on three small yachts.
● UAE: Six new cases were confirmed on Tuesday – two people from Russia, two from Italy, one from Germany, and one from Colombia. All were involved in the UAE Tour cycle race which was cancelled before completion when two Italians were found to have the virus (see March 1 updates). In an interesting new development the Emirati authorities have launched a pilot e-learning project which could allow pupils to continue their studies if they can't attend school.
This work is licensed under a Creative Commons Attribution-NonCommercial 4.0 International Licence.